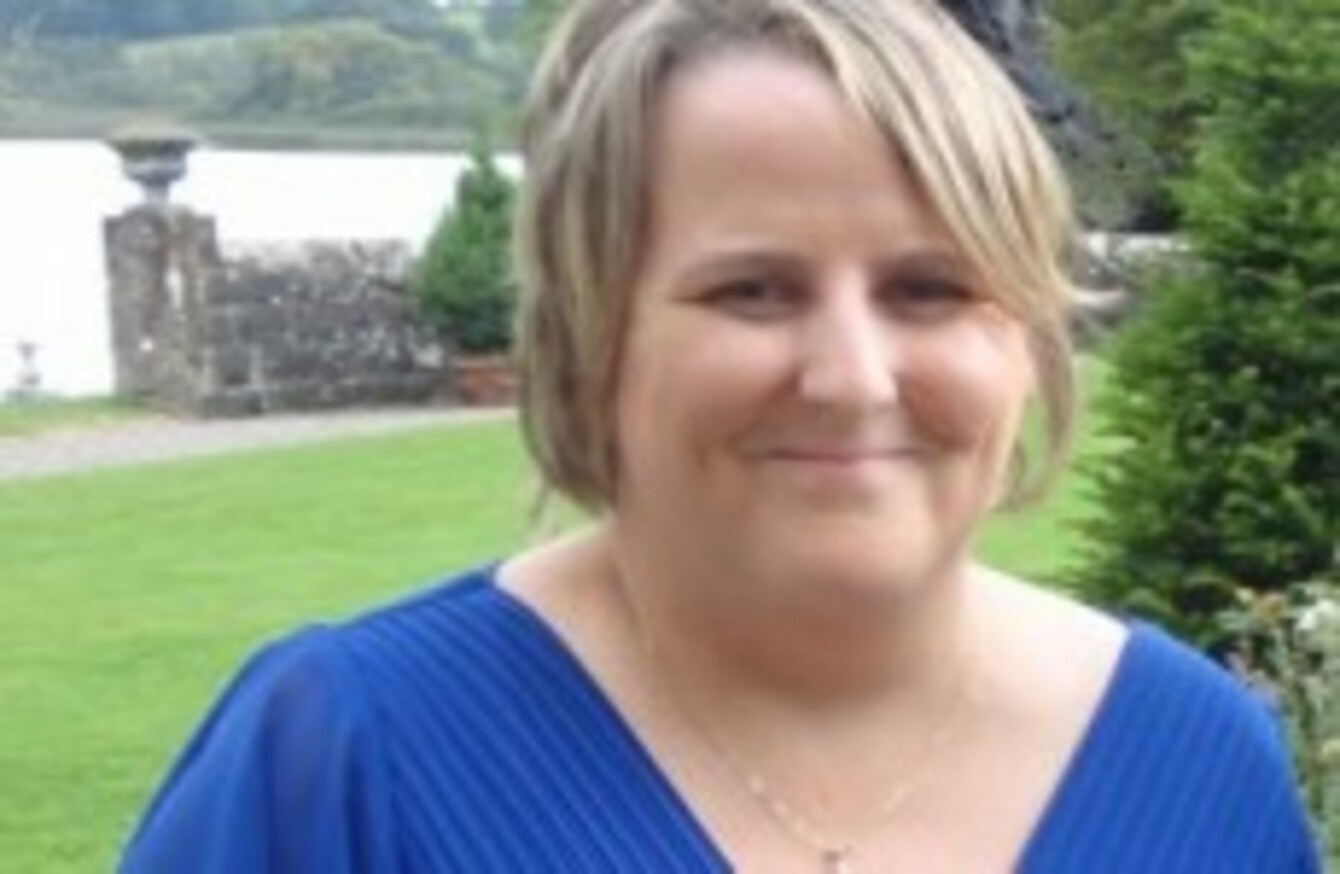 Undated image of Elaine O'Hara
Image: Garda Press Office
Undated image of Elaine O'Hara
Image: Garda Press Office
THE GRAHAM DWYER trial has heard that on the night before he's alleged to have murdered her, a nurse suggested that Elaine O'Hara go to Gardaí about a man who was constantly coming to her apartment.
The court also heard from a friend, who warned Ms O'Hara that she was 'playing a dangerous game' by allowing an architect she had met online to cut her.
The witnesses were giving evidence today on the 15th day of Mr Dwyer's trial at the Central Criminal Court.
The 42-year-old is charged with Ms O'Hara's murder at Killakee, Rathfarnham on 22 August 2012, hours after she was discharged from a mental health hospital.
The Cork-born father of three of Kerrymount Close, Foxrock, Dublin has pleaded not guilty to murdering the 36-year-old childcare worker on that date.
Rosetta Callan testified that she had worked as a nurse in St Edmundsbury's Hospital, Lucan for 44 years before retiring.
She said she was on night duty on 21 August 2012, the day before Elaine O'Hara was to be discharged. She said she went into Ms O'Hara's bedroom around 11pm.
"She was kind of quiet," she recalled, adding that she had asked Ms O'Hara what was up.
"She said she was just pissed off," recalled Ms Callan. "I sat on the bed to see if she wanted to talk to me. That's when she started telling me about this person she had met."
Ms Callan explained that it was a man that Ms O'Hara had met but that she hadn't told her his name. Both of them were interested in bondage, said the witness.
"She said he was nearby and she passed the house every day. She said he had a key to her apartment," she continued. "I said why didn't she go to the guards if he was harassing her. But, she said she wouldn't go because he had young children."
Ms O'Hara said 'she loved kids', she added.
"She said he was constantly coming to her apartment and that's when she got… She kind of got a little tearful," she recalled, adding that she was 'kind of laughing' at the same time.
Ms Callan said the conversation lasted about 45 minutes.
Evidence from a friend
Edna Lillis testified that she had met Ms O'Hara in 2007 and that they had become friends. They met up quite a few times, but lost touch a few years ago when Ms Lillis changed her mobile phone and lost her number.
"She showed me her stomach," she recalled of their last meeting, shortly before they lost touch.
Prosecutor Seán Guerin SC asked her what she saw.
"Cuts," she replied. "They were recent cuts, about three or four inches long, fresh and right across the stomach."
She said they weren't that deep but 'very obvious'.
"She told me she'd met someone on the internet and he liked to cut her, and she was having some sort of relationship with him whereby he cut her," she explained.
"I told her she was playing a dangerous game," said Ms Lillis.
However, Ms O'Hara told her it was someone to pay attention to her.
"Elaine just wanted to be loved. She just wanted some attention," explained the witness. "I told her to keep notes of her meetings with this person and she said she was. I said to keep notes of his name, address and various details in case something happened."
Ms Lillis said that Ms O'Hara had never got over the loss of her mother. The court had heard that Mrs O'Hara had died some years earlier.
Under cross examination by Ronan Kennedy BL, defending, she confirmed that she had contacted Gardaí in September 2013 after she heard about her friend's death.
She said she couldn't be sure when she had last met Ms O'Hara but that it could have been the end of 2011 or beginning of 2012.
She agreed that the relationship Ms O'Hara had with this man was purely physical. She was asked if her friend had enjoyed it.
"Well, she enjoyed being hurt physically," she replied.
She said that Ms O'Hara wasn't afraid of the man at the time.
"But she was a bit wary of him," she added.
She agreed that she got the impression that both Ms O'Hara and this man had got sexual satisfaction from what they did.
She was asked about a statement she gave to Gardaí in which she gave the man's name as Peter.
"For some reason, the night I gave my statement, the name, Peter, was in the back of my mind," she recalled. "I knew he was an architect but I didn't know his definite name."
'She was in cheerful form'
The jury also heard from a therapist and doctor who cared for the deceased.
Stuart Colquhoun said he was a cognitive behavioural therapist at St Edmundsbury's Hospital, and that Ms O'Hara had been his patient for almost five years.
He treated her for major depression and generalised anxiety as both an outpatient and inpatient. He said she also had borderline personality disorder, which meant her emotions would feel stronger and last longer than those of other people
His last appointment with her was on August 21st, 2012.
"She was in cheerful form, spontaneous, smiling, alert and seemed happy really," he recalled. "She was excited about working with The Tall Ships."
Asked about her mood compared with previous occasions.
"It was good. I thought most of 2012 was good actually," he said. "But her mood was probably a bit better than that even, on that day."
He said he had previously seen evidence of self-harm on Ms O'Hara and that she had also told him that someone else had harmed her.
Asked if there was any indication that she was suicidal on 21 August 2012, he replied 'no'.
#Open journalism No news is bad news Support The Journal

Your contributions will help us continue to deliver the stories that are important to you

Support us now
Her next appointment was due to be on 3 September.
Under cross examination by the defence, he said she didn't mention anything about a noose or hanging herself on that date.
When asked if it would surprise him that she spoke to someone else about that topic on that date, he replied: "It would surprise me, yes."
Evidence from her GP
Her GP testified that Ms O'Hara's medical status seemed to have been better in the years before she died.
Dr Mathew Corcoran said he had mainly treated her asthma, but knew she was receiving psychiatric treatment for her depression elsewhere.
The Foxrock GP explained that Ms O'Hara had been a patient at his practice since she was a child. As an adult, she had low Vitamin B12, mild diabetes and was on a tablet for cholesterol, which was working well.
He was not involved in the management of her depression, but would receive discharge letters from her psychiatric hospital and specialist. He would also enquire about the illness when she visited his surgery and would sometimes renew the prescriptions from her psychiatrist.
"I thought her medical status was better and, overall, she was doing reasonably well in recent years," he said, confirming that she had never presented to him with self-harm injuries.
He had last seen her on July 10th 2012, when she came in with sinusitis and mild respiratory symptoms, including a slight wheeze and cough. He said she would usually visit when she had such symptoms as she was eager they wouldn't develop in view of her asthma.
On this occasion, he prescribed her an antibiotic and a short course of oral steroids, he said.
Under cross examination by Remy Farrell SC, defending, he was asked about a toxic lung injury she had sustained during an overdose.
"I think the episode may have been a query that Elaine may have aspirated during the overdose," he replied.
He said he hadn't been aware that she had been in St Edmundsbury's Hospital or that she had contacted the Samaritans before she went missing in the summer of 2012.
He agreed that she could have had 14 admissions to hospital over the years and that self-harm would have been involved in some of them. He later said there would have been other features, including depression and anxiety.
Asked whether some admissions had not been precipitated by stressors or other factors, he said he wouldn't like to comment and couldn't be sure.
He said he had carried out occasional abdominal exams on Ms O'Hara, but had no recollection of any scars there.
Mr Farrell then showed him a number of hospital discharge summaries, the first from May 2000. It was accompanied by a letter from Professor Anthony Clare.
When asked, he said believed the professor had taken an interest in Ms O'Hara but 'wouldn't have any knowledge' that she had taken his subsequent death badly.
The history given on this discharge summary described the then 24-year-old as feeling sad and angry, with a previous history of self-harm.
The witness confirmed that the final diagnosis given was of 'recurrent, brief, depressive disorder' with a 'strong possibility of emotionally unstable personality disorder'.
The trial has heard that Ms O'Hara was last seen in Shanganagh, South Dublin on the evening of 22 Augusst. Her skeletal remains were discovered at Killakee on Friday, 13 September 2013. A cause of death could not be determined.
The trial continues before Mr Justice Tony Hunt and a jury of five women and seven men.