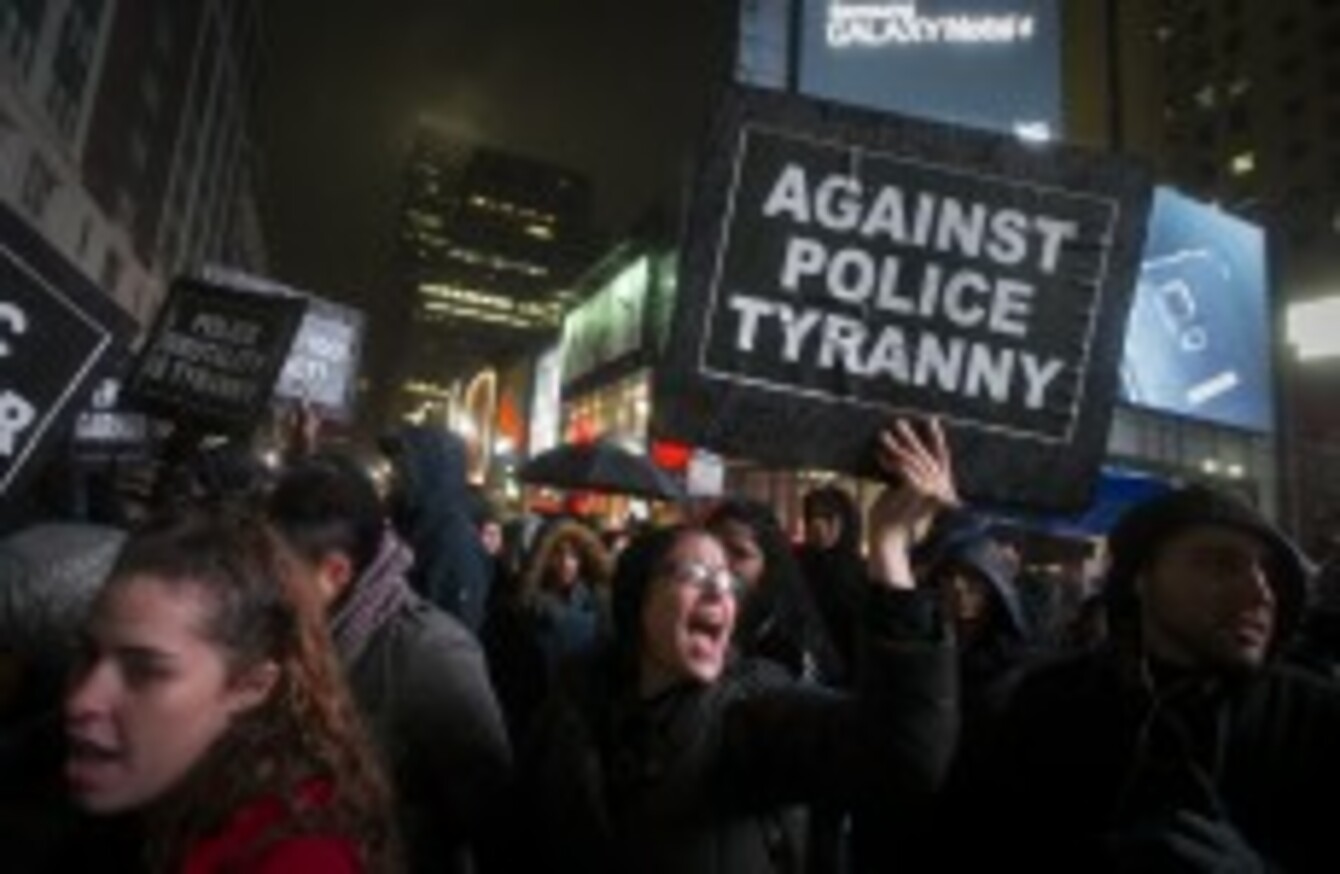 Protesters rallying against a grand jury's decision not to indict the police officer involved in the death of Eric Garner block traffic on 34th Street yesterday.
Image: AP/Press Association Images
Protesters rallying against a grand jury's decision not to indict the police officer involved in the death of Eric Garner block traffic on 34th Street yesterday.
Image: AP/Press Association Images
A NEW YORK district attorney has said he would impanel a grand jury to consider charges in the latest police killing of an unarmed black man as the United States grapples with nationwide protests.
Akai Gurley, 28, a father of a young daughter, was shot dead by a single bullet on a dimly lit staircase at a Brooklyn apartment building as he walked with his girlfriend late on 20 November.
The New York police commissioner admitted that he had been a totally innocent victim. Gurley's family has demanded justice for his death ahead of his funeral today.
Brooklyn District Attorney Ken Thompson announced yesterday that he would present all the evidence for a grand jury to decide whether charges should be brought.
"It is important to get to the bottom of what happened," he said.
He gave no timetable for the jury to be appointed nor for a decision to be reached.
"I pledge to conduct a full and fair investigation and to give the grand jury all of the information necessary to do its job. That information is still being gathered," Thompson said.
Grand juries decided not to press charges against white officers responsible for the August 9 shooting of unarmed 18-year-old Michael Brown in Ferguson, Missouri and the July 17 chokehold death of black father of six Eric Garner in New York.
'He loves his baby girl' 
The decision in the Ferguson case sparked looting and arson in the St Louis suburb, while the Garner case triggered two consecutive nights of protests in New York and other major cities.
Gurley's family, who travelled from Florida for his funeral, told reporters in Brooklyn on Friday that they wanted justice.
"He hasn't done nothing wrong. He's a good man, good, he loves his family, he loves his baby girl," said mother Sylvia Palmer. "He was going to bring home my granddaughter to visit me for the first time."
Family representative Kevin Powell linked Gurley's death to those of other black men killed recently by police in cases that have rekindled a national debate about race, as well as protests.
"We believe unfortunately … that this feels like a series of modern-day lynchings," he told a news conference.
Friends and relatives will held a wake yesterday at the Brown Memorial Baptist Church in Brooklyn, followed by a funeral service this morning.
"My son was my sunshine and my wife's sunshine," said Gurley's stepfather Kenneth Palmer.
"He was not only a son, he was a brother, he was a nephew, he was a friend, he was a father," he added.
'Negligence' 
The New York Daily News reported yesterday that the officer who fired the fatal bullet texted his union representative as Gurley lay dying in the dimly-lit staircase late at night on 20 November.
After rookie cop Peter Liang discharged the bullet that struck Gurley, he and partner Shaun Landau did not respond to radio contact for more than six and a half minutes, the newspaper said.
"That's showing negligence," it quoted a law enforcement source as saying of the pair's decision to text their union rep before making a radio call for help.
A neighbour instead phoned for the ambulance that took Gurley to hospital, where he was declared dead on arrival.
New York police commissioner Bill Bratton said on 21 November that Gurley had been killed by an "accidental discharge" in an "unfortunate tragedy."
Thousands of protesters clogged streets in New York and other major US cities for three consecutive nights after a grand jury on Wednesday decided not to indict a white officer for Garner's death after he was stopped for allegedly selling untaxed cigarettes.
Demonstrators blocked roads, tunnels and bridges, shouting "I can't breathe" — the words that the 43-year-old asthma sufferer gasped repeatedly as police wrestled and held him to the ground.
Civil rights activist Al Sharpton's National Action Network is scheduled to hold another rally outside its national headquarters, The House of Justice, in Harlem, New York, on Saturday morning.
Despite the protests, New York mayor Bill de Blasio said that general complaints of police misconduct fell 26 percent from July to November and allegations of excessive force declined 29 percent.