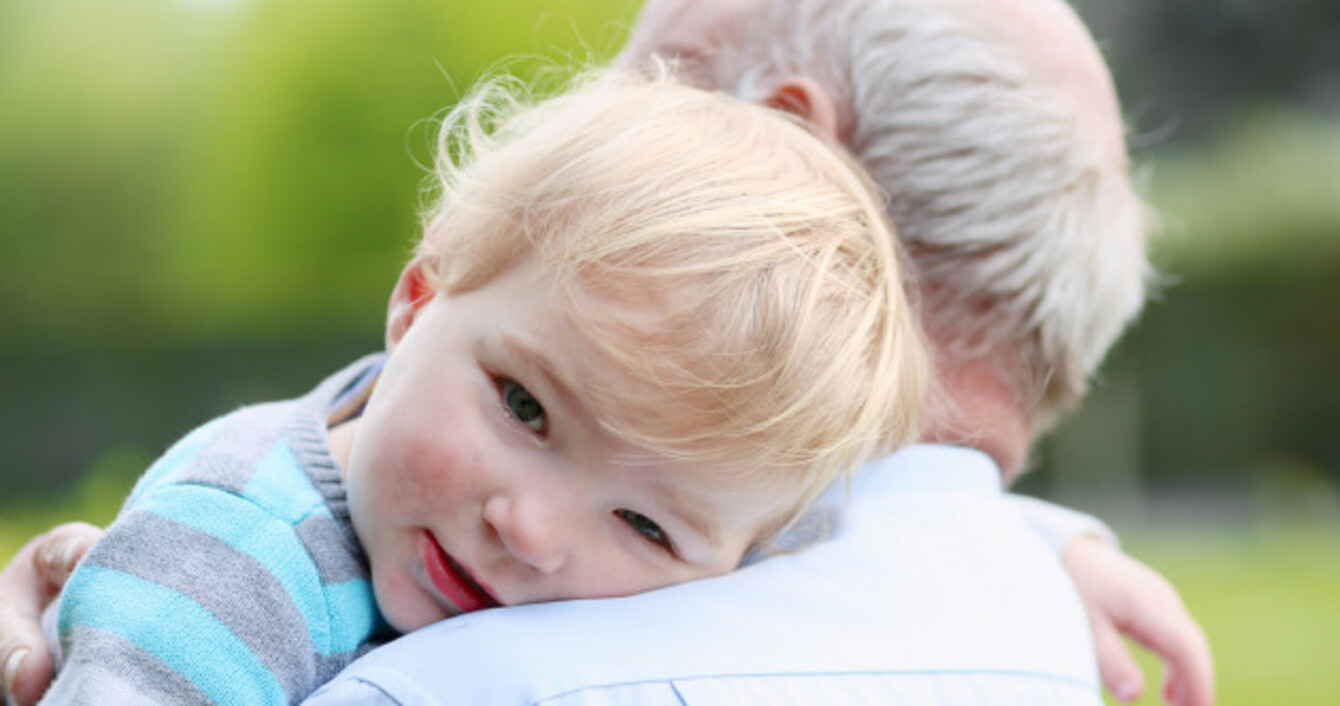 Image: Shutterstock/CroMary
Image: Shutterstock/CroMary
OUTSIDE I CAN hear gleeful whoops of delight as my toddler races up and down the lawn with his granny and granddad. It's a nice sound, because it's not just my son who is letting out peals of laughter, but also my own parents, who sound like they're genuinely enjoying themselves. Or perhaps that's just what my guilty conscience wants to hear…
My husband and I are one of a growing cohort of couples reliant on the crèche of granny and granddad to look after their offspring. It's estimated that, in Ireland today, almost one-third of people aged 50+ provide care to a child or grandchild at least weekly. Their assistance is invaluable – without my parents, I simply could not work – but do we pay them? Do we heck.
Yet the awkward conversation about money is one that psychotherapist Joanna Fortune, founder of Solamh parent child relationship clinic, reckons we all need to be having from the get-go. "Don't assume grandparents are happy to provide your childcare for free," she says. "But also don't offend them by assuming they do expect to be paid. Talk about it."
Drop in the ocean
At the very least she advises showing you value their contribution by dropping off groceries, vouchers or treating them to a weekend away once in a while. An approach my husband and I have adopted, but still feels like a drop in the ocean compared to what we would be forking out for professional care.
Even if payment isn't an issue – hours still present a challenge. While a paid nanny is obliged to do certain hours (or risk being fired) an unpaid nana has no such obligation. As a freelance journalist, my work is erratic but I've learned to swerve jobs that come on a Tuesday and clash with granny's pilates and grandpa's golf. According to Peter Kavanagh, head of communications at Active Retirement Ireland, this is a wise lesson to learn. "I've heard people say they've had to cancel plans, not take part in activities or go on holidays because they're needed for childcare. And it's a huge concern to us that they might not be having the retirement they hoped for," he reports.
Grandparents who feel obliged to take on full-time childcare don't always fare well. In 2015, researchers at Trinity College found that providing high levels (over 60 hours per month) of childcare had a negative impact on grandparents' mental health.
"We need to value retirement as an important stage of life. It's an important time to discover yourself and make new friends. It shouldn't be viewed as 'idleness'," adds Peter.
Element of choice
"As much as you might love your grandchildren, asking a retired person to go back to work, doing 40 unpaid hours or more a week… I can see why some people would get upset. Having an element of choice matters."
At Age and Opportunity's Changing Gears pre-retirement course, they cover the topic of saying 'no' to childcare demands. "It's important that older people are able to take on the role of grandparent in the way they want and that that wish is respected," says Anne Kearney, communications and marketing manager.
Happily, both she and Kavanagh agree that in the vast majority of cases, the set-up can, and does, work. Grandparents feel actively involved in their grandchildren's lives – not the standoffish figure that their own grandparents might have represented to them. Most love spending time with their grandchildren, helping their own kids and contributing to the economy in this way.
But navigating the perks and pitfalls of the crèche of granny and grandpa doesn't begin and end with keeping grandparents happy. As a parent, it can feel like a minefield when your own parenting practices deviate from how you were raised – and you brace yourself for the occasional 'you turned out ok'/ 'did I do such a terrible job' battle.
Not too long ago I emerged from my office to find Granny and my two-year-old, elbow deep in pink Angel Delight. Never mind that dinner was looming, never mind that I try to steer him away from the most sugary, chemically engineered products known to man, NEVER MIND THAT SHE WOULD HAVE GONE CRAZY IF MY GRANNY HAD DONE THIS WITH ME AS A CHILD (*breathe*)
#Open journalism No news is bad news Support The Journal

Your contributions will help us continue to deliver the stories that are important to you

Support us now
The other side of my brain was chanting 'your child is happy' 'your child is cared for' 'you are getting to work without paying for childcare', so I bit my tongue.
"Respect is important," says Fortune. "Parents must respect the favour the grandparents are doing in providing this help, and grandparents must respect the child's parents' position and not undermine their parenting."
Boundaries
Again, the important thing in the best interests of the child (and everyone's sanity) is communication. "Be open and honest about boundaries. Childcare should complement not conflict with parenting style. Clear communication should ensure the children can't play parents and grandparents off each other."
I agree with this in general, but I also reckon there's a time for holding your tongue and picking your battles – because, as tricky as the challenges are, the benefits are so much bigger.
The central one being that no-one else would love my son as much as his grandparents and provide this level of care – even if I could pay thousands of euro. Which makes those happy whoops outside pretty priceless to me.
Want to win an amazing two-night family break at the 5* Fota Island Resort? Simply enter your email address below. Full competition details here.