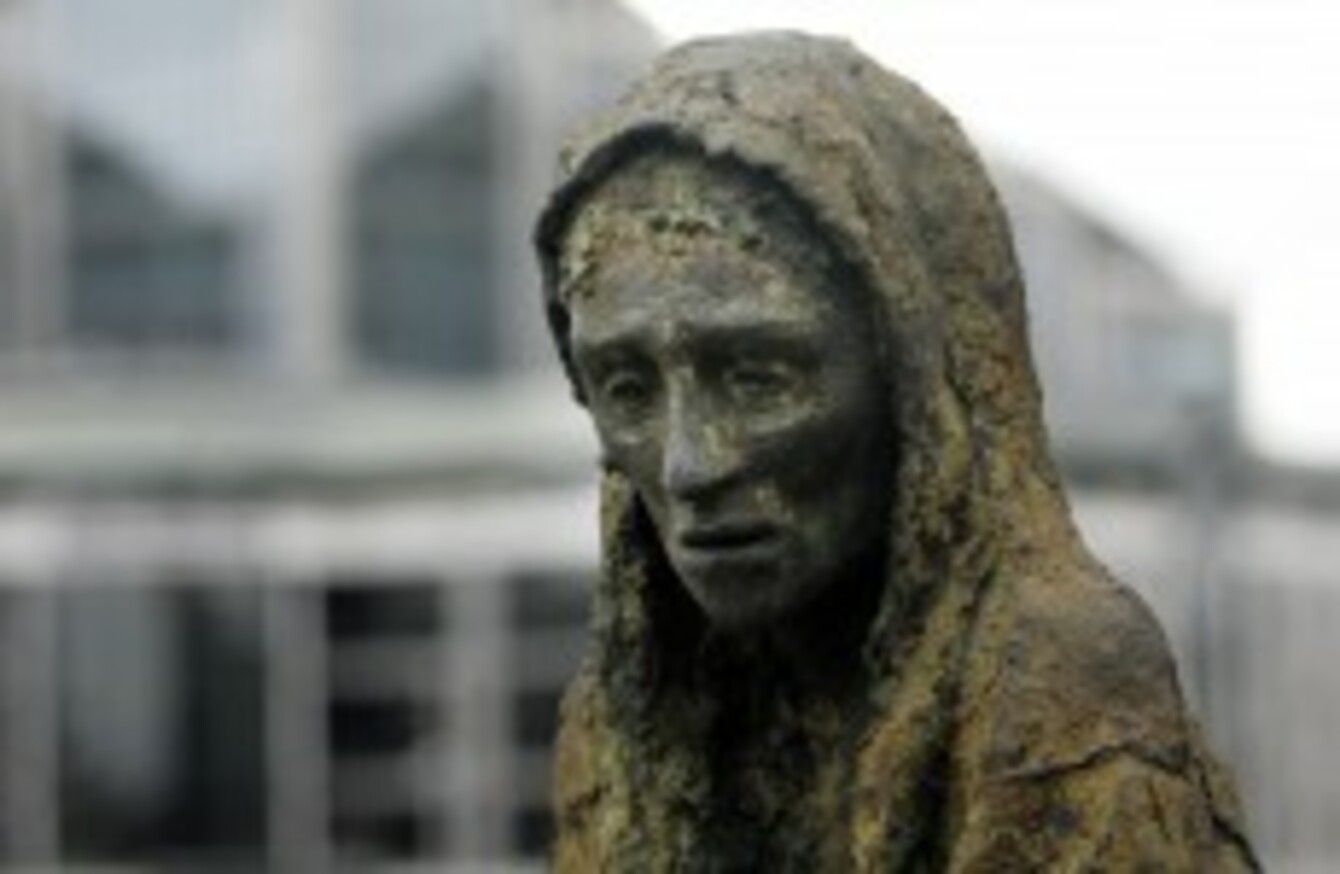 The Famine memorial sculpture by Rowan Gillespie in Dublin city.
Image: Sam Boal/Photocall Ireland
The Famine memorial sculpture by Rowan Gillespie in Dublin city.
Image: Sam Boal/Photocall Ireland
NATIONAL FAMINE Commemoration events are underway in Drogheda today to mark Ireland's devastating Great Famine of the mid-19th century.
During the Famine years, Drogheda was the second-largest port of departure for Irish people to emigrate.
The populations of Ireland fell from 8.5 million in 1845 to 6.6 million in 1851, of which over one million emigrated.
Today, a 90-minute walk from Oldbridge House in Drogheda towards North Quay commemorates the exodus of families from all over the country through the port at Drogheda.
Speaking at the commemoration ceremony in Drogheda this afternoon, Taoiseach Enda Kenny said that a key aspect to Ireland's recognition of the Great Famine is its ongoing work "to address the root causes of hunger".
Ireland "has become a leading global advocate in the fight against hunger," he said.
It is that generational memory that supports Irish Aid and all aid agencies to bring not just food but hope, self-reliance, compassion and dignity across the Developing World. A major priority of Irish Aid is to support global efforts to reduce hunger.
Minsiter for Arts, Heritage and the Gaeltacht Jimmy Deenihan, who is also the chair of the National Famine Commemoration committee, thanked the people of Drogheda for their role in remembering the victims of the Famine and for their "rich appreciation of their history".
Meanwhile, Drogheda's Highlanes Gallery is hosting a 'Forgotten Voices' exhibition by the OPW/NUI Maynooth Archive and Research Centre which shows documents belonging to the Strokestown Estate Archive (Co Roscommon) from the Famine years.
The exhibits include census records, emigration lists and pleas from starving tenants for assistance.  'Forgotten Voices' runs until 30 May.
The National Famine Commemorations have taken place in Dublin, Skibberean in Co Cork, Murrisk in Co Mayo, and Clones in Co Monaghan in previous years.