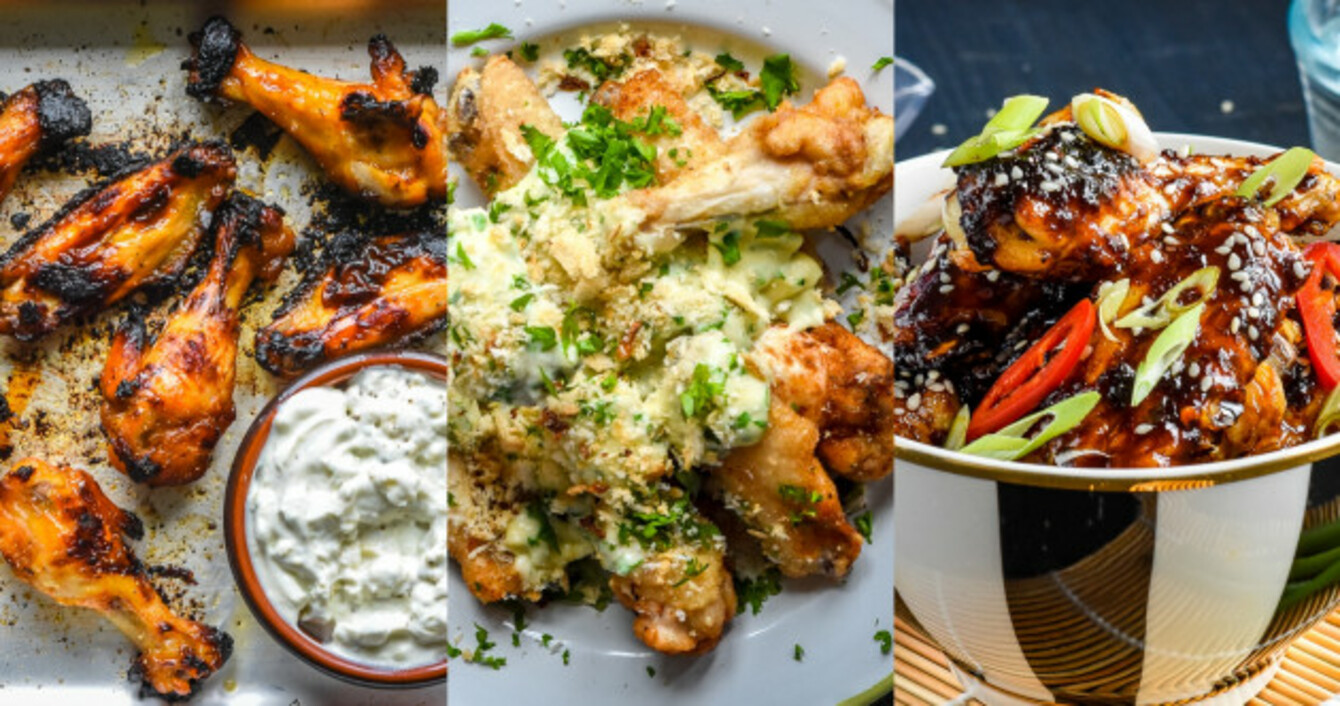 Image: GastroGays
Image: GastroGays
WHAT'S NOT TO love about chicken wings? Simple, cheap and seriously satisfying every single time.
Now, we're not saying Frank's Hot Sauce is not a magical bedfellow for the humble buffalo wing, but there's a whole world beyond that.
So whilst we're fiends for the fiery hot sauce ourselves, here are three other ways with chicken wings – whether you're celebrating with friends, serving a starter family-style in the middle of the table or just settling in front of the TV for an afternoon match or an evening film, try any one of these delicious twists.
1. Honey Mustard Marinated Chicken Wings
Serves 2-4
For those who are looking for the perfect-textured chicken wings, marinating is a fabulous idea. A secret ingredient we've found when trying to get chicken wings meltingly tender when they've been exposed to intense heat is the preparation and two simple ingredients – baking powder and vinegar or lemon juice.
Note: this recipe requires overnight marinating (don't you hate when recipes only tell you that half-way through the instructions?) so this requires time, but trust us, it's worth it so get your plans in place early!
10 chicken wings, halved at the join to make 20
2 tbsp dried mustard powder
2 tbsp runny honey
1 tbsp paprika
1 large garlic clove, smashed
2 tsp salt
2 tsp black pepper
1 tbsp rapeseed oil (or flavourless oil)
1 tbsp baking powder
2 tbsp cornflour
To make the marinade, smash the garlic in a pestle and mortar (or using a garlic press in a mixing bowl) and to that add salt, pepper, oil, paprika, honey, mustard and vinegar. Stir to combine.
Then, add the chicken wings to a freezer bag followed by the baking powder, cornflour and the rest of the marinade mixture. Close tightly and squeeze around to make sure the chicken pieces are covered. Leave the chicken to marinade overnight.
The next day, take the chicken out and allow to come to room temperature then pre-heat the oven to 210ºC.
Arrange the chicken on a baking sheet lined with greaseproof paper and bake for 20-25 minutes, turning half-way through. You can dispose of the leftover marinade. Keep an eye on these, because of the honey and mustard, it will colour and potentially catch very quickly.
When finished, take out and serve hot with sauce of your choice on the side – a blue cheese sauce is always delicious!
2. Sticky Soy, Garlic and Ginger-Glazed Chicken Wings
Serves 2-4
For something far quicker, here's a spicy, sharp and sticky chicken wing recipes that's fast and full of flavour. No marinating, no frying required here. Simply bung the wings in the oven, make the glaze whilst they bake and then cover them when they're done. Great if you're in a hurry or looking for a wings recipe with a burst of intense flavour.
10 chicken wings, halved at the join to make 20
6 tbsp dark soy sauce
1 tbsp sesame oil
2 cloves garlic, smashed
A piece of ginger equal to the size of two cloves of garlic, peeled and smashed
1 tbsp chilli flakes
2 tbsp brown sugar
2 spring onions, washed and thinly sliced
2 tbsp sesame seeds
1 small red chilli, sliced (de-seeding optional)
When the wings are halved, dry them out on some kitchen paper so that they are as dry as possible whilst you pre-heat the oven to 220ºC.
Prepare a baking sheet with greaseproof paper and add in the chicken wings – don't crowd the sheet, leave each one with enough space so they aren't touching (they will steam and go chewy and never crisp if overcrowded). Drizzle a little rapeseed oil over the wings and sprinkle liberally with salt and pepper.
Bake for 20-25 minutes, turning once or twice until golden and crisp.
As they bake, make the glaze by smashing garlic and ginger with a little coarse salt in a pestle and mortar. To this, add the soy sauce, chilli, brown sugar and sesame oil. Stir together with a couple tbsp of water and add to a saucepan or frying pan over a medium-high heat. Bring to the boil and then bring down to a vigorous simmer until it's reduced into a shiny, thick glaze.
When the chicken wings are out, arrange on a cooling rack over another baking sheet and paint the wings with the glaze. Alternatively you could dip the wings and drag through the glaze – your choice.
Serve immediately with a generous sprinkle of sesame seeds, sliced spring onions and fresh chilli.
3. Garlic Butter Chicken Kiev Wings
Serves 2-4
And now for something entirely different! Chicken Kiev is one of the most comforting, satisfying and delicious dishes imaginable – if you ask us. So why can't the same flavours be applied to wings?
Not ones to be limited, we did just that! Deep-frying chicken wings in a light coating to ensure crispness then drizzling with a herby garlic butter sauce and topping with a crunchy breadcrumbs and crispy onion mixture. Phenomenal, and something really different; try it!
10 chicken wings, halved at the join to make 20
2 tbsp cornflour
1 tsp baking powder
2 tsp paprika (optional)
salt & pepper
3-4 cloves of garlic, minced
2 tbsp butter
2 tbsp plain flour
400ml milk (use more if needed)
fresh parsley, chopped, keeping a little extra for garnish
seasoning
Large handful of fresh breadcrumbs
50g dried crispy onions
Heat a deep fat fryer to 190ºC.
Take your halved wings and place into a freezer bag, adding in the cornflour, baking powder and seasoning. We suggest adding a little bit of paprika to add a little extra colour.
Without overcrowding the fryer, add in a couple of floured wings at a time. Cook for about 5-7 minutes, turning occasionally in the basket to ensure even colouring. Because these are floured rather than battered or breaded, the colouring won't be as beige as you might expect. Place on kitchen paper to drain of excess oil. If not eating instantly, leave in a moderate oven.
For the garlic sauce – melt the butter in a saucepan on a low, gentle heat and add in the minced garlic cloves and allow to sauté for a couple of moments. Be very careful not to burn the butter or garlic.
Add in the flour to make a roux ( a white sauce base) and stir vigorously, giving it about a minute to cook off the flour. Whisk in the milk, mixing constantly until the sauce begins to thicken and bubble. Taste and check for seasoning, then stir in the fresh parsley. If you leave to one side or make the sauce ahead of time, it will become gelatinous and will require to be reheated with a little extra liquid whisked through to become a sauce once again.
In a oven at 100ºC, place a baking tray filled with a hefty handful of breadcrumbs, seasoned with some salt & pepper. You're looking to dry them out and crisp them up. When they're done after about ten minutes, mix through some dried crispy onions for extra flavour.
To serve, take the wings, drizzle over the herby, buttery garlic sauce then top with the breadcrumb mixture. Alternatively, fill a small bowl with the garlic sauce, and another with the breadcrumbs. Dip the wing into the sauce, then into the bread and enjoy!