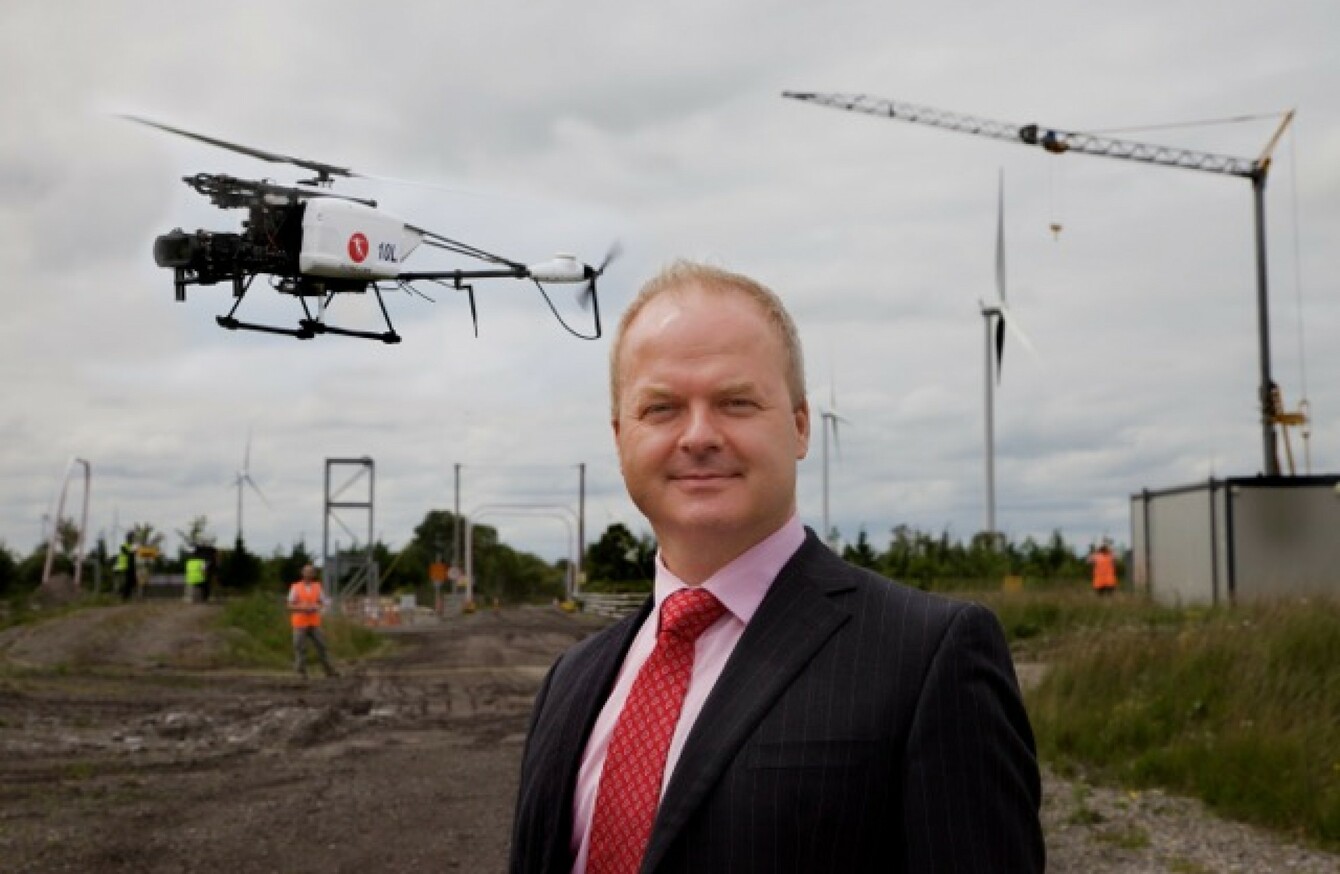 Green Aviation founder Oisin Green
Green Aviation founder Oisin Green
THE WHISTLE OF missiles flying overhead was something that Oisin Green got used to surprisingly quickly.
"After a while it was happening so often that you would walk from the dining hall to your room, and you would hear the sound of artillery and know that it was going a few kilometres down the road," he tells Fora.
Green was an infantry troop commander as part of an Irish peacekeeping force stationed in south Lebanon in 2000. Israel had invaded part of the country in 1978 and, more than 20 years later, still had a presence there.
"Several months before I arrived (Irish private) Billy Kedian was killed by mortar fire from an Israeli post after making sure that everyone got to a bunker ahead of him," Green says. "It brought things into stark contrast – what we were doing and how dangerous it could be.
"There was full-blown fire from the time we arrived; constant bombing – morning, noon and night – mainly from the Israeli side from the time they withdrew under artillery and aircraft fire."
Green would wait for several years after the Israelis withdrew in the middle of 2000 for his next tour, serving in Bosnia in 2004 and 2005.
After studying as an electrical engineer, it was in the military that Green got his hands on some of the most advanced weapons in the world.
"I was teaching for the last few years of my career in the military, I was in the infantry weapons wing, so any time a new weapon came in we did the pre-purchase trials to come out with the best one," he says.
"We were potentially buying for the next 20 years, because the equipment had to last – and we were exposed to a lot of cutting-edge technology."
His 12 years in the army would help Green go on to found one of Ireland's first commercial drone companies, Green Aviation.
Among the sniper rifles and mortars, Green got a chance to get up close and personal with some of the most advanced unmanned aircraft in the world.
During a break from the military and a stint as a contract pilot for Ryanair, he decided to set up his own company.
"The idea always was to keep it open with a view to drone contracting," he says.
Now married with three young children, Green is now trying to convince companies that technology the army has used for years can also help give their firms an edge.
What do you do and how long have you done it for?
Green Aviation is one of several startups jostling for space in Ireland's nascent commercial drone industry, which authorities are only starting to get to grips with. The company provides drones to companies for a variety of uses, primarily for large-scale surveying work.
Green officially launched the business in 2015 to focus on providing drone services. However, the company differs from many other drone firms in that it is focused on high-end applications.
The drones it uses are much larger and heavier than normal, allowing them to be fitted with bigger and higher-resolution cameras. They can stay in the air for over a dozen hours, as opposed to more run-of-the-mill units that may only be able to remain airborne for an hour or less and are more prone to reliability issues.
Based in Dublin, the firm is backed by Mayo-born aviation millionaire Ulick McEvaddy, a former Irish army officer who founded Washington-based aircraft leasing company Omega Air.
The company had hoped to set up a drone base in the former Carnmore Airport in Galway, although there are indications that the council is trying to set up a film studio there instead.
Green Aviation is at a pre-revenue stage, however Green says that the firm has signed a 'pre-contract agreement' for building-site inspections potentially worth €2 million a year with a company in Dubai. He also expects to close another, slightly smaller contract with an Irish semi-state in the next few weeks.
"We are focused on doing large infrastructure inspections that are currently being done by manned aircraft," he said.
"We are pitched at larger projects and they can take time to come through, but we are beginning to see the fruits of our labour."
What are your costs and how do you make money?
At the moment Green Aviation is quite small, employing three people, including Green, on a full-time basis. While it has yet to land one of its 'big fish' contracts, it has completed a few small jobs for various companies, such as agreeing a deal with the Aviva Stadium to use its drones for infrastructure inspections and marketing.
Last year the firm made a €128,000 loss, although this came before it officially 'launched'. Nevertheless, Green expects that the company could break even as soon as the end of this year once it closes the first of its major contracts.
"We should nearly be at break even by the end of this year, it's one of the reasons why we were very conservative and didn't go after smaller contracts," Green says.
"We have bootstrapped the operation as much as we could, which will bear fruit once we have the contracts signed off.
"We would expect that the one from the semi-state will bring in over €400,000, being conservative."
However, the company's technology doesn't come cheap either. The drones, a top-end model supplied by Belgian firm Flying-Cam, have been used in the filming of several blockbuster movies including Skyfall and Harry Potter.
"For one drone without any control software or spare parts, you could be looking at €200,000. And then you have to add in cameras and sensors for it to do what you need it to do, but it brings something to the table that the smaller guys can't," Green says.
What is your market?
Rather than trying to compete with companies making drones for commercial use, Green is looking at the possibilities for businesses to use the technology.
"We could do detailed photography of a wind farm with 70-metre turbines and highlight the areas that are damaged," Green says.
"If you were to get someone to take photos of each part of each turbine it would take much longer, and you would still have to sit someone down and look through them to see where the damage is done, whereas we can highlight it much quicker. We also process the data and make it easy for them to understand."
With this in mind, Green says that the firm is targeting a mix of state bodies and large commercial operators.
"We are looking at a mix of both, but really it is for whoever can see the benefit of using larger drones that can carry bigger sensors. If someone is interested in our services, their background doesn't matter to us," he said.
Green says that Ireland will likely be the "proving ground" for the technology, while it is expected that much of the company's business will be sourced abroad. However, he says the firm will maintain a decent presence here and would hope to have several local contracts on the go at any one time.
https://www.facebook.com/greenaviationltd/videos/510832715754923/
What is the competition?
There are about 100 commercial drone pilots licensed by the Irish Aviation Authority, with the number increasing significantly in recent years as more operators look to set up here.
Jay Bregman, who co-founded taxi app Hailo in 2011, has set up a company called Verifly which has operations in Dublin and is developing a system to register unmanned drone flights. Another Irish startup, Skytango, is trying to build a marketplace for drone enthusiasts.
However, Green says that these companies, as well as tech giants such as Google and Amazon, operate in a very different space to Green Aviation.
"They offer completely different services; none of them are in direct competition with us and what we are trying to achieve," Green says.
"We are going after manned aircraft. If you take a powerline network, it is being surveyed by a helicopter crew with two or three guys; but you can have one pilot flying three or four drones simultaneously and you can lower costs by exponential rates."
Fear of the unknown is possibly Green's biggest problem, he adds: "You are dealing with the mindset of 'why change it if it isn't broken?' Companies are worried, they say 'what if it crashes, how much do we save?' It takes time but people are slowly coming around to the idea."
What is your vision?
A man used to a challenge, Green isn't bothering to aim low. Not content on just getting off the ground in Ireland and the Middle East, the ex-army officer is hoping his firm can take off all over the world and in the short term is hoping to grow exponentially.
"In five years I would be disappointed if we weren't operating in North and South America, the Middle East and a number of European countries," he says.
"We have three staff now and we will take on another 15 when Dubai goes to a full contract and then in Ireland I would be looking to hire another five people to serve the market here."
Long term, the company is hoping to develop its own drones and software, projects that would likely take years and cost millions of euro to complete. As Green points out himself though, trying to look beyond a few years into the future is pure speculation and he is instead focusing on the here and now.
"We are looking at the types of goals we would like to see within five years. I would just like us to grow and prosper," he says.
"It has been tough at times and with a wife and three young kids it can be very tricky. Even after being in the army and working as a commercial pilot, this is the hardest thing I have ever done.
"You eat into your savings and the numbers go down and there are times when you don't see a light at the end of the tunnel and you wonder whether it is all worth it, but I wouldn't be the first entrepreneur in that situation. It has been tough, but I think that soon we will be up and running."
This article is part of our weekly series examining the nuts and bolts of businesses. If you would like to see your company featured please email news@fora.ie.
Written by Paul O'Donoghue and posted on Fora.ie