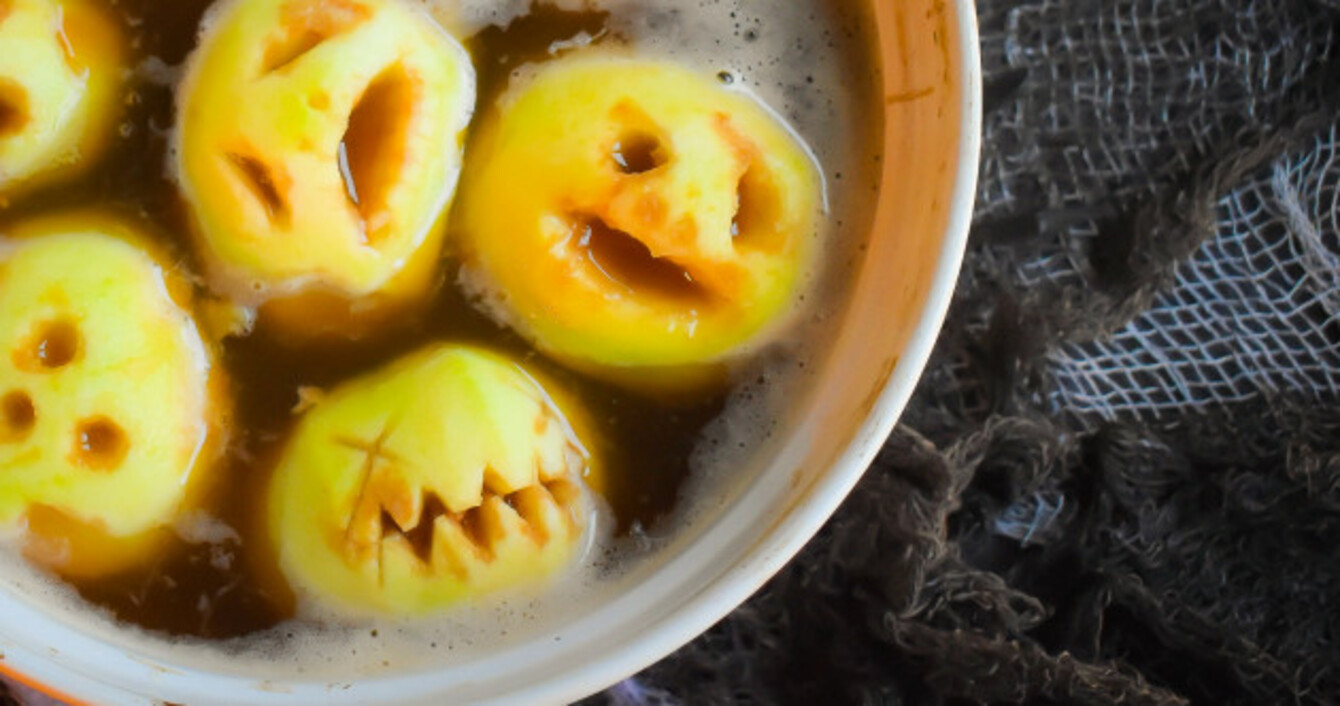 Image: GastroGays
Image: GastroGays
SPOOKY SEASON is here! While the nights get darker, costumes are being chosen and sewn right across the country; pumpkins are carved and placed on the windowsill, and treats are being baked (and bought) for all the trick or treaters who'll ring the doorbell.
Meanwhile, we're busy in the kitchen coming up with some ideas to make some favourites into something suitable for the October 31!
It's all about making food and drinks look spooky, scary unnerving and we think these recipes do just that: a mouldy-looking dip, a cauldron of heads, and squidgy brownies!
Guacamouldy
Everyone has their own recipe for guacamole, and arguably this isn't a seasonal recipe in any sense. However, there's something so satisfying about making food blue on this particular night of the year and we couldn't be happier to turn the healthy eating ingredient of the moment, avocado, into a mouldy, slowly decomposing dinner party starter or pre-drinks nibble. YUM!
The gorgeous green of guacamole is the perfect vehicle for spooky silliness in the form of a liberal crowning of artificial mould. Feel free to cut some tortilla wraps into some Halloween shapes, and even paint using some water mixed with paprika for an extra effect.
For the guacamole
4 large avocados
2 medium fresh tomatoes, finely diced
2 cloves of garlic
2 tsp coarse sea salt
2 tbsp lemon juice
1 tsp freshly cracked black pepper
1 tsp sugar
For the artificial mould
2-3 tbsp Panko breadcrumbs
Blue gel food colouring
Method
Firstly, for the mould, simply combine the Panko and the food dye. You can use a mix of blue and black food colourings if you like, in order to get that darker blue hue. Or you can add some Worcestershire sauce to blue dye to make it a darker colour.
Make your own guac. People are quite particular, so whether you want lots of garlic, no tomatoes, heavy seasoning, a dash of Tabasco or a super secret ingredient – do it your way. We don't need to tell you how to mash together these ingredients, do we?
Sprinkle half the mould over the guacamole and stir to combine, then finish with a light sprinkling over the top.
Shrunken Head Punch
This is the stuff of Pinterest dreams… or nightmares! If you're beyond bobbing for apples, this might be a nice idea instead, which allows your creativity to run wild! The punch itself can be customised in whichever way you like too.
Ingredients
4-6 cooking apples
Lemon or lime juice. Fresh is best, but bottled if you must
1l bottle of cola
Food colouring (of your choice)
Method
The prep is the most laborious portion of this recipe, the rest is sheer fun in an almost childlike fashion.  Peel the apples and half them – removing the seeds – then immediately douse all the bare halves in the citrus juice to stop quick discolouration.
If possible, keep the halves in the juice until you begin to carve each individually. When carving, let your imagination run wild. Use a small paring knife and make small incisions that you can then build upon and bore out, rather than hacking straight into the apples.
After finishing each carved half, douse again in the juice to ensure that the freshly sliced bits don't discolour. When each apple half is carved and complete, set aside and get a big glass bowl.
Pour in all of the cola (or you could use concentrated squash, alcoholic cocktail or even a mocktail). You can then slightly tinge with food dyes and colourings if you like, which gives an even more menacing murk to the shrunken head bath.
Pop the heads all in and – hey, presto! – they all float! Light some candles around them, turn the lights off and prepare to be seriously spooked!
Bloody Beetroot Brownies
Crack, squidge and melt – these are the three actions you can certainly expect to see, hear and taste when tucking into the perfect brownie. A firm, almost charred, cocoa top should be followed by a slightly wet and squidgy centre, while once that square you're given is tasted, it must melt in the mouth in a cascade of sweet, rich, spongy chocolate. Drooling yet?
Our version of this classic recipe has a beetroot base, providing colour, earthiness and a deep punch to the palette which is followed up by the tart, fresh burst of raspberry, both speckled whole throughout and swirled and stirred through the chocolate middle.
These are fantastic for sharing, but, you would also be forgiven for wanting to be alone with this tray of complete indulgence if you're feeling particularly low or in need of edible comfort.
Ingredients
250g raw beets, peeled and grated
200g caster sugar
200g unsalted butter, room temperature
100g dark chocolate (or 50:50 dark and milk)
120g plain flour
1/2 tsp of bicarbonate of soda and 1 tsp baking powder
50-100g organic cocoa powder (depending on taste)
125g raspberry purée (instructions below)
8-10 whole raspberries
2 eggs
1/4 tsp salt (plus extra, coarse, sea salt to sprinkle on top after baking if you like)
Method
Pre-heat the oven to 180°C. Line a 22cm square springform tin with parchment paper.
Put a glass bowl over a pan of simmering water and melt the chocolate and butter together.
Meanwhile, peel and grate your raw beets into a small bowl. Keep all the juice that leaks.
In another bowl on standby, combine your dry ingredients – flour, bicarb, baking powder, salt and cocoa powder.
To make the raspberry purée, simply mash raspberries with a little salt and sugar until it becomes a very loose jam consistency.
Now to your main bowl. Sift the sugar into the eggs and whisk until the mixture is pale, light and fluffy. Give it a good two minutes work. Then add your beets, stir all together as the mixture becomes wonderfully pink.
Add your dry mix and chocolate mix alternately, beginning and ending with the dry. So in your head judge your dry mix into quarters and your wet mix into thirds. Add a quarter of the dry mix to the big bowl, stir, add one third of the chocolate, stir… and so on until everything is combined.
Just as everything has come together, lightly stir in the raspberry purée.
Pour into the lined tin and push a few raspberries into the mixture
Pop on a baking sheet and bake for 25-30 minutes. You want the top to be ever so slightly cracked and firm, but still gooey inside.
Cut into six or eight slices and serve.