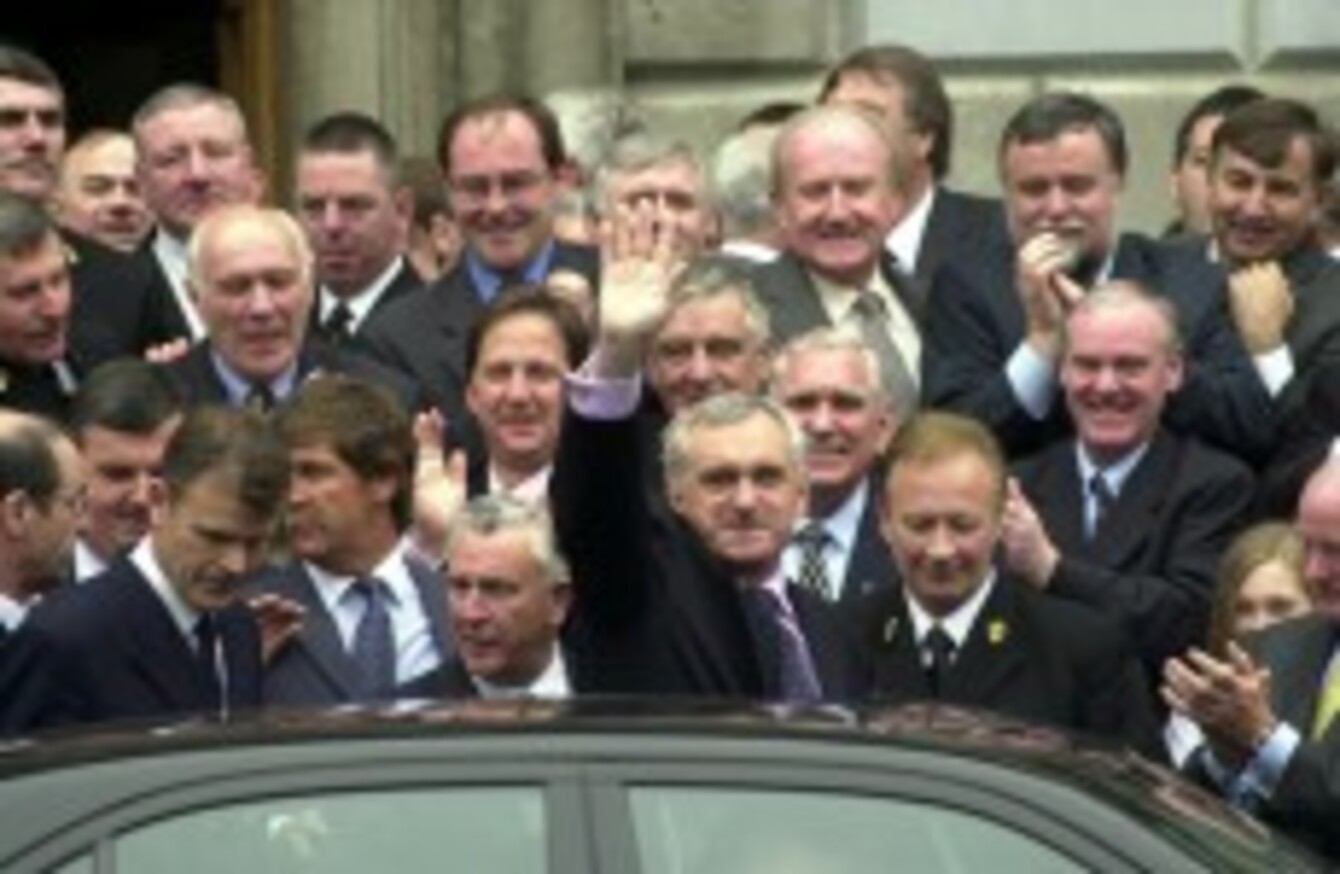 Image: Gareth Chaney/Photocall Ireland
Image: Gareth Chaney/Photocall Ireland
FORMER TAOISEACH Bertie Ahern has called for an unprecedented cut in the size of the Dáíl – suggesting that Ireland could make do with as few as 70 TDs.
Ahern has also spoken out in favour of reforming the electoral system so that each Dáil constituency only has one TD.
Interviewed for a study commissioned by the Houses of the Oireachtas, Ahern argued that the abolition of the dual mandate – where TDs were no longer allowed to hold seats on local councils – had freed up time time for most TDs.
He also argued that most of a TD's time, irrespective of that, was tied up in dealing with state agencies which were not well suited at interacting directly with the public.
"Dealing with various State agencies is a large part of a TD's constituency work and if those agencies were more accessible and more approachable, people wouldn't feel the need to have a TD or a Councillor speak ontheir behalf," Ahern told the study.
The former taoiseach – who led the government between 1997 and 2008 – said a TD's workload could be mitigated by having a support staff of five people, one of whom could be solely tasked with scrutinising legislation.
The document, compiled by solicitor Dr Brian Hunt in his capacity as the first Parliamentary Fellow at the Houses of the Oireachtas, was compiled in 2010 but formally released by the Oireachtas to the public this week.
Hunt noted that the reduction in the number of TDs would hamper the work of Oireachtas committees, which in turn would mean the quality of legislation would ultimately suffer.
Guillotines
Elsewhere in the document, Ahern says the use of parliamentary 'guillotines' – where the time allocated for a debate is deliberately limited – so that legislation could be passed wholesale without the possibility of vital amendments being defeated by the opposition.
"In an ideal world it would be better if we didn't have the guillotine. It's not good that sections of legislation are not reached during a debate, it's clearly not agood process," the former Fianna Fáil leader said.
He also argues that the nature of government means that while backbenchers are more likely to raise concerns directly with a minister, opposition TDs will raise them in the Dáil – consuming time "which could otherwise be used for scrutinising legislation."
While he does not outwardly call for the Seanad to be abolished, he does suggest that the method of electing Senators should be amended.
"Major reforms such as the reduction in the number of TDs has not happened because to achieve it you need cross party consensus and that just is not forthcoming," Ahern said.
The current government has asked the Constituency Commission to reduce the number of TDs elected, and is expected to present proposals in the coming months which will reduce the number of TDs from 166 to between 153 and 160.