Image: Niall Carson/PA Wire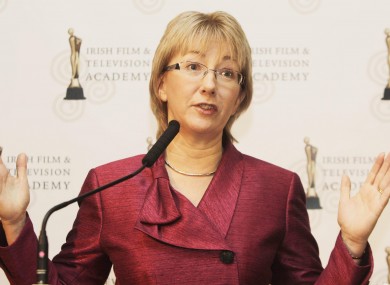 Image: Niall Carson/PA Wire
MARY HANAFIN has publicly announced her intentions to become leader of Fianna Fáil.
At a press event at the RDS today, said she wanted to rebuild the party as a "new and renewed" entity.
Describing Fianna Fáil as a "movement" rather than a "party", Hanafin also said that under her leadership, more women and young people would be encouraged to take an active role in the party's activities.
Speaking of the possibility that she would be the only female candidate in the ballot, Hanafin said she was "ready to lead" a male-dominated party, and said a greater issue would be whether male TDs were prepared to serve under a female leader.
As the Irish Independent's Aine Kerr quoted, "The question is whether they're ready for me to lead them."
Among the TDs who will support Hanafin in the election will be the Minister for Community, Equality and Gaeltacht Affairs and for Transport, Pat Carey, who will propose Hanafin as a candidate ahead of tomorrow afternoon's deadline for nominations.
Hanafin's nomination will be seconded by former junior minister, Tipperary North TD Maire Hoctor.
RTÉ News also reported that Hanafin conceded to having voted against Brian Cowen in Tuesday's motion of confidence.