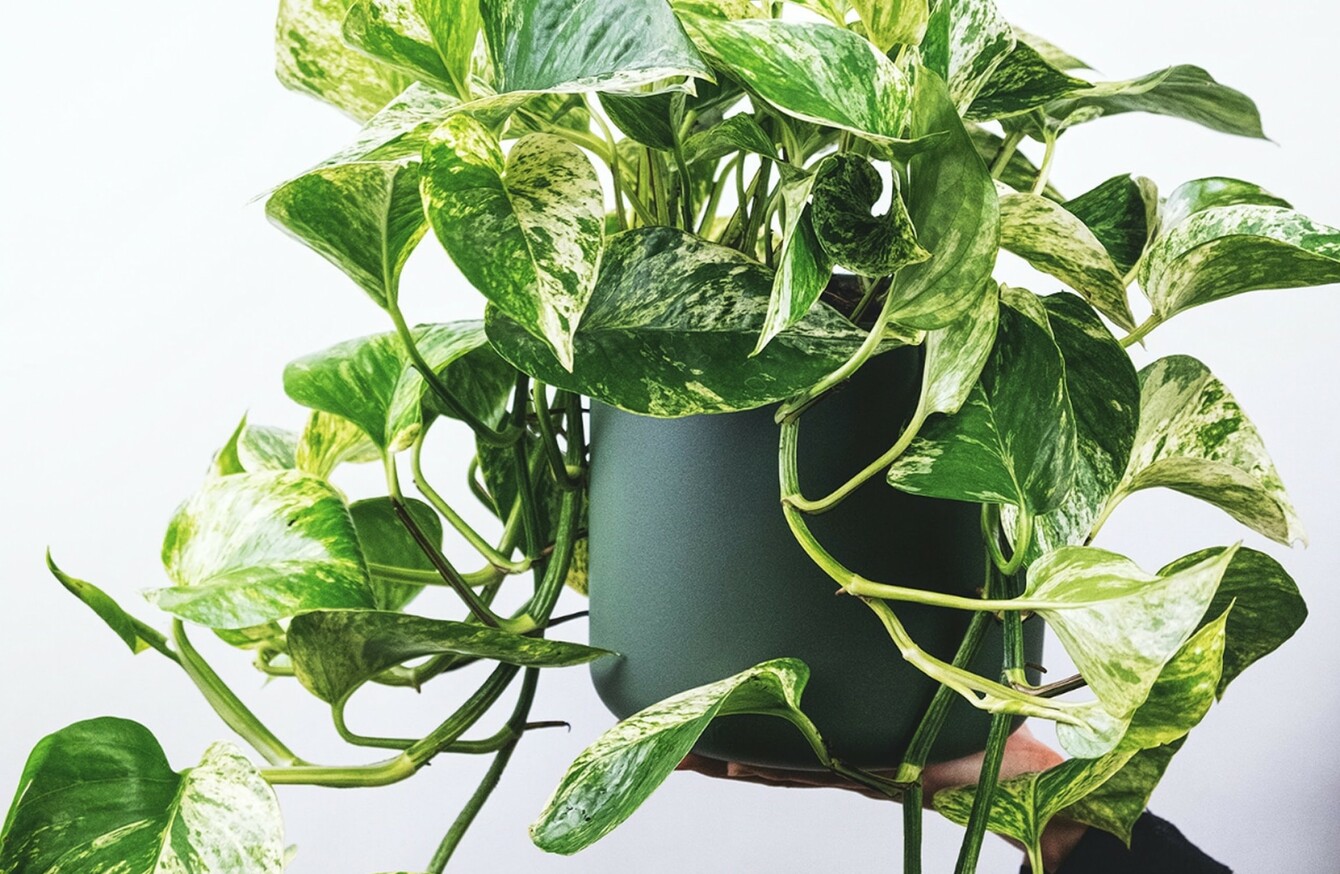 A marble queen pothos.
Image: Unsplash/Severin Candrian
A marble queen pothos.
Image: Unsplash/Severin Candrian
LAURA DE BARRA regularly brings her lifestyle and home maintenance masterclasses to the Glenveagh Home Magazine on TheJournal.ie. This week: Ready to bring some greenery into your home, but not the green-fingered type? Try these forgiving houseplants for starters…
WE'VE ALL BEEN there. You bring a new plant home, full of good intentions, and find it wilting and yellow leafed within a month. If you've had one tragic houseplant story too many, think tactically this winter and go for some hardier leaves that allow for minor errors, like over watering or too much sunlight.
Below are six low maintenance houseplants that'll suit most homes…
1. Pothos: A super forgiving plant. She can grow well in both brightly lit and more dimly lit rooms, so is a good choice in smaller homes or ground for apartments. Wondering if your pothos needs watering? Just stick your finger into the soil – once the top inch is dry, give her a water.
2. Peace lily: If you're the type who can never tell if you're over or under watering a plant, this could be the girl for you. A peace lily will start to droop and wilt a little if you have left it too long without water. You can also mist the leaves every couple of weeks to keep them perky. Peace lilies have amazing air purifying qualities, so are great for city living. If you like your home warm in winter, she will love this too – but try to keep her away from draughts.
3. Cast iron plant: Cast iron by name, cast iron by nature – this plant can withstand the most neglectful of owners. These deep green, glossy plants take a while to dry out in winter, so again wait for the top inch of soil to be dry before taking out the watering can. A great option for north facing rooms, cast irons don't need much light to thrive.
4. Asparagus fern: Ferns are famous for being high maintenance. If you love the look of a fern but can't commit to the upkeep, the asparagus fern could be the houseplant for you. This grassy plant looks more delicate than common ferns like the Boston fern, but is a lot easier to care for (and it's not a 'true fern' either, but that's a story for another time). Asparagus ferns can take warm household temperatures. While they're fond of a little indirect sunlight, they do well in low-light areas too. Aim for a weekly water to keep the soil moist, but don't stand this girl in water, as she needs to be well drained. Mist her daily and she will thrive. If you're a dog or cat owner, however, avoid this plant – the asparagus fern is toxic to some animals.
#Open journalism No news is bad news Support The Journal

Your contributions will help us continue to deliver the stories that are important to you

Support us now
5. Peperomia/radiator plant: The name peperomia covers around 1,000 types of houseplant, most of which are very low maintenance and forgiving. Most peperomia plants can hack high humidity so are perfect for older homes. Keep them out of direct sunlight, but a bright room is fine. Water every one to two weeks to allow the soil to dry out between watering. 
6. Succulents: If you feel like you need something really low maintenance, a succulent, large or small, could be good for you. These need to be watered just twice a month – and often far less, so do your research when you're buying.
Want more tips and hacks? Laura de Barra's debut book, Gaff Goddess: Simple Tips And Tricks To Help You Run Your Home is on shelves now, published by Transworld Ireland. Buy it here or in all good bookshops, and follow Laura on Instagram for even more cleaning and lifestyle tips.