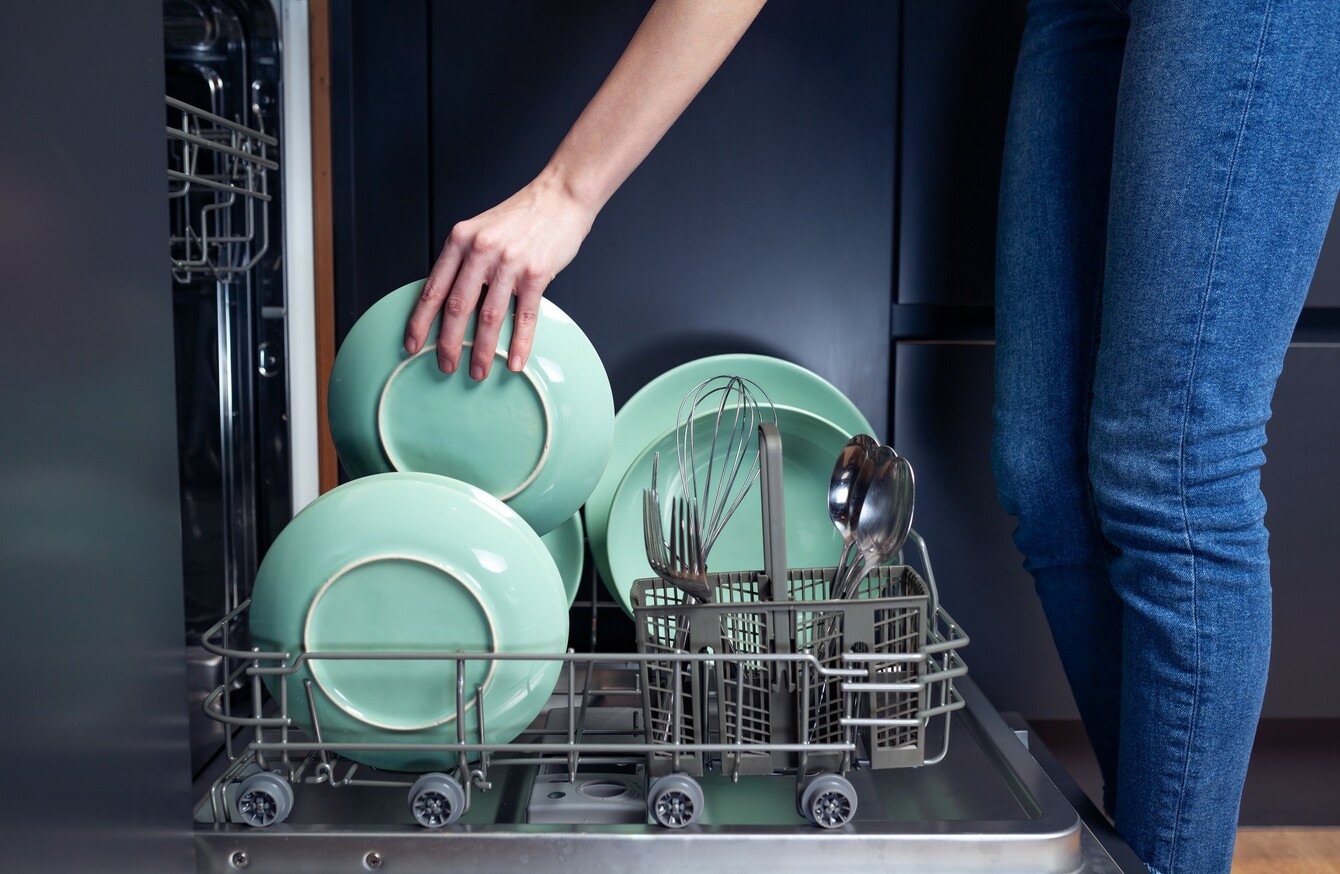 Image: Shutterstock/Gabi Moisa
Image: Shutterstock/Gabi Moisa
LAURA DE BARRA regularly brings her lifestyle and home maintenance masterclasses to the Glenveagh Home Magazine on TheJournal.ie. This week, she's settling those arguments for good with her tips on how to load the dishwasher… properly.
MANY HOUSEHOLDS have been left divided after a heated debate on how their dishwasher should be prepared before her cycle.
Should we pre rinse? Is scraping enough? Should glassware always be on top? How hot and long should the cycle be? Knives up or down? Is rinse aid a farce?
Here is my guide to getting the most effective wash, each time… and why rinse aid really is needed.
1. Pre-stacking
I have one rule here: if you wouldn't place the dish in a basin while hand washing, don't place it in the dishwasher. This means it doesn't need to be rinsed, it just has to be scraped as it would before a hand wash.
The reason is that, during a cycle, water will only enter the dishwasher two to maybe three times. This means that the same water is constantly being circulated, through the spray arms, around the dishes. By scraping off as much food as possible, you are ensuring the water circulated is as clean as it can be. This not only means your dishes are being washed with cleaner water, the likelihood of the spray arms getting clogged with food over time is pretty low. Same goes for your filter and outlet hose.
2. Product
Even if you use dishwasher tablets with a rinse aid added, you may still need to fill the rinse aid (which should really be called drying aid) compartment. To break it down simply, water spots appear on glassware after a cycle due to droplets of water being left to sit on the surface as it dries. If we can reduce the amount of liquid on the surface during drying time, we reduce the chances of water spots.
Enter rinse aid. She is a surfactant, which means she makes the water pour off the surface of the glass quickly in thin sheets, rather than gathering in larger droplets and hang around. Thus reducing drying time and lessening the chances of water spots. Stunning.
(If you are getting a blue or chalky residue after cycles, consult your manual on how to turn your rinse aid setting down, she's too high.)
3. Salt
Having dishwasher salt in your dishwasher is vital, especially in hard water areas. There is a water softening unit in every machine. The salt compartment is technically part of this, and when you fill her it means that the water entering each cycle is pre-softened, so the dishes are not being washed with hard water.
Hard water hampers washing as it makes most detergents weaker and will almost always leave your glassware with white marks (it leaves minerals behind after washes).
Not only does it help with cleaning dishes, softer water is far better for your machine. Hard water can lead to limescale build ups over time, which cause costly repairs and can even lead to the whole machine needing to be replaced.
4. Stacking
First off, heavier dishes should always go on the bottom rack. Aside from the whole gravity aspect, these are usually dirtier than glassware and cups and need to be closer to the stronger spray arm which is under the bottom rack. Also, the water is heated up at the bottom of the dishwasher so it is always hottest on the bottom rack. Glassware is more delicate and should be higher up.
Grouping cutlery will make lighter work of unloading, so stack all forks together, all knives together and so on. Always face cutlery up to ensure a thorough wash.
#Open journalism No news is bad news Support The Journal

Your contributions will help us continue to deliver the stories that are important to you

Support us now
Face cups, bowls and containers down. This will make sure the spray arms can effectively spray into them and water can run off them easily.
Face all plates the same way to make sure there is adequate space between them.
Never overstack. If there are a few that don't fit, hand wash or leave for later. It's better to wash most of the dishes well than all the dishes twice.
Once everything is stacked, slide in both drawers and give the spray arm under the top rack a spin. Make sure this can move freely and no dishes or utensils are sticking up to interfere with her movement.
5. Setting
Most people use the wrong setting for their washes and waste a lot of water and energy each year. Unless the dishes have been sitting in the dishwasher over a couple of days, you most likely don't need a very hot setting or a pre rinse. These are designed for dried-on food. Check your manual and get to know what each setting really entails to make sure you are choosing the right one each time.
Oh, and after each wash is unloaded, take out your filter and rinse her thoroughly. This will avoid any build up.
Want more tips and hacks? Laura de Barra's debut book, Gaff Goddess: Simple Tips And Tricks To Help You Run Your Home is on shelves now, published by Transworld Ireland. Buy it here or in all good bookshops, and follow Laura on Instagram for even more cleaning and lifestyle tips.