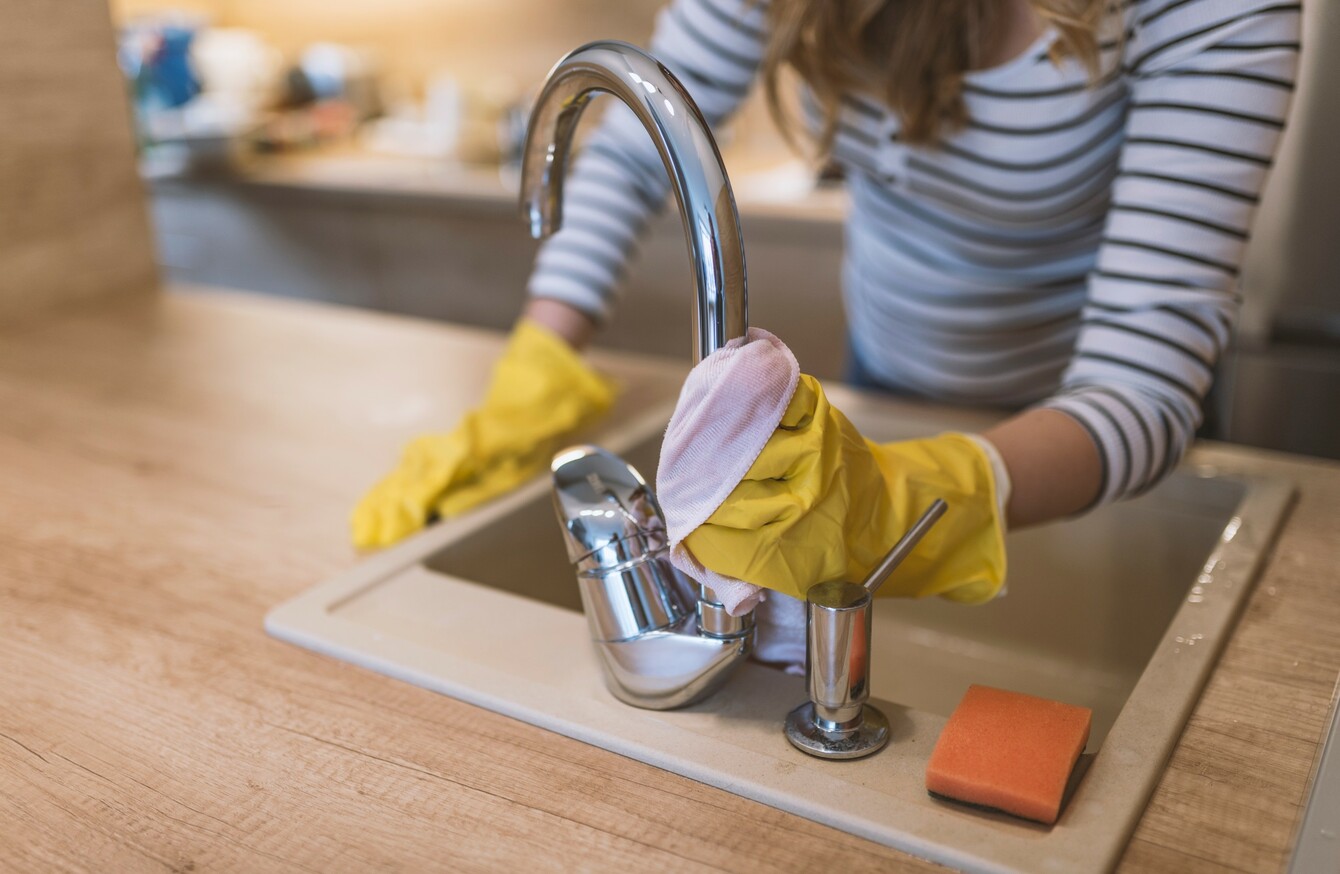 Image: Shutterstock/Dragana Gordic
Image: Shutterstock/Dragana Gordic
Laura de Barra regularly brings her lifestyle and home maintenance masterclasses to the Glenveagh Home Magazine on TheJournal.ie. This week: tough but natural kitchen cleaners for even tougher kitchen cleaning tasks – and not a bottle of bleach in sight.
I am a firm believer that we shouldn't be using any cleaning products in our kitchen that we wouldn't use to wash the dishes. After all, food is prepped and stored there. Harsh chemical cleaners can also wreak havoc with nails and skin, and there are the obvious environmental issues too.
Bleaches and other strong chemicals should rarely be needed for smaller daily cleaning jobs anyway, but bigger cleaning jobs can often feel too messy or large-scale for a natural cleaner. With the right information though, you'll be all set. Read on for four tougher kitchen cleaning tasks and the all-natural ingredients you can use to get the job done…
1. Cleaning a stained sink without bleach
The staining around a kitchen sink drain is most often caused by the tannins from tea or coffee. Every time you toss the remnants of cup into the drain without rinsing it away properly, these tannins are left behind and stain the surface. As tannins are a natural dye, a natural cleaner will work just fine here. Enter lemons, which have a high acidity that will help break down the tannin and lift it from the surface. Simply cut one in half and wipe it over the sink and drain in circular motions. Vinegar will work fine here too, but I find a lemon is handy because you don't need a cloth. Afterwards, simply rinse the juice or vinegar away and buff the area with a dry cloth.
If your sink is very badly stained, sprinkle some bicarbonate of soda on to the lemon half. This will act as a mild abrasive and will scrub the stains off the surface. Again, work in circular motions and work the bicarb into the stain.
If you find you have some water marks or limescale on the taps or draining board, this will also work really well here so don't forget to go over them too! The acidity will break down the mineral deposits and make light work of taking them away.
2. Water marks or limescale on the taps
If you have some really stubborn limescale on the end of your kitchen tap, citrus will come to the rescue again. Tie half a lemon to your tap with some strong, so it's sitting with tap spout sticking into the juicy part of the lemon. Leave this overnight and when you pop it off in the morning, the limescale will be gone. A note: this is not a solution to be used on plated taps.
3. Giving worktops a deep clean
Once you start making your own natural surface cleaner, I promise you'll notice the difference. Not only are you not left with a strong chemical smell and residue after cleaning, it is cheaper and kinder to your skin. All you need here, provided your worktop is not made of a sensitive natural surface like granite or marble, is
Glass spray bottle (if possible – it lasts longer and it doesn't absorb any of your ingredients like plastic does)
White vinegar
Water
Lemon
Simply mix a one:one mixture of vinegar and warm water in the bottle with a squeeze of lemon. The lemon leaves behind a fresh smell that will deodorise, and she also cuts through grease really well. I find a cup of water, cup of vinegar and a slice of lemon would be fine for one light kitchen cleaning session.
This mix can be used for all surfaces, not just counter tops and kitchen tables. It will leave stainless steel sparkling, lift any grease and dirt from tiles and is even great for freshening up interior of cupboards and drawers.
#Open journalism No news is bad news Support The Journal

Your contributions will help us continue to deliver the stories that are important to you

Support us now
4. Cleaning a stinky fridge
The fridge is probably one of the worst places you could be using harsh cleaners as you spray them inside then literally seal the door shut and leave the chemicals to linger with your food. 
Washing up liquid is perfect for cleaning the inside of a fridge that has a lot of spills, as well as washing down the parts that come out, like shelves and drawers. Its degreasing properties make sure nothing is left lingering on the surface.
For smellier fridges or those in need of some extra TLC, a tbsp. of bicarbonate of soda added to a spray bottle of warm water is ideal for cleaning down the interior. The mixture's alkaline qualities break down dirt and grease really easily. She will also take away any odours once she is wiped away. 
For very strong odours, place a cup of bicarb in the fridge overnight. She loves to absorb and trap smells. Super strong odours will need a week of bicarb, changing the cup every two nights. If you keep finding your fridge is getting smelly, check the temperature to make sure it's low enough, and try not to pack the fridge too full – you'll want to leave room for air to circulate around your food. 
Want more tips and hacks? Laura de Barra's debut book, Gaff Goddess: Simple Tips And Tricks To Help You Run Your Home is on shelves now, published by Transworld Ireland. Buy it here or in all good bookshops, and follow Laura on Instagram for even more cleaning and lifestyle tips.