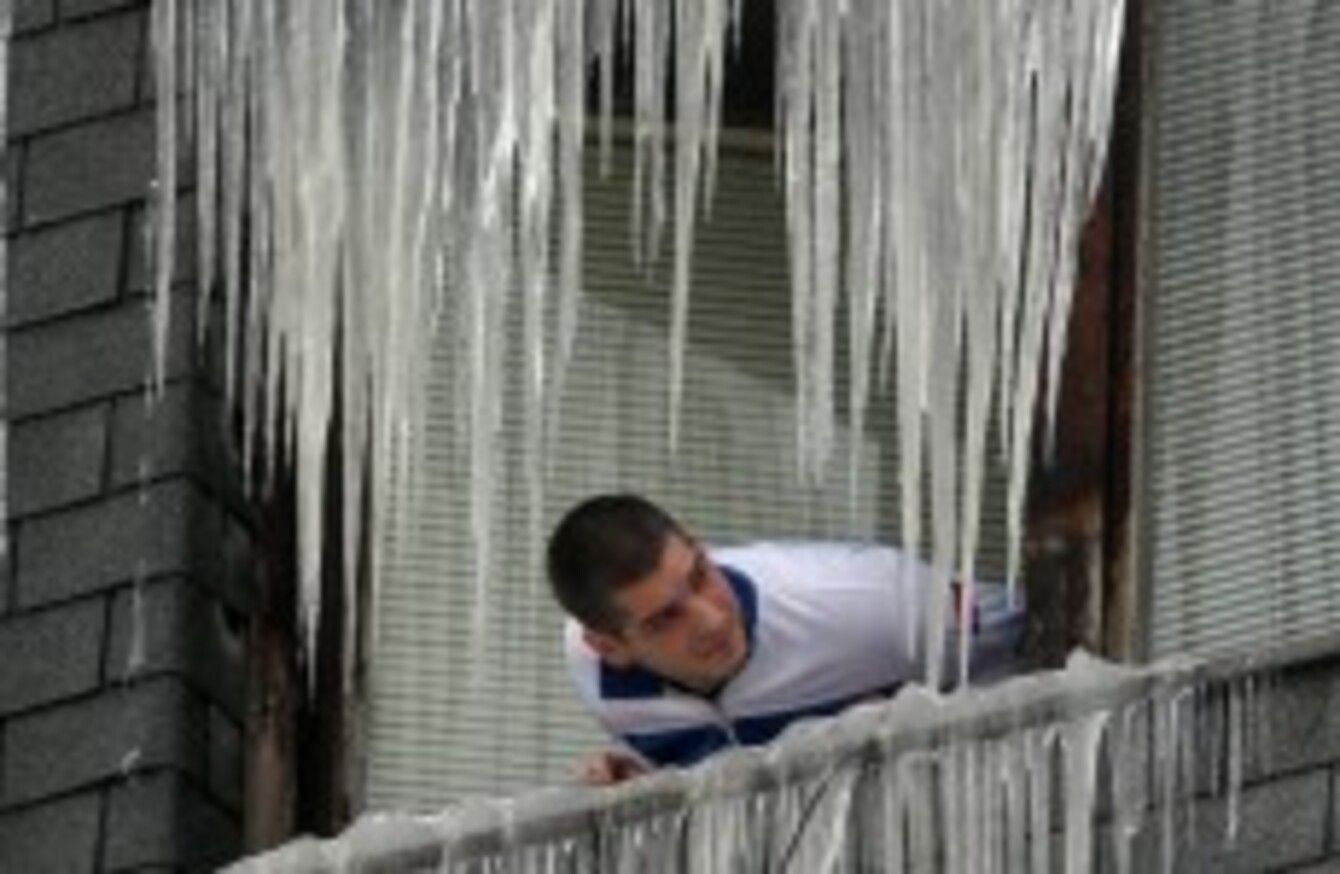 A man views icicles on a window in Uzice 200 kilometers (125 miles) southwest of Belgrade, Serbia, Thursday, Feb. 2, 2012.
Image: AP/Press Association Images
A man views icicles on a window in Uzice 200 kilometers (125 miles) southwest of Belgrade, Serbia, Thursday, Feb. 2, 2012.
Image: AP/Press Association Images
AT LEAST 11,000 villagers have been trapped by heavy snow and blizzards in Serbia's mountains, authorities announced today.
The death toll from eastern Europe's weeklong deep freeze has now risen to 122.
The stranded live in some 6,500 homes located in remote areas that cannot be reached due to icy, snow-clogged roads, emergency police official Predrag Maric said. Emergency crews were pressing hard to try to clear the snow and deliver badly needed supplies.
"We are trying everything to unblock the roads since more snow and blizzards are expected in the coming days," Maric said.
He said "the most dramatic" situation is near Serbia's southwestern town of Sijenica, where it has been freezing cold or snowing for the 26 days, and diesel fuel supplies used by snowplows are running low.
"We hope to get the supplies there today, or tomorrow at the latest," Maric said.
Newly reported deaths on Thursday because of the cold included 20 in Ukraine, nine in Poland, eight in Romania, and one more each in Serbia and the Czech Republic. Officials said most of victims were homeless.
Appeals to public
Polish government spokeswoman Malgorzata Wozniak said her country's victims were mostly homeless people under the influence of alcohol who had sought shelter in unheated buildings. Officials appealed to the public to quickly help anyone they saw in need.
In Ukraine, 63 people have died from the cold in the last week. Nearly 950 others were hospitalised with hypothermia and frostbite, and more than 2,000 heated tents have been set up with hot food for the homeless.
In Romania, the health ministry on Thursday raised the number of cold-related deaths there to 22.
About 180 schools were closed in Romania because of the freezing cold. Three ships were blocked on the Danube River — one German, one Dutch and one Romanian — and efforts were made to unblock them from ice.
In Bulgaria, where 16 towns recorded their lowest temperatures since records started 100 years ago, 1,070 schools across the country remained closed Thursday and large sections of the Danube were frozen, hampering navigation.
In Serbia and Bosnia, helicopters evacuated dozens of people from snow-blocked villages this week and airlifted in food and medicine.
Some Bosnian villages have had no electricity for days and crews were working around-the-clock trying to fix power lines.
The airport in Montenegro's capital, Podgorica, was shut down for the second day Thursday because of heavy snowfall.
Cold snap welcomed elsewhere
However, the cold wave wasn't causing hardship everywhere.
Dutch authorities banned boats from some of Amsterdam's canals and waterways in the hope the big freeze gripping the city would turn the still water to ice and allow residents to go skating. They also turned off mills and pumps that regulate water levels in the low-lying, flood-prone nation to improve the chances of canals freezing over.
Speed skating is a winter obsession in the Netherlands and hopes are about the possibility of holding the Elfstedentocht — or "11 Town Tour" — skating race being staged for the first time since 1997.
The 200-kilometre tour route takes skaters over frozen canals and lakes linking 11 towns in the northern Netherlands. The tour, which is also a race for elite skaters, has only been staged 15 times since the first official event in 1909.