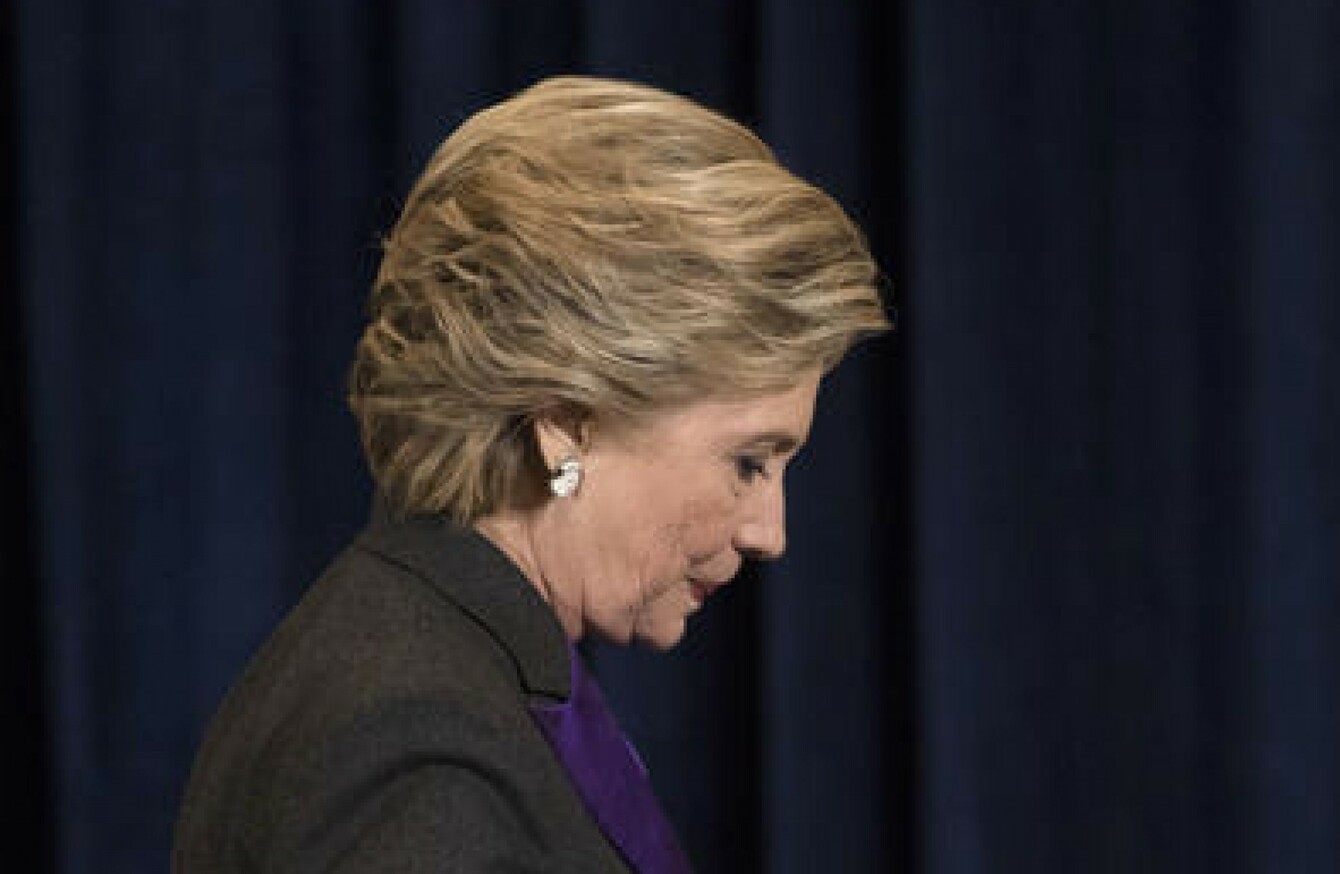 Image: AP Photo/Matt Rourke
Image: AP Photo/Matt Rourke
HILLARY CLINTON HAS blamed the FBI's decision to revive its examination of her email accounts for her devastating defeat in the presidential election.
In a call with top campaign donors yesterday, Clinton said her campaign was winning until FBI director James Comey sent a letter to Congress announcing that the FBI had uncovered emails possibly related to its earlier probe into her use of a private server as secretary of state.
The new examination was sparked by an unrelated investigation into former New York Representative Anthony Weiner, the estranged husband of one of her top aides.
The surprise announcement by the FBI came after three debates in which Republican Donald Trump was widely panned for his performance.
Clinton told the donors that her campaign was leading by large margins in nearly every battleground state and was tied in Arizona, a traditionally Republican stronghold, until Comey released his letter.
Trump's campaign and Republican supporters seized on the news, even though it was unclear whether Clinton's correspondence was tied up in the probe.
Comey told lawmakers last Sunday that the bureau had found no evidence to warrant criminal charges. His "all clear" message only served to further motivate Trump supporters, Clinton told donors on the call.
In the nine days between Comey's initial statement and his "all clear" announcement, nearly 24 million people cast early ballots. That was roughly 18% percent of the expected total votes for president.
While Clinton accepted some blame of her loss, said donors who listened to her call, she made little mention of the other factors driving Trump's victory: A desire for change by voters, possible sexism, the difficulty of a political party winning a third White House term, her campaign's all-but-dismissal of white working class voters and flaws within her own message.
Donors on the call were not authorized to discuss her comments by name and requested anonymity to describe them to The Associated Press.
Protests 
Meanwhile, tens of thousands of people marched in streets across the United States yesterday, staging the fourth day of protests of Donald Trump's surprise victory as president.
The protests – held in big cities such as Los Angeles, New York and Chicago as well as smaller ones, such as Worcester, Massachusetts, and Iowa City, Iowa – were largely peaceful, although two police officers were slightly injured during protests in Indianapolis.
Protesters rallied at New York's Union Square before taking their cause up Fifth Avenue toward Trump Tower, where they were held back by police barricades.
The Republican president-elect was holed up inside his tower apartment, working with aides on the transition to the White House.
Among those railing against him was filmmaker Michael Moore, who tweeted a demand that Trump "step aside".
Trump's comments – particularly a 2005 recording of him making lewd comments about women – sparked outrage during his campaign. That spilled over into demonstrations following an election that ended with half of US voters choosing the other candidate, Democrat Hillary Clinton.
Demonstrators in Indianapolis yesterday threw rocks at police, slightly injuring two officers, said Police Chief Troy Riggs. Some protesters began chanting threats including "Kill the Police," and officers moved in to arrest seven demonstrators.
#Open journalism No news is bad news Support The Journal

Your contributions will help us continue to deliver the stories that are important to you

Support us now
Police briefly fired pepper balls into the crowd during the confrontation.
Rowdy demonstrators marched through downtown Portland, Oregon, for the fourth night last night despite calls from the mayor and police chief for calm.
Several hundred people took to the streets and Portland authorities made multiple arrests after protesters threw bottles and other items at officers in riot gear and blocked streets and light rail lines. The exact number of arrests wasn't immediately available.
In Los Angeles, an estimated 8,000 people marched through downtown streets to condemn what they saw as Trump's hate speech about Muslims, pledge to deport people in the country illegally and crude comments about women.
Meanwhile, several dozen Trump supporters gathered at his vandalised star on the Hollywood Walk of Fame to urge the protesters to give him a chance. One person held a cross that read "All lives matter to me".
In other parts of the country, spirited demonstrations on college campuses and peaceful marches along downtown streets have taken place since Wednesday.
Evening marches disrupted traffic in Miami and Atlanta.
Demonstrations also took place internationally. A group of Mexicans at a statue representing independence in Mexico City expressed their concerns about a possible wave of deportations.
One school teacher said it would add to the "unrest" that's already in Mexico. About 300 people protested Trump's election as the next American president outside the US Embassy near the landmark Brandenburg Gate in Berlin.
President Barack Obama meets in Berlin next week with Chancellor Angela Merkel and several other European leaders, and is expected to confront global concerns about Trump's election.