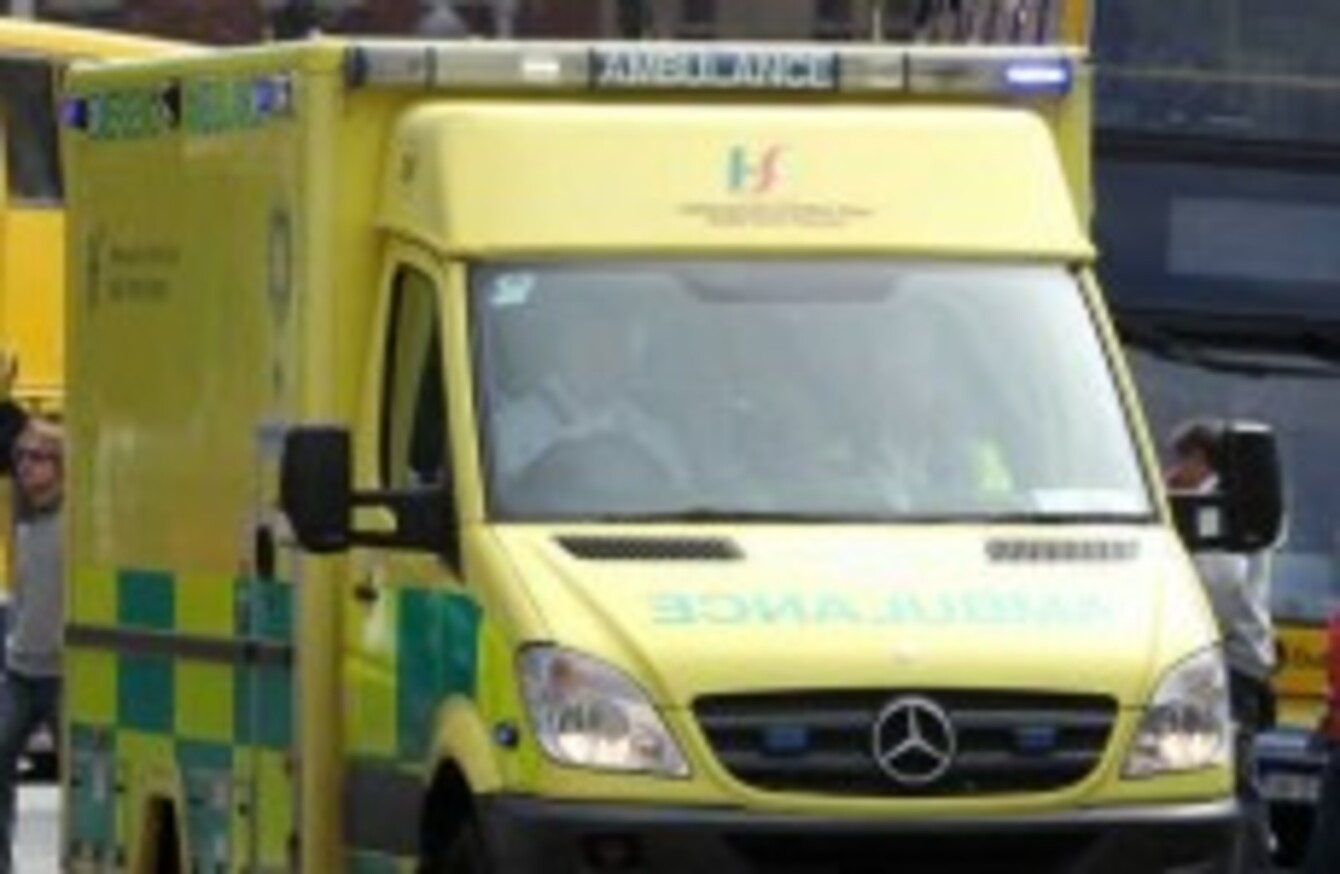 Image: Photocall Ireland
Image: Photocall Ireland
Updated 10.35 pm
A REPORT INTO Ireland's ambulance services has highlighted a range of issues, from poor response times to the risk of older vehicles breaking down.
The mammoth report, published today by the Health and Information Quality Authority, is recommending for some patients not to be brought to hospital, and instead treated at the scene or over the phone.
"In some services internationally, in excess of 40% of patients are successfully treated by paramedics without the need to transport patients to hospital," it reads.
Transporting what is an annually increasing number of patients to the Emergency Department is not sustainable for the two ambulance services or acute hospitals.
Minister for Health Leo Varadkar has said this 'inefficiency needs to end'.
"In some cases, the best thing for a patient is to provide paramedic treatment on the scene, or give advice over the phone, or see the patient in a clinic the next day instead of taking them to a hospital, or take them to a minor injury unit or specialist centre instead of the local Emergency Department," he said in a statement this afternoon.
Clearly these are big changes, and will require new training, protocols and a public education campaign, but it can be done.

It is also calling for more paramedics to be recruited immediately, as the National Ambulance Service has become over-reliance on overtime staff or dropping shifts.
The National Ambulance Service Representative Association (NASRA) says the report shows that a moratorium on staff recruitment and the ageing ambulance is holding the service back. NASRA argues that there has been advances in the competencies of paramedics but that this has not been backed up.
"It is clear from the report that those changes and the efforts of paramedics have not been matched by investment in staff recruitment and replacement, training and the ambulance fleet," said NASRA national chairman Michael Dixon.
The HSE has said that there is funding provided within the 2015 capital plan, for the replacement of 47 new ambulance vehicles.
The report stresses that paramedics and others involved in the delivery of emergency care deserve "great credit" for improvements since the integration of ambulance services nationally.
This includes improvements in treating heart attack and stroke patients.
Read: 'It's only a matter of time before an ambulance crashes or brakes fail' > 
However, "many of the legacy issues associated with the fragmented nature of the original nine providers remain, and the National Ambulance Service has struggled to fully integrate these services into one entity," it reads.
Response times for the most serious cases are also not being met.
First response for the two more serious calls of are aimed to be within 7 minutes and 59 seconds or less in 75% of cases.
However, the best results in one month for these were between 58% and 34%.
The report notes on some occasions that as many as half of all ambulances deployed by Dublin Fire Brigade were delayed as one was not nearby.
Hiqa also said there is a "poor level of co-operation" between DFB an the National Ambulance Service, and called for an urgent review of this.
"In particular, poor coordination in ensuring the best use of pooled ambulance and dispatch resources meant that patients did not universally receive a response in as fast a time as would be achievable with better cooperation between them," the report read.
DFB were also criticised for not fully monitoring the clinical performance of firefighter-paramedics.
It also noted that DFB relied on NAS to provide a timely response, and that on regular occasions neither had sufficient resources. The report suggests this could be alleviated by better co-operation.
While Hiqa recognised that issues for NAS in getting to incidents in rural areas will be looked at in a HSE capacity review, it criticised the lack of a dedicated ambulance in there 'black spots' – Tuam in Co Galway, Mulranny in Co Mayo, and Loughglynn in Co Roscommon.
The age of the fleet has also come under the microscope.
The report detailed that 18% of emergency ambulances (47 out of 266) were more than eight years old.
As previously reported by TheJournal.ie, 48 ambulances have clocked up more than 400,000km.
NAS aims to replace ambulances with a milage greater than 500,000km, or when they are more than seven years old.
Minister Varadkar said that once further reports on the ambulance have been compiled, an action plan for the services will be created.
"The HIQA report gives us some very good guidance on how services can be improved in the medium term," he said.
"It's clear that more investment will be needed to modernise the fleet and more staff will need to be provided in some areas, but HIQA also makes it clear that existing resources are not being used to best effect. "
A lot more needs to be done to improve turnaround times at Emergency Departments.
Chairperson of the Oireacthas Committee on Health Jerry Buttimer said it is "imperative" that all recommendations are fully implemented.
"Delivering an improved ambulance service is a necessity.  This will require making better use of existing resources but it also needs the recruitment of more paramedics," he said in a statement this afternoon.
"Now that we have a report that sets out a pathway for improving our ambulance service it must be acted on and its recommendations must be delivered."
Buttimer signalled that the alternative care pathways suggested could "reduce pressure on other parts of our health system".