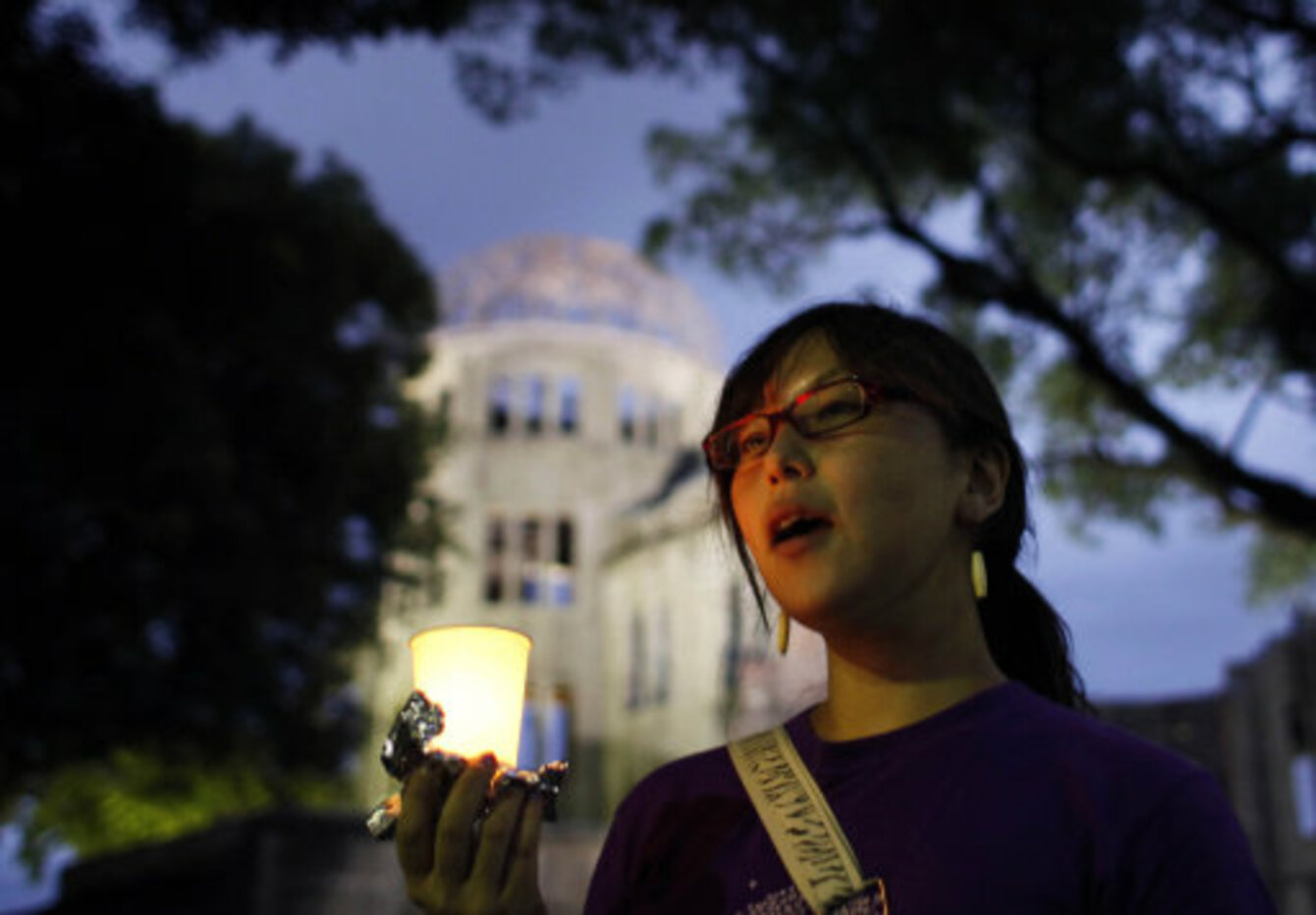 HIROSHIMA'S MEMORIAL service marking the 65th anniversary of the city's bombing by US forces during World War II has been attended by representatives from the UN, US, Britain and France for the first time.
UN Secretary-general Ban Ki-moon spoke of his commitment to nuclear disarmament, and said that the important progress made at the nuclear summit in Washington would be built on.
Over 70 countries were represented at the event. Every year, the sitting mayor of Hiroshima presents a peace declaration, calling for unilateral nuclear disarmament.
At least 200,000 people were killed by the four-tonne uranium bomb which exploded above Hiroshima in 1945, devastating the city.
Japan Hiroshima Anniversary

A girl prays with her family members for atomic bomb victims at the Peace Memorial Park in Hiroshima. Source: AP Photo/Shuji Kajiyama

Japan Hiroshima Anniversary

Doves fly past the gutted Atomic Bomb Dome during the 65th anniversary ceremony of the 1945 atomic bombing at Hiroshima Peace Memorial Park. Source: AP Photo/Shuji Kajiyama

65th anniversary of atomic bombing on Hiroshima

A junior high school student offers paper cranes, a symbol of hope in Japan, at the Children's Peace Monument in the Peace Memorial Park.Source: PA/Kyodo

U.N. chief in Hiroshima

U.N. Secretary General Ban Ki Moon offers a wreath during a ceremony to mark the 65th anniversary of the atomic bombing of Hiroshima. Source: PA/Kyodo

Japan Hiroshima Anniversary

People holding lanterns march past the illuminated Atomic Bomb Dome, praying for the world peace in Hiroshima. Source: AP Photo/Shuji Kajiyama

Hiroshima A-bomb anniversary

Demonstrators stage a die-in at Hiroshima Peace Memorial Park on Aug. 6, 2010.Source: PA/Kyodo

65th memorial of nuclear attack on Hiroshima

Women holding Buddhist beads offer prayers at the Cenotaph for A-bomb Victims.Source: PA/Kyodo

Japan Hiroshima Anniversary

Tsuyuko Nakao, 92, right, and Kinuyo Ikegami, 77, both bereaved family members of the atomic bomb victims, hug each other as they pray for the victims in front of the cenotaph at the Peace Memorial Park in Hiroshima.Source: AP Photo/Shuji Kajiyama

65th memorial of nuclear attack on Hiroshima

Paper cranes, a symbol of hope in Japan, float on the Motoyasu River which runs by the Atomic Bomb Dome in Hiroshima on Aug. 5, 2010, the eve of the 65th memorial of the U.S. nuclear attack during World War II. Source: PA/Kyodo
In 2003, Japanese artist Isao Hashimoto made this animation charting every nuclear test and bombing from 1945 to 1998 (2053 in all):