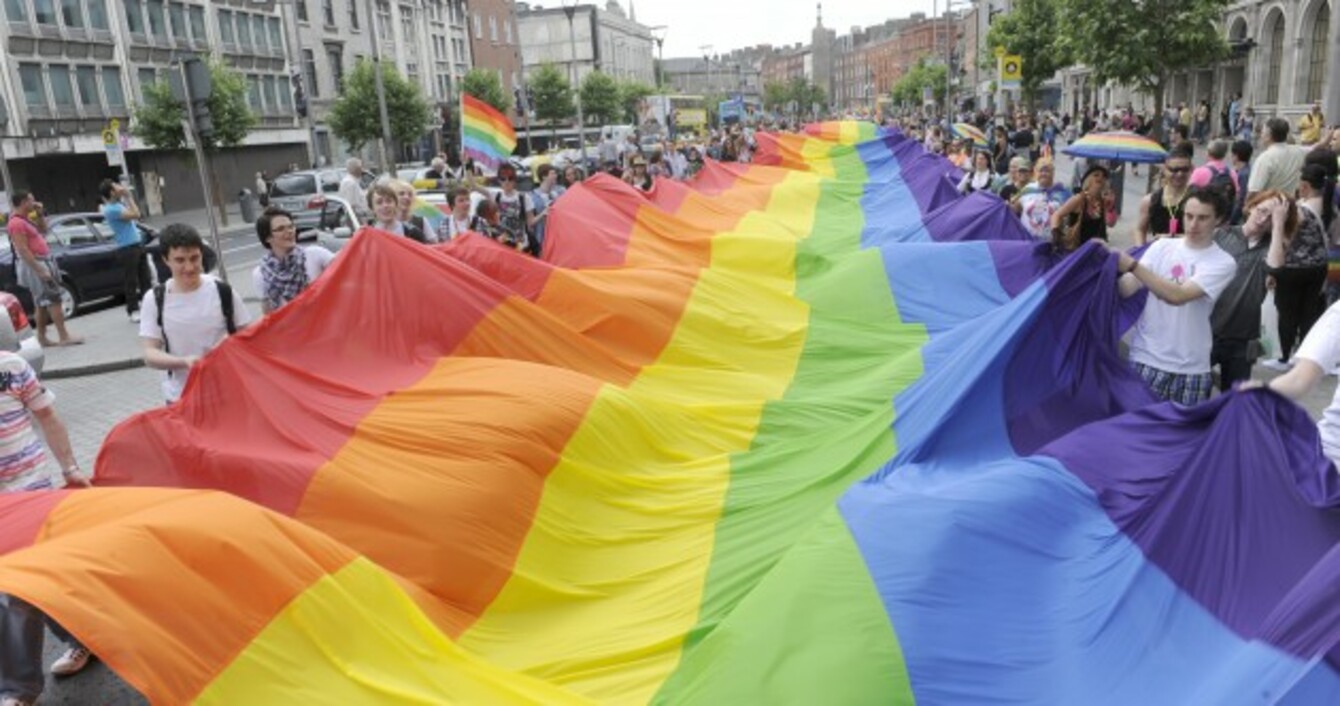 Dublin's Gay Pride Parade in 2010.
Image: Photocall Ireland
Dublin's Gay Pride Parade in 2010.
Image: Photocall Ireland
This article was originally published on 28 June 2014. 
DECLAN FLYNN WAS 31 years old when he was killed by a gang of four in Fairveiw Park in 1982.
The Aer Rianta worker was set upon by four youths in the park who were aged between 14 and 19 years old. He was kicked, beaten with sticks and robbed. Flynn was left on the path to die.
What was the motive behind the attack? He was gay.
His four attackers admitted during their trial they had been "queer bashing" in the park that day.
In March 1983, the four attackers were given suspended sentences between one and five years, sparking what is considered by some as the first large-scale demonstration in Dublin for gay rights.
Outrage
In outrage at the sentencing and in protest against violence against gay men and women in Ireland, the gay community, the unions and supporters marched from Dublin city centre to Dublin's Fairview Park.
A newspaper from the time reported that seven hundred turned out to march.
While there had been small scale marches, this was the first time a group of people, not just from the gay community, gathered to demand equal rights for all.
"I knew Declan quite well. He was a lovely person, shy and kind. His tragic death really was a turning point. It was significant because it got the whole community out together. People were revolted by the sentencing. There was solidarity amongst people against what had happened to Declan. It really was an early manifestation of support for gay rights," said Senator David Norris, who was pivotal, along with other people, in the decriminalisation of homosexuality in Ireland.
In 2013, a Dublin City Councillor proposed that the Fairview footbridge to be named the Declan Flynn Memorial Bridge in his honour.
While the matter was discussed by the council at the time, the matter didn't proceed further.
The Fairview march in 1983 outstripped the Pride parade that was organised for later that year for many reasons, such as homosexuality still being a criminal offence at the time.
People who took part in the Fairview march walked alongside a large trade union presence, as well as those that were not from the gay community, meaning it was less identifiable for people to take part in.
The first pride parade was organised by the National Lesbian and Gay Federation for June 1983 and followed a route through the city centre of Dublin from St Stephen's Green to the GPO on O'Connell Street.
The Fairview march and the Pride parade in 1983 were not the first gay rights demonstrations in Dublin. Although there had been no 'pride' marches in the capital, there had been marches protesting against the criminalisation of homosexuality.
"The movement really began in 1973/74. We were unaware of the Stonewall riots that had taken place in New York, so we were really acting independently," said Norris.
I was at the first march. There was just seven of us. I held a banner that said 'Homosexuals are horrendous' – it caused quite a stir, practically causing the 46A bus go into the gates of Stephen's Green.
He said that it was a big deal for people to openly take to the streets campaigning for gay rights as it was still illegal.
"One girl that was on the march walked up Dawson Street so she wouldn't have to pass by her place of work on Grafton Street. It really was like that," said Norris.
He recalled how they had a picket outside the Department of Justice.
One burly man pulled up in a truck with a carpet for the government department. 'Jaysus, fucking queers' he said when he saw us. Then the other fellow with him said, 'I don't care – a picket's a picket.
Speaking to TheJournal.ie, Brian Finnegan, editor of Gay Community News (GCN) said that march should be remembered. "So few people were out of the closet at that stage so it was hard to fight the fight back then," he said.
March 
"The march for Declan Flynn took place 10 years later and it was huge. People, not just from the gay community, marched against how the police and courts had handled the case," said Finnegan.
Following the 1983 Pride parade, the attendance at the marches dwindled, with just handfuls showing up.
Ireland in the 1980s was going through a lot of difficulties, it wasn't really until the 1993 march that there was an explosion in popularity."
In 1993, the Victorian laws criminalising sexual acts between men were removed from Ireland's statute book.
Finnegan said the decriminalisation of homosexuality was a fundamental shift for the Pride parade.
"I was there at the Pride March in 1993 and I had attended the one the previous year. There was something very different about the 1993 march. It was a celebration," said Finnegan.
"It really exploded that year. It was around that time that Ireland was changing too. We had new money, we were doing well. We had a self-confidence about ourselves.Pride had always been about a right of passage, but it was also about fighting for gay rights. In 1993, it truly felt like Pride was all about a rite of passage for gay people.

Before that, it always was that too, but it was taken in trepidation. In 1993, there was no fear of that."
While he said that it is about a statement of visibility, in 1993, Finnegan said that the gay community were there in huge numbers saying "we absolutely deserve equality. No one is going to make us feel bad about ourselves".
After 1993,  Finnegan said there was a fall off again in the numbers attending, but in recent years, there has been a resurgence in the parade's popularity.
"Pride has evolved with Dublin city and with Ireland," said Finnegan.
The Pride parade is about being proud of who you are, said Norris, who added that it is not all about the Mardi Gras element that is so often portrayed in the media.
"I have a problem with the way the media interpret the parade every year. They only show the 'plastic tits, no knickers' style photos. That is a part of the parade but it is only an element of it," said Norris, who said coverage of the huge delegation of police forces from around the world that marched last year, in uniform, was not given enough coverage.
"The Mardi Gras images are always splashed across the newspapers and they are great fun, but there are people there that are deeply serious too. I am not in anyway saying that these people are not serious too – just look at the likes of Panti who is glamorous, politically on point and witty too. I just think the flamboyance can sometimes make people dismissive of the event," said Norris.
While Finnegan said a lot has changed for the gay community over a relatively short period of time, the message of Pride is still the same. "It is still a rite of passage," he said.
"It is great to see 17 year olds there celebrating their passage to adulthood and sexual orientation. Not only that, but to see a whole community embrace that and welcome them – that is a huge part about what it is about now. It is wonderful to see that," said Finnegan.
Norris said that young people don't need to be as afraid as they were in the past, but said "queer bashing" still happens today.
Finnegan recalled one of his first Pride parades where a woman spat in his face and said "God hates you".
"No matter how permissive society gets, gay people are still marginalised. People are still called gay in derogatory fashion, still called faggot – but the Pride parade is not about that – it is about a loving thing," said Finnegan.
"After that woman spat in my face and told me God hated me I said, 'well, I love you'. This march is not about hate, it is not a thing of anger, it is a love thing. It is about loving yourself," he concluded.