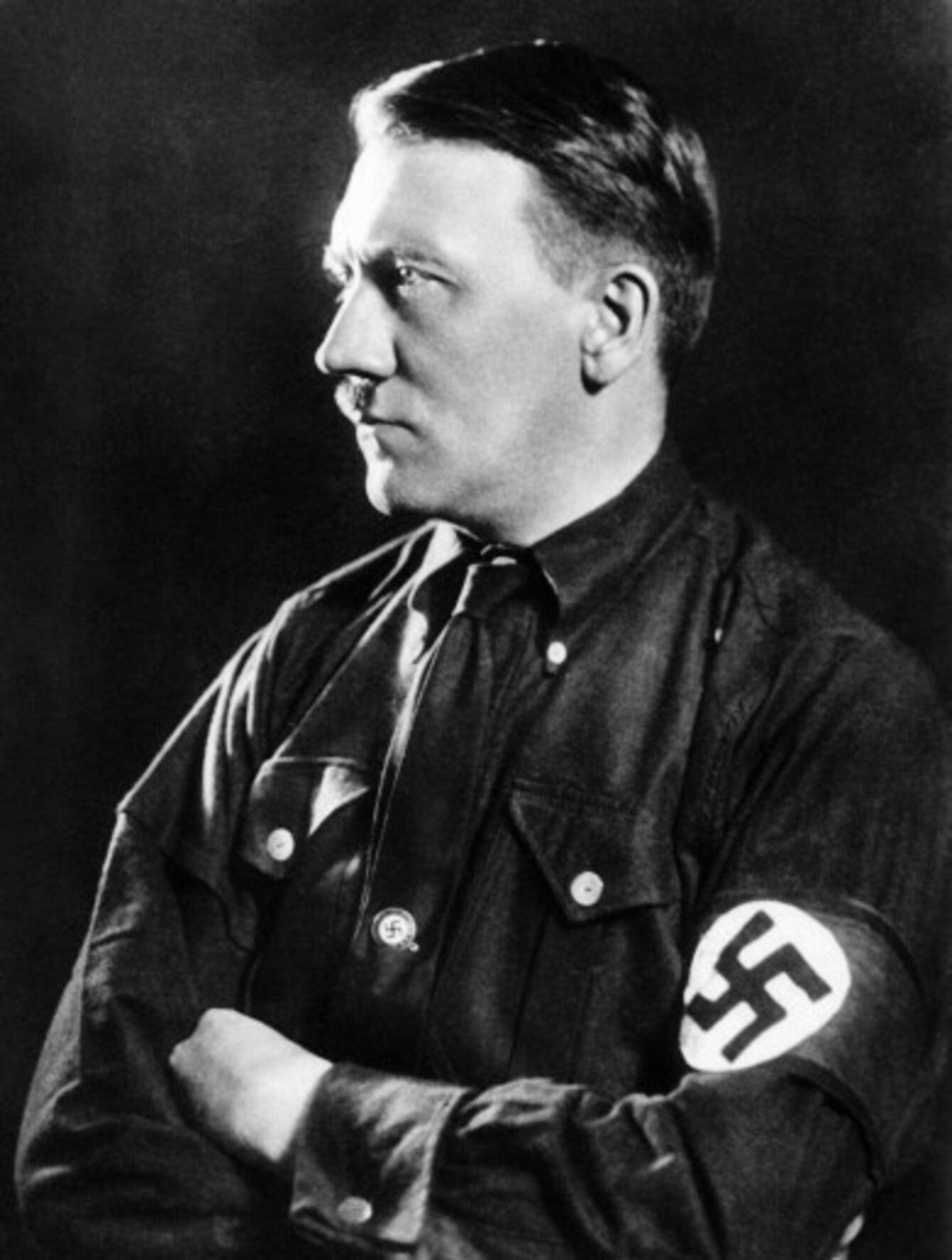 Adolf Hitler in the "immaculate" uniform admired by Kilkenny native Lar Brennan, 79.
Image: AP Photo/PA Images archive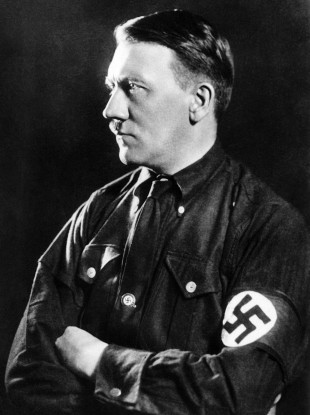 Adolf Hitler in the "immaculate" uniform admired by Kilkenny native Lar Brennan, 79.
Image: AP Photo/PA Images archive
Updated 23.07
A KILKENNY MAN who was interviewed on local radio about why he was given a birthday cake with a picture of Adolf Hitler on it has angered listeners with controversial comments about the Holocaust.
Larry Brennan, 79, who lives in Gowran, Co Kilkenny, came to attention when he appeared in a photograph in the Kilkenny People newspaper. In the photograph - shown on the KCLR 96fm website - Brennan appears at his birthday party last week with daughter Maria, cutting the cake which has a picture of Nazi leader Adolf Hitler (in a party hat) on the top.
Brennan was interviewed today by KCLR 96FM presenter Sue Nunn over the controversial cake decoration. In the interview, Brennan explains that he collects military memorabilia and that he "admires" Hitler's army, mostly for its appearance and equipment. He said that he also admired other armies and regiments, including the Swiss Guard which provides security at the Vatican.
However, comments by Brennan in relation to the Holocaust and Adolf Hitler's motivations enraged many listeners who rang in, texted and emailed the station during and after the broadcast.
The interview starts with chat about Brennan's local connections but when asked by Nunn why he had a picture of Hitler on his birthday cake, he replied:
Well, I have great admiration for Hitler's army, the way he dressed, his immaculate uniforms and his equipment.
He said that equipment and clothing belonging to the German army during Hitler's reign were highly sought after by many collectors. "It commands a very high price, unfortunately, today," he said, pointing out that even English collectors were very interested in these items.
Presenter Nunn suggested that the strongest association most people would have with Hitler was one of "absolute mayhem, the torture and death of millions of people". Brennan insisted that he himself was "not political".
This is a transcript of what came next:
Brennan

: "With politicians, it's like a race; there's always somebody trying to get out there, the jockey trying to get out in front to win. To me, politicians are like that, they say, 'Forget about the truth, make it interesting, that sort of thing. That doesn't tie with me, honestly, … and I'm afraid I part company with politics in that respect."

Nunn: "But are you saying you admire Hitler, Lar?"

Brennan: "I admire Hitler because his army was so disciplined and he had great command over the people, and he fought for the people of his country. He was behind them, like, and they were behind him. It took three nations to beat him, like, and you know, he must have had some power."

Nunn: "And all the people that he burned and…?"

Brennan: "Yes, well, that was the sinister thing about him. Behind that as well – and I don't want to go into politics – but apparently there are two sides to every story and I heard that the other side of the story, the people that he, am, ah, put to death were spoiling the economy of his country by devaluing the deutschmark."

Nunn: "Oh holy God. I can't even let you say that, Larry, because I think that is just so offensive to people, you know. I mean…"

Brennan: "That's what I heard."

Nunn: "It's been proven again and again and again and again … And why did the kids get, why did your daughter get the cake for you then, Larry? Was it a surprise?"

Brennan: "It was a surprise because she knew I collected all sorts of stuff like that. I collect motorbikes – well, I'm not saying I have masses of motorbikes, I have an interest and have a few motorbikes – and guns, swords, anything that's old and antique-ish. I've a great interest in history, like, you know."

Nunn: "And do you have Hitler memorabilia?"

Brennan: "I do, yeah. I have some of the Luftwaffe helmets which is very, very rare. It was the ground force of the Luftwaffe. As you know, the Luftwaffe was the air force, the German air force. They also had a ground command as well and I have one of them in mint condition which is rare to have and I have a very early Nazi dagger, which I treasure. And ah, Hitler didn't have a lot of memorabilia because it is very, very expensive and very hard to get."

Nunn: "And are you part of a kind of a group of people, are you an enthusiast with others then for Hitler and Hitler memorabilia."

Brennan: "Well, I have an interest in all kinds of people, an interest not only in Hitler but Irish – Irish are very hard to get hold of, early Irish swords make a lot of money when they come to auction and sometimes it would go beyond my means to bargain. I would like to have them but they are very scarce. I do have a 1798 sword from the Battle of Vinegar Hill and I have contacts of people who collect all sorts of things and if they have something I like, I'll probably swop."

Nunn: "And what kind of people are into the Hitler memorabilia."

Brennan: "Well, like me, they're into quality, the quality is amazing and ah, they last much longer. They tried to make reproductions but they are nothing like the real thing."
Nunn then steers the conversation into safer territory, speaking to Brennan about his emigration from Coon West in Kilkenny to England in 1957. At one point, he was a trapeze artist but then returned to his trade as a mechanic. He came back to Ireland 22 years ago and is now retired.
Listeners called into the show as Nunn interviewed Brennan and she relays one of their messages: "She is shocked to hear what Lar is saying about Hitler and that you shouldn't have airtime and what would you say to that? People are saying that that's racist. That you couldn't possibly after all that's been proven about Hitler, support Hitler. People find it almost unbelievable."
Brennan said that everyone is entitled to their opinion and that he wasn't "condoning" what Hitler had done. He said:
I'm just saying admiration for his army, I've also admiration for the Swiss army palace guard. They have got brilliant military dress.
Brennan says that he was surprised by the strong reaction to the photograph of his birthday cake but that the photographer taking the picture for the local paper had warned him that some people might not like it.
"It's not meant as a derogatory sort of thing against the people," Brennan said, "It could be even Stalin (on top of the cake), it could be anyone like that. People have very short memories, you know."
Later in the interview, Brennan says he had a small part in the Richard Burton movie Anne of The Thousand Days. Brennan played the role of the executioner of Sir Thomas More, as well as a deerhunter in another scene. He was also in Robin Hood: Prince of Thieves and a number of other films as an extra.
Following the interview, presenter Sue Nunn said that she had "no idea" that Brennan would say he was an "admirer" of Hitler's in any sense and that she was taken by surprise by the content of the interview.
#Open journalism No news is bad news Support The Journal

Your contributions will help us continue to deliver the stories that are important to you

Support us now
Hear listener reaction to the interview on the KCLR 96FM site here.
Update – 16.10, 29 October 2013:
The daughter of Larry Brennan has been in contact with TheJournal.ie and wanted to respond to some of the criticism of her father and the birthday cake photograph as follows:
I am Larry Brennan's daughter and I am astonished at the reaction that my father's birthday cake has caused; it has been blown out of all proportion by the media.
The birthday cake was a surprise from me and a private joke for a harmless, eccentric elderly man; the picture on the cake is actually one of ridicule and is disempowering Hitler by him being depicted in a clown's party hat!
Neither my father or myself condone the atrocities that Hitler and his army carried out, or in fact, atrocities that are carried out by other people in other countries.  It appears, and understandably so, his remark about the devaluing of the Deutschmark is what has enraged some people.  I would like to make it clear that he was saying, albeit in a rather clumsy fashion, after being asked leading questions, that this is what he had heard/read.  At no point did he say that if this were the case, that he agreed with the torture, punishment and eradication of the Jews.
For my part, I would like to apologise for those that have taken offence over the cake.
Finally, on a lighter note and for those of you that asked – it was a carrot cake and was delicious!