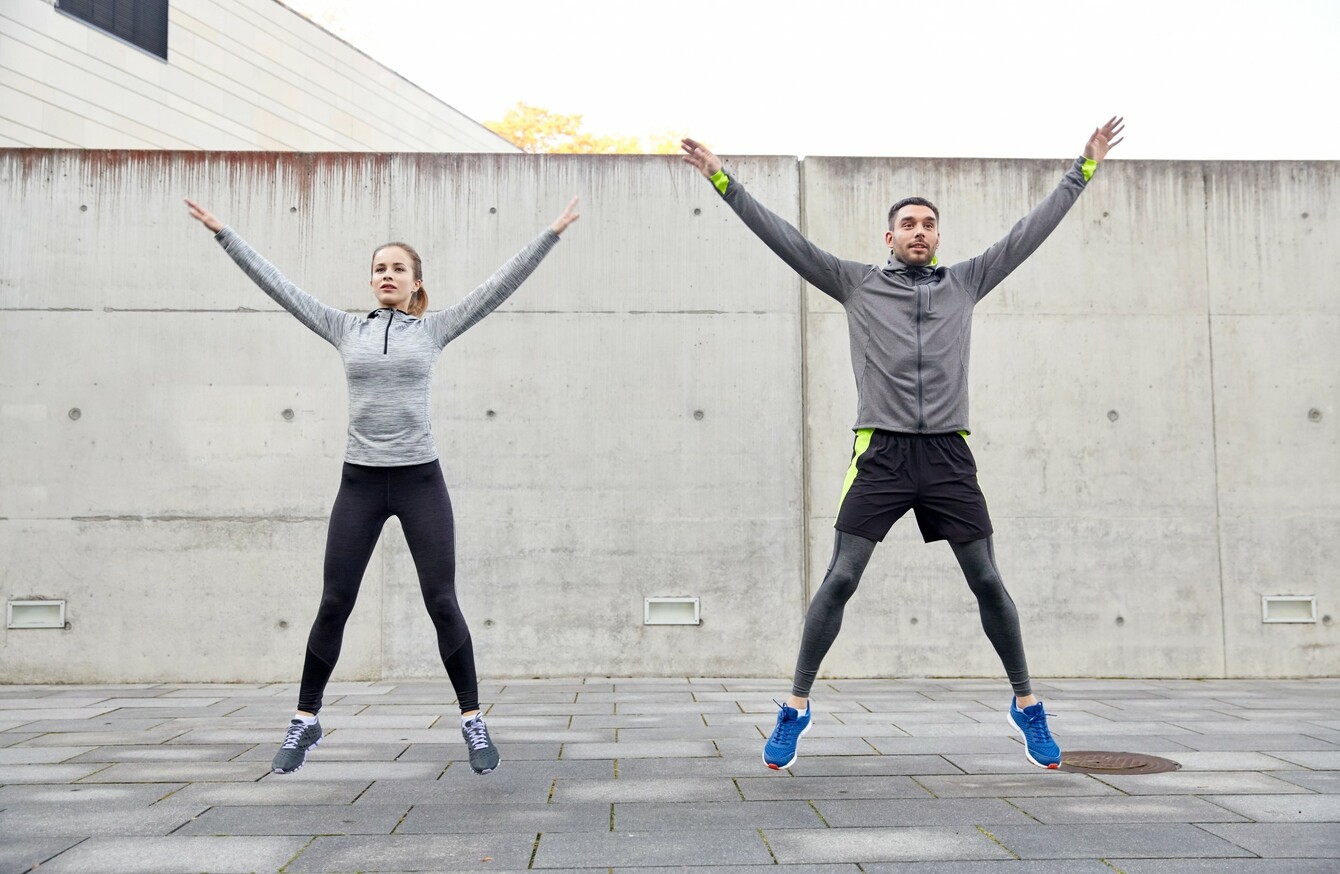 Image: Shutterstock/Syda Productions
Image: Shutterstock/Syda Productions
MOST PEOPLE KNOW by now that it's recommended to get at least 30 minutes of activity that raises your heart rate three or more times a week.
Sure, you know about it… but do you do it? The problem with trying to fit exercise into your day and week is it takes time to get to the gym, get changed, dig deep (deep) down and find the will to hit the treadmill… See? All these things take time.
However, it doesn't have to be that hard to fit some exercise into your day – here are seven you can do at home with minimal or no equipment. So you've no excuses now.
Sorry.
1. Jumping jacks
Jumping jacks are a great warm up exercise to get your body ready to do the harder body weight work below. There are no modifications to this exercise – just do some wide-legged jumps for thirty seconds or so to warm up the body and get your heart rate up, or follow the routine above for a super warm up.
2. Under V claps
Source: Brittne Babe/YouTube
If you're bored with the usual ab moves but still want to get a six-pack, try these under V claps to really get your abs and obliques working. Do it for 30 secs with a five second rest in between.
3. Plank routine
This plank move is more challenging than it looks and is great for developing not only your upper arms, but also your core and stability ability.
3. Tricep dips
If you really want to work out your arms, this is the exercise for you. The tricep dip targets your triceps (doh) at the back of your arms and you can make this harder by taking one foot off the floor while dipping. You can use a chair for this.
Source: LIVESTRONG.COM/YouTube
4. Push ups
Source: brettcap/YouTube
Push ups are hard – there's no denying that. But they're an excellent exercise to work your shoulders, chest, arms and core and can be adapted to work your legs too – if you really want to push yourself. Alternatively, if a normal push up is too hard right now, you can drop to your knees as a beginner's version.
5. Ab circuit
For an even more intense abdominal workout, check out this ab series. Not only does it hit your upper, lower and oblique abdominals you'll get a bit of an arm and shoulder workout in there too with the first exercise.
6. Bench routine
Here's a workout you can do outside if the weather stays nice for a few more weeks. Of course if you have a sturdy bench or chair at home, you can do it inside too. This routine combines bodyweight exercises with plyometrics to give a complete body workout.
7. Stair workout
Unless you live in a bungalow you should have a set of stairs or steps somewhere in your house, so make proper use of them with these exercises. The combination of cardio and bodyweight exercises will have your heart rate pumping in no time.
Udo's Oil is the richest vegetarian source of Omega 3, 6 & 9 available in Ireland, and can be used in loads of tasty recipes. To celebrate the Udo's Oil Get Moving campaign they are offering you the chance to Win an Activity Weekend away worth €500 or 1 of 5 Udo's Choice FitBit Flex Activity Tracker runner up prizes.
Simply click the button below to enter the competition. Good luck.