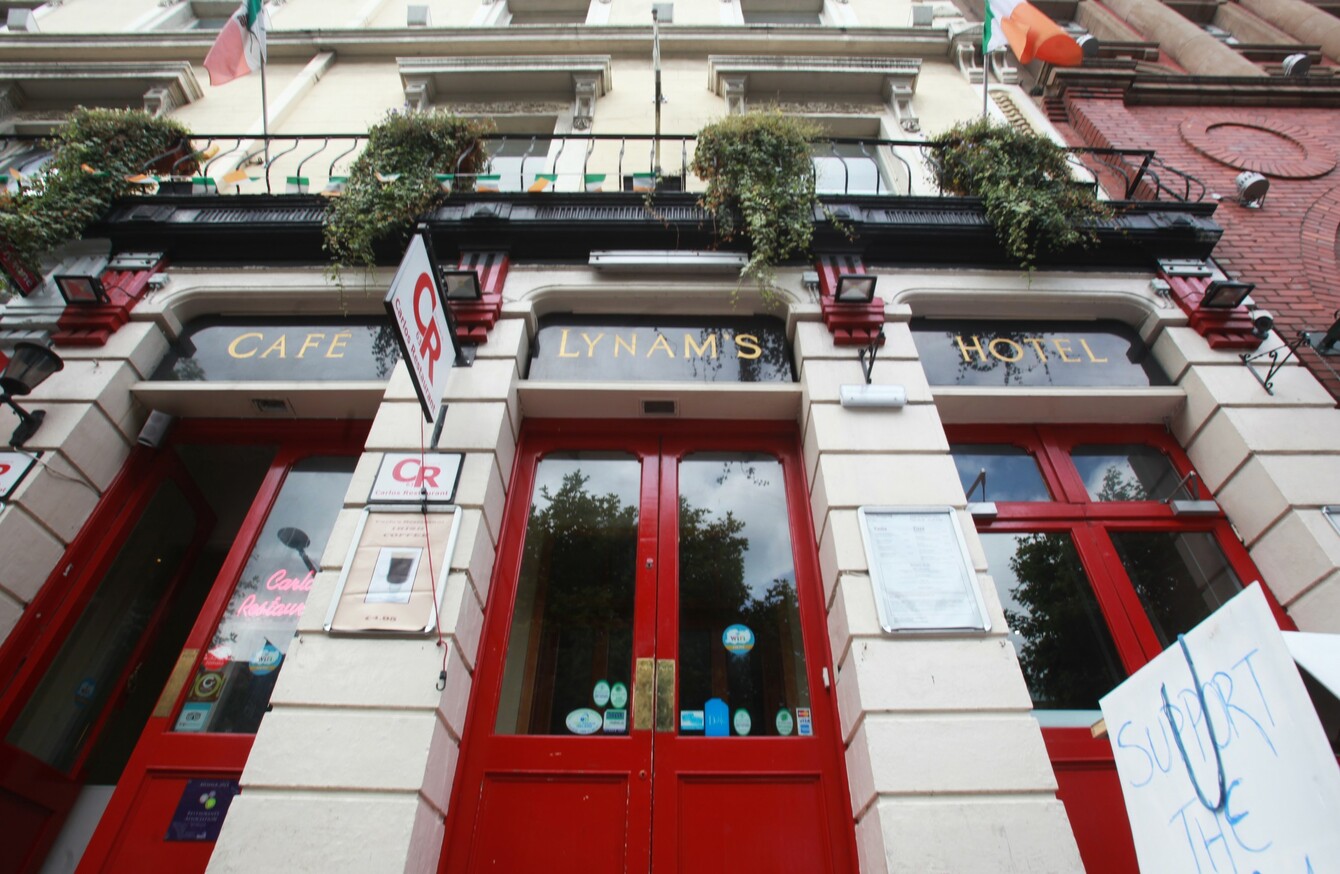 File photo pf a hotel in Dublin previously used to house homeless people.
Image: Leah Farrell/RollingNews.ie
File photo pf a hotel in Dublin previously used to house homeless people.
Image: Leah Farrell/RollingNews.ie
SMOKING AND DRINKING in rooms, anti-social behaviour, violence and verbal abuse.
These are some of the main complaints and concerns raised by homeless accommodation providers in Dublin and staff to do with people availing of their services.
Homeless charities have criticised the long-term use of hotels and B&Bs to house people, saying that the accommodation is not suitable.
Latest figures show that the number of homeless families in Dublin staying in homeless emergency accommodation has more than tripled over the past two years – from 798 in 2014 to 2470.
Entire families can sometimes end up living between one hotel room for months at a time, with no proper cooking or cleaning facilities.
Documents obtained under the Freedom of Information Act by TheJournal.ie detail complaints to do with homeless accommodation from January to September of this year.
We previously highlighted some of the complaints and issues raised by homeless residents staying in such accommodation, including damp and mould in rooms, no proper facilities, and anti-social behaviour.
Hotel and accommodation managers and owners in Dublin have also written to the Dublin Regional Homeless Executive (DRHE) on a number of occasions this year to highlight issues with tenants.
The DRHE manages homeless services for all of Dublin.
Commenting on the issues raised, a spokesperson for the Peter McVerry Trust said "it's no surprise that people may become agitated or aggravated when they are spending months upon months in emergency accommodation with little control over their lives".
"People who are in homeless accommodation are under enormous pressure trying to hold their families together, or maybe even trying to hold down a job," the spokesperson said.
These stresses are made all the more difficult to deal with when you are being accommodated in unsuitable accommodation like hotels and B&Bs.
We've seen people relapse into drug misuse as they try to cope with the pressures they face.
Complaints
In one complaint, dated April, management writes about a man who comes to visit a mother staying at their accommodation with her children.
It's reported that the man became violent while arguing with the woman in the car park.
The letter states that staff had intended to throw the man out, but that a hotel patron:
"…saw this, recognised him and informed us that the man is extremely dangerous and has links to mid level drug dealing."
He advised us in no uncertain terms not to do anything to the man as he would have no issues returning at a later date and exacting some sort of retribution.
The complainant then states that usually staff would get rid of the man themselves, "but given the nature of our uninvited guest last night I am anxious to avoid either myself or a member of staff having to deal with any sort of retribution".
The letter finishes by saying that the man's presence is "almost certainly a danger to other guests on the premises".
In another complaint dated in June, a member of staff at hotel alleges that she was abused by a homeless resident.
The person alleges that she was verbally abused after informing a woman she would have to be moved from the accommodation.
The complainant then said that the woman:
…began screaming at me calling me a dirty slut and that I'm a coke fiend and she has pictures of me doing cocaine and that she is going to post them on the internet.
In her letter, the complainant states:
I don't think I should have to take this abuse. it was witnessed by other residents and they were appalled.
There are a number of complaints raised in relation to residents smoking and drinking in their rooms, including one instance where accommodation staff found "five empty bottles of vodka" in a person's room after he had to be carried out.
In yet another instance, the managing director issues a complaint about guests continuing "to smoke illegal substances in the room" despite being warned not to.
The director also reports issues with a young man in the premises "abusing people passing by" the premises.
As the number of homeless people has risen, the DRHE has increasingly resorted to using private hotels and B&Bs to house people, a highly costly and unsuitable approach.
The Government has committed to stop using hotels and B&Bs to house homeless families by the middle of next year. However, experts have expressed doubt over whether this deadline is realistic.