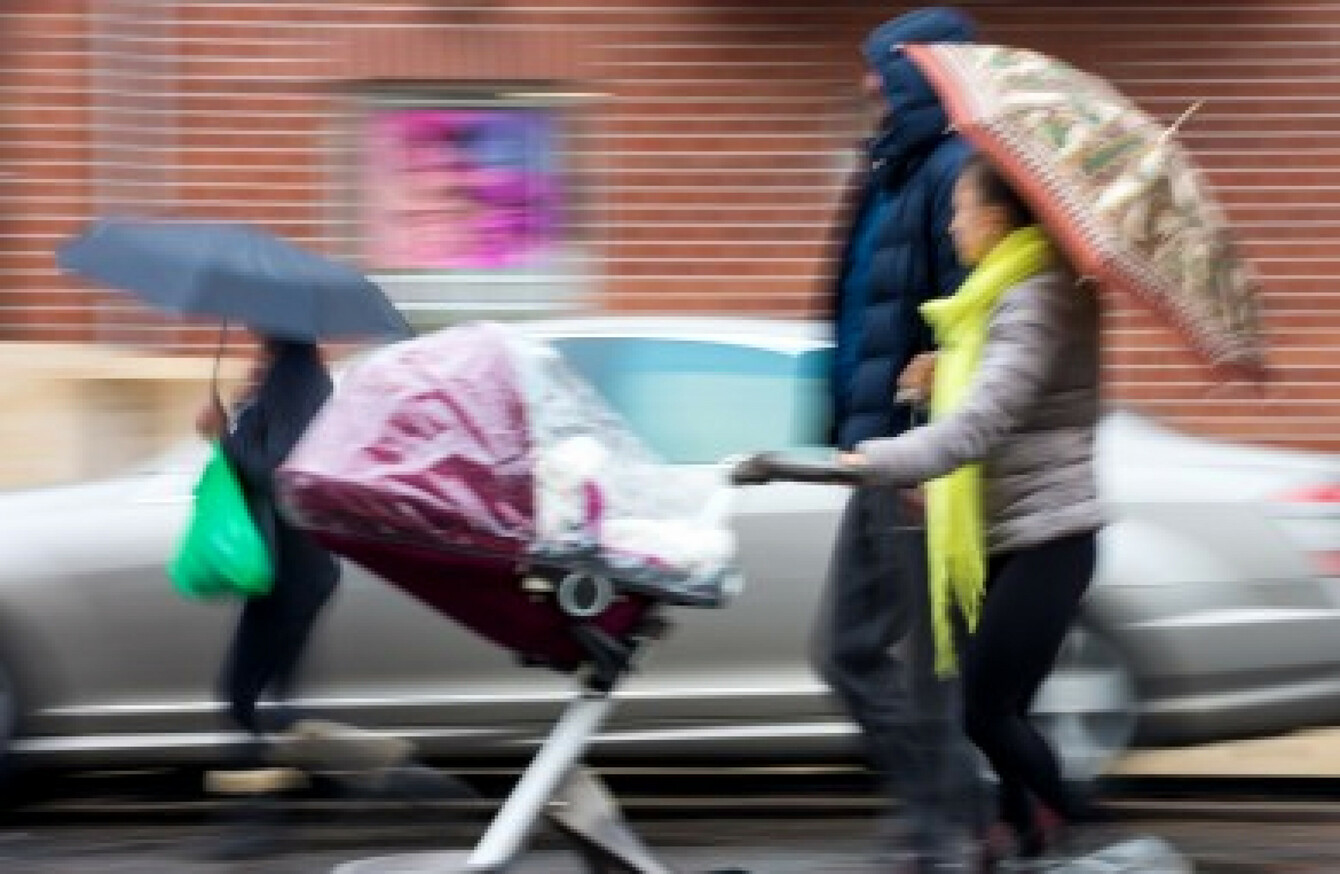 MANY PEOPLE IN the media, as well as those in the charity sector and on the opposition benches were more than a little surprised at the release of the latest monthly homeless figures on Monday.
Firstly, the numbers – which have been released monthly since mid-2014 – showed an actual significant reduction in the number of homeless children in the state for the first time in years.
But more confusingly, the numbers came with a big caveat from Housing Minister Eoghan Murphy.
Murphy said that the "significant mis-categorisations have been discovered" which had "overstated the total number of people that are in emergency accommodation in the State today".
He said that a number of local authorities had "erroneously categorised" families and adults who were living in homes either owned by the state or leased from private landlords as being in homeless emergency accommodation.
According to the minister, at least 600 people had been counted as homeless when they were actually not.
The memo
After the minister named Louth and Meath county councils as being at fault specifically, a memo was sent out to Louth councillors early on Tuesday evening from the Director of Housing Services at the council.
The director made it clear that the council had been told to remove people it had classified as homeless from the March figures.
The council had been leasing homes off private landlords to use as temporary emergency accommodation for homeless families, the director said. It was this group of people (100 in total) that the Housing Department had ordered removed from the figures.
TheJournal.ie got wind of this email and published a story on it on Thursday morning.
Sinn Féin housing spokesperson Eoin Ó Broin – who had been doing his own research into the matter – was quickly out of the traps and criticised the minister of "knowingly manipulating" the homelessness numbers for political gain.
The number of homeless people was about to top 10,000 for the first time, and Ó Broin says the Housing Department was concerned with stopping this at any cost.
Murphy launched a strong defence of himself in the Dáil and on RTÉ's News at One on Thursday, accusing Sinn Féin of using the issue as a political football and questioning how families living in private accommodation could be considered homeless.
The government insists these 600 people are not homeless; Sinn Féin says they are – but what is the truth?
Section 10
It's important to note firstly that the number of homeless people in Ireland has already far surpassed 10,000 already.
Every month, new figures are released by the Housing Department which opposition politicians, charity officials and us fine folk in the media generally refer to in shorthand as the "homeless numbers".
These figures are in fact the the total number of homeless people (adults and children) living in what is known as Section 10 funded emergency accommodation in Ireland.
Section 10 funding refers to funding that is administered under the Section 10 of the Housing Act (1988).
In short, it is the funding that is paid by the Housing Department to local authorities to pay for essential funding for homeless services.
Section 10 funding covers all homeless services (so prevention, support, etc) but the vast amount of it goes on providing emergency accommodation for homeless adults and families.
The homeless figures reported each month, then, are the total number of adults living accommodation funded through Section 10.
All local authorities log whoever stays in this accommodation on a nationwide online shared system called PASS (Pathway Accommodation and Support System).
So people could be staying in homeless hostels, hotels, family hubs, B&Bs – it doesn't matter. As long as it is paid for through Section 10, they get logged.
As an aside, it's clear that a large number of people who are without homes don't get counted in these figures: women and children in domestic violence shelters aren't counted; neither are homeless people in hospitals; rough sleepers; or even people sleeping on couches with no place else to go.
So let's be clear, the number of homeless people in Ireland has already far surpassed 10,000.
The issue this week
That brings us to this week, and the confusion over the homelessness numbers.
Eoghan Murphy said that Louth had gotten it wrong when it counted the 100 households staying in private accommodation as homeless. Louth disagreed.
It was confirmed by the Housing Department that Section 10 funding had been used to pay to house these households.
So, traditional private rental housing was being used as emergency homeless accommodation – therefore Louth included these households in the monthly figures.
The Housing Department said this was wrong to do, and Eoghan Murphy further added to the confusion by saying at least half of 50 households that Louth said it believed were homeless were, in fact, in HAP tenancies.
HAP (Housing Assistance Payment) is a form of social housing support with its own distinct funding entirely separate from  homeless funding or emergency accommodation.
Louth then came out with a short statement saying that it had agreed with the Department that the people it had accommodated in private leased homes shouldn't be included in the figures (seeming to contradict its own memo two days previous).
It's all very confusing, to say the least. TheJournal.ie has sent a number of detailed queries to Louth CoCo for further explanation, but they're not commenting anymore.
It's been said that council officials weren't happy with how they were being represented in the media, and that the memo was hitting out at that in an indirect way.
But even if we take the government at face value, then the questions remain:
1. How could experienced council housing officials call families living in secure, leased HAP tenancies homeless? This makes no sense.
2. What made them change their mind from considering these families as homeless, to not considering them as homeless?
#Open journalism No news is bad news Support The Journal

Your contributions will help us continue to deliver the stories that are important to you

Support us now
So far, the answers have not been satisfactory.
Meath 
In the case of the other named local authority that Minister Murphy said has miscounted the figures – Meath – the issue a little more clear cut, but still many issues remain.
Meath CoCo said that it worked with families who said they were about to be evicted from their homes and become homeless.
Meath had intervened with the landlords and, again, using Section 10 funding, had paid the landlords to keep the families in the homes while alternative accommodation was sought.
Meath had counted these families as homeless, and the Housing Department said it was wrong to do.
But multiple homeless charity officials, opposition politicians and others have said these families should be counted as homeless.
If their tenancy agreement has expired, and homeless funding is being used to keep them in housing – does that not mean they have no secure home?
The Housing Minister doesn't think so, many others do.
Many charities use self-contained apartments or houses as homeless emergency accommodation – should we discount all these from the figures also?
Remember, if something is a house, an apartment, a hotel, a B&B, it doesn't matter.
If a person is staying there on an emergency basis, paid for out of funding for homeless accommodation, then by definition surely it should be homeless accommodation – and the people in it classed as homeless.
The Department said it is looking into the funding issue, but it is unclear what it proposes to do about all these different groups of people who it says are not homeless but who don't seem to have secure housing.
Obsessed with spin?
Minister Murphy will face questions on this very matter on Tuesday when the Dáil resumes.
The Housing Department – and Leo Varadkar's government in general – has been accused repeatedly as being "obsessed with spin".
Whether it's claiming Ireland has a low homelessness rate by international standards, or the Housing Department not knowing how many houses were built last year, or Leo Varadkar calling houses  starting at €315,000 'affordable' – the government has been called out again and again for not grasping the full nature of Ireland's housing crisis.
As Minister Murphy himself said this week, there's no huge difference between there being 10,000 homeless people or 9,500 homeless people – the country is in the midst of a big crisis in housing at the moment.
A row over figures isn't going to help solve it.