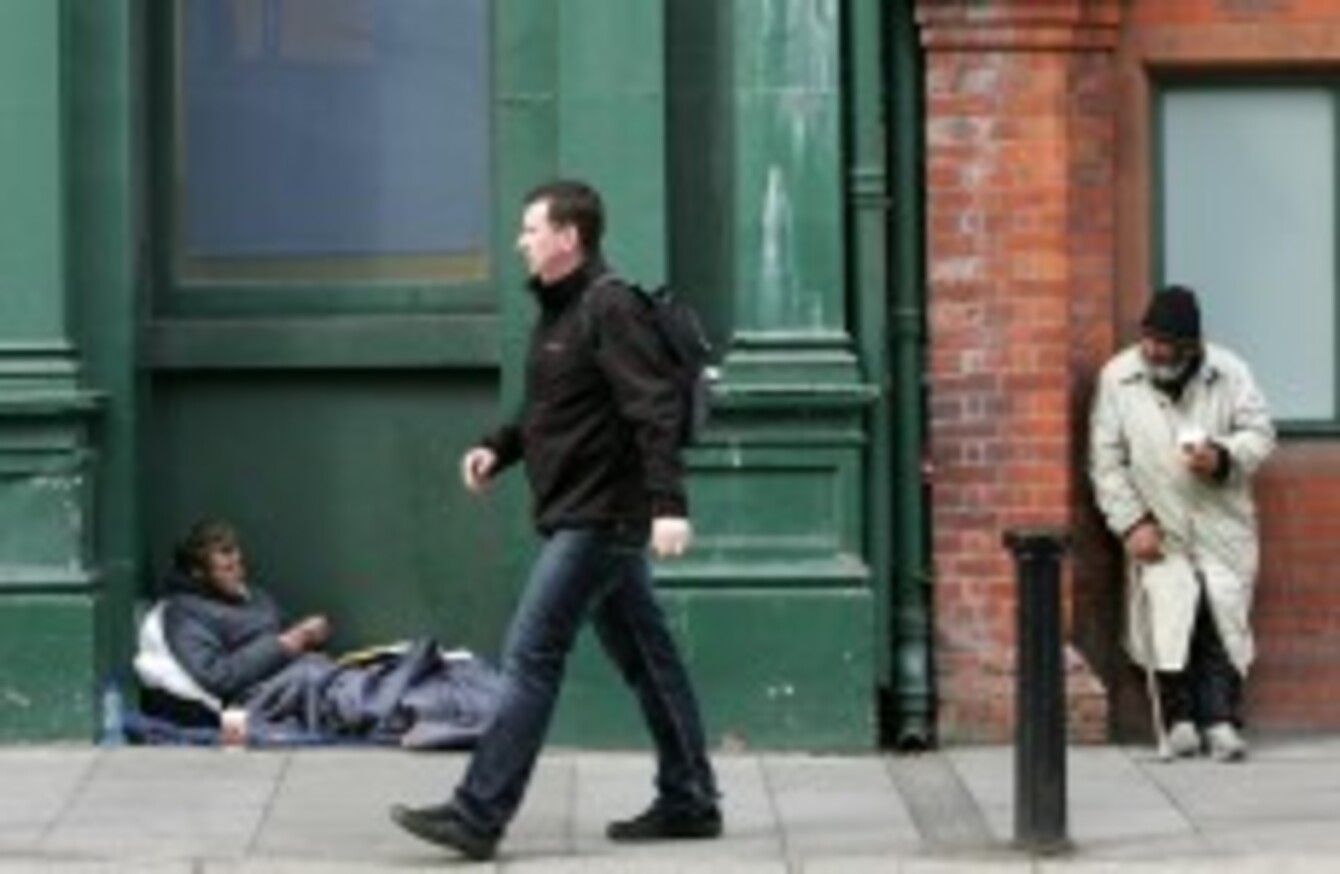 Image: Sam Boal/Photocall Ireland
Image: Sam Boal/Photocall Ireland
THE FIRST DETAILED count of Ireland's homeless population has revealed that 3,808 people were homeless on Census Night last year.
The data, published in the latest tranche of Census data released this morning, is the Central Statistics Office's most comprehensive attempt yet to give an authoritative tally of Ireland's homeless population.
Almost exactly two thirds of the homeless population on Census Night – April 10, 2011 – were male. 457 of the homeless number (12 per cent) were aged 14 and under.
64 people – including six women – were identified as sleeping rough, with the remainder being houses in temporary homeless accommodation of some sort.
992 people were identified as being 'long term' homeless, while 1,648 were classed as 'emergency' homeless – indicating that the homeless population remains relatively transient.
Dublin accounted for about 62 per cent of the homeless population, at 2,375 – though the surrounding counties of Meath, Kildare and Wicklow recorded the lowest homeless population, at 32.
The CSO said it had agreed with the major stakeholders in advance of Census Night that homeless people would be identified based on where they were on Census Night, rather than by self-identification.
The figures for those sleeping rough in Dublin were compiled by the Dublin Region Homeless Executive on the CSO's behalf, while local field staff identified those sleeping rough in other areas.
About a third of the homeless population indicated their health as 'fair', 'bad' or 'very bad', compared to about 10 per cent of the general population. One in five indicated a psychological or emotional condition.
Over a quarter of those identified as homeless said they did not have any educational qualification above primary school – a far higher proportion than the 8 per cent of the general public, predominantly in older age groups, who offered similar responses.
CSO senior statistician Deirdre Cullen said the census marked the "first time such a comprehensive approach to identifying homeless people in Ireland was undertaken as part of the census and follows strong cooperation among all the main stakeholders working in the area of homelessness in Ireland".