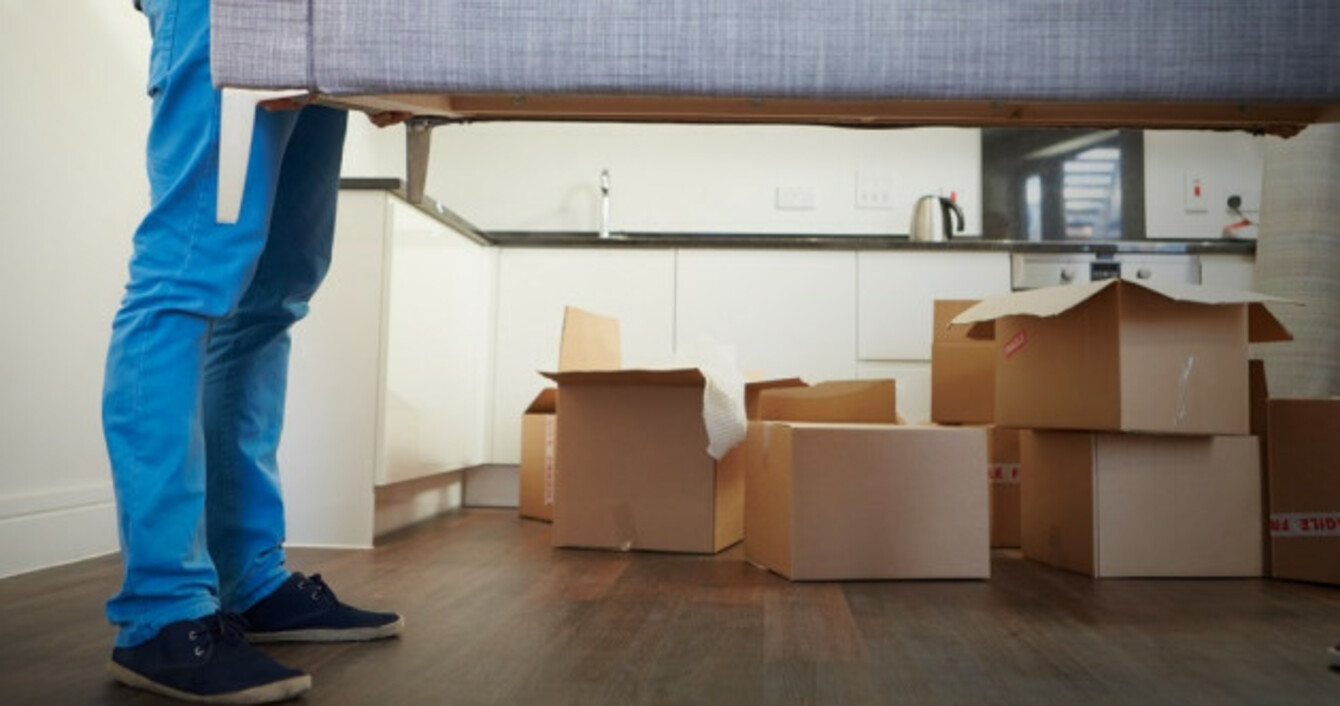 NEEDS CHANGE AS life goes on. Suddenly, there are queues for the bathroom, and figuring out kitchen storage becomes like a game of Tetris.
Upgrading or upsizing to a bigger home brings more space, sure, but it can make life easier in more ways than that. 
We talked with five homeowners who recently upgraded to a new place for a range of reasons: from a garden for feline friends to better facilities for a disabled family member.
Here's why these five couples decided to make the move – and how they dealt with the process of house-hunting for a second time.
1. 'We wanted to be part of a real community'
Triona O'Connor and Séamie O'Leary originally bought in Cork City, but have just recently changed to a Co Cork location with more green space and friendlier neighbours. As Triona explains:
We were unhappy with the lack of community. It was a big housing estate so everyone was very transient and just came home went to work and home again. We wanted to be part of a community and have an input into our environment.
The actual search for a new home wasn't without its ups and downs. Triona decsribes the experience as "busy, emotional and chaotic."
After searching for over a year and viewing fifteen properties, Triona and Séamie were outbid on two properties and an additional one mysteriously fell through. 
But they finally found what they were looking for in a County Cork home with more indoor and outdoor space, and easy access to country walks. The couple compromised on a few elements, like a garage for Séamie's car, but overall, the house was worth the wait:
The standard of living is better for us. We have gotten to know our neighbours better here in just six weeks than we did over four  years in our last home.
2. 'We needed to meet our son's accessibility needs'
Dubliner Laura and her Australian partner Patrick made the jump across the Liffey in order to accommodate their growing family: Jack, 13; Henry, 3; and Failey, 2.
Specific space needs for Jack's wheelchair and medical equipment meant the couple had already knocked a wall in their Dublin 24 bungalow. But they dreamed of a place with better facilities inside and out.
The bungalow just didn't fit us all, and the area we were living in wasn't great for children. It was a concrete jungle. I had a simple dream of being able to walk out of our house with Jack in his wheelchair and go to the park, a coffee shop, a friend's house.
Laura and Patrick originally envisioned building their own home outside of Dublin, and "planning a house around Jack and his wheelchair." But in the end, the convenience of city life sent them closer to the centre, rather than further away.
Instead of building, the couple looked for homes close to St Joseph's, the only school for visually impaired children in Dublin. They fell in love with a fixer upper on the North Circular Road and spent a year renovating the three-level Victorian house to meet their accessibility needs:
We now have seven bedrooms which are always full. We constantly have family staying or friends. It's truly amazing to be able to fill your house with life and the laughter of the people you love.
3. 'I had dreams of a home office for my new business'
When Sinead Starrs started a new business selling wedding accessories, she and her partner Owen Reynolds found they suddenly needed more space to than their two-bedroom apartment in Dundrum could afford.
"I had always imagined living in a period property, maybe a cottage of some sort," says Sinead. "But in the a three-bed 1980s semi in Sandyford is what suited our needs."
So far, Sinead says the sacrifice of moving further out of the city and compromising on her dream home has paid off. 
Having a dedicated office area certainly helps me to keep focused when working from home and separating 'home life' from 'work life'. Plus we gained a garden, which meant space for a dog – our cocker spaniel! 
4. 'We never had space to have people over to stay'
After they got married, Sarah-Joy and Stephen Hearty lived in a tiny, one-bedroom granny flat in a seaside Dublin suburb.
Close to their jobs, the apartment suited some of their needs, but Sarah-Joy explained that one of the things they missed in such a small space was the ability to host friends and family. As Sarah says:
A dream of mine was always to have a house big enough to host comfortably and be able to provide friends and relatives a place to stay, something we couldn't offer in our last place.
This summer, the pair moved from a rented one bedroom apartment in Dublin to a four bedroom detached house in Sarah-Joy's hometown of Athlone.
"We love how the extra has given us the opportunity to host dinner parties, games nights and other social events for our friends and family," says Sarah. "And now that we have spare rooms, people can stay over too."
The transition hasn't all been smooth sailing, but Sarah-Joy says she has no regrets.
Between changing location, moving away from one side of the family, leaving a job that I adored and adjusting to life back in my hometown, there have definitely been a few adjustments. But in the midst of it all, there's an excitement and real sense of adventure. 
5. 'I felt like I'd waited my whole adult life for a house with space for pets'
After twelve years in a 450 square foot flat in Stoneybatter, Dublin 7, Kirstie McDermott and Neil Williams were finally able to get out from under their pre-crash mortgage and move to a bigger space. 
When the property crash happened, their plans of upgrading their tiny flat in a few years were put on hold, explains Kirstie. "We have no kids, so we could live in a small space, and decided to stay put and save to get out from under it." 
A decade later, deposit saved, they started looking again with two key parameters set: a house with space and room for pets inside.
I was desperate for cats, I felt like I'd been waiting my whole adult life to get my own cats and I wasn't going to compromise. We were buying a house and that was that. 
While they weren't looking for a house that needed renovating, they fell in love with a Victorian villa in Phibsboro.
The couple ended up having to put in a new bathroom, doors, floors, roof, electrics and insulation before the house was even livable, and the projects continue. But while they had been reticent to take on such a commitment with busy work schedules, the house (and cats) have proved to be just what they wanted.
I think we both get a sense of accomplishment when we get something new done. Little by little we're picking the house up by its bootstraps.