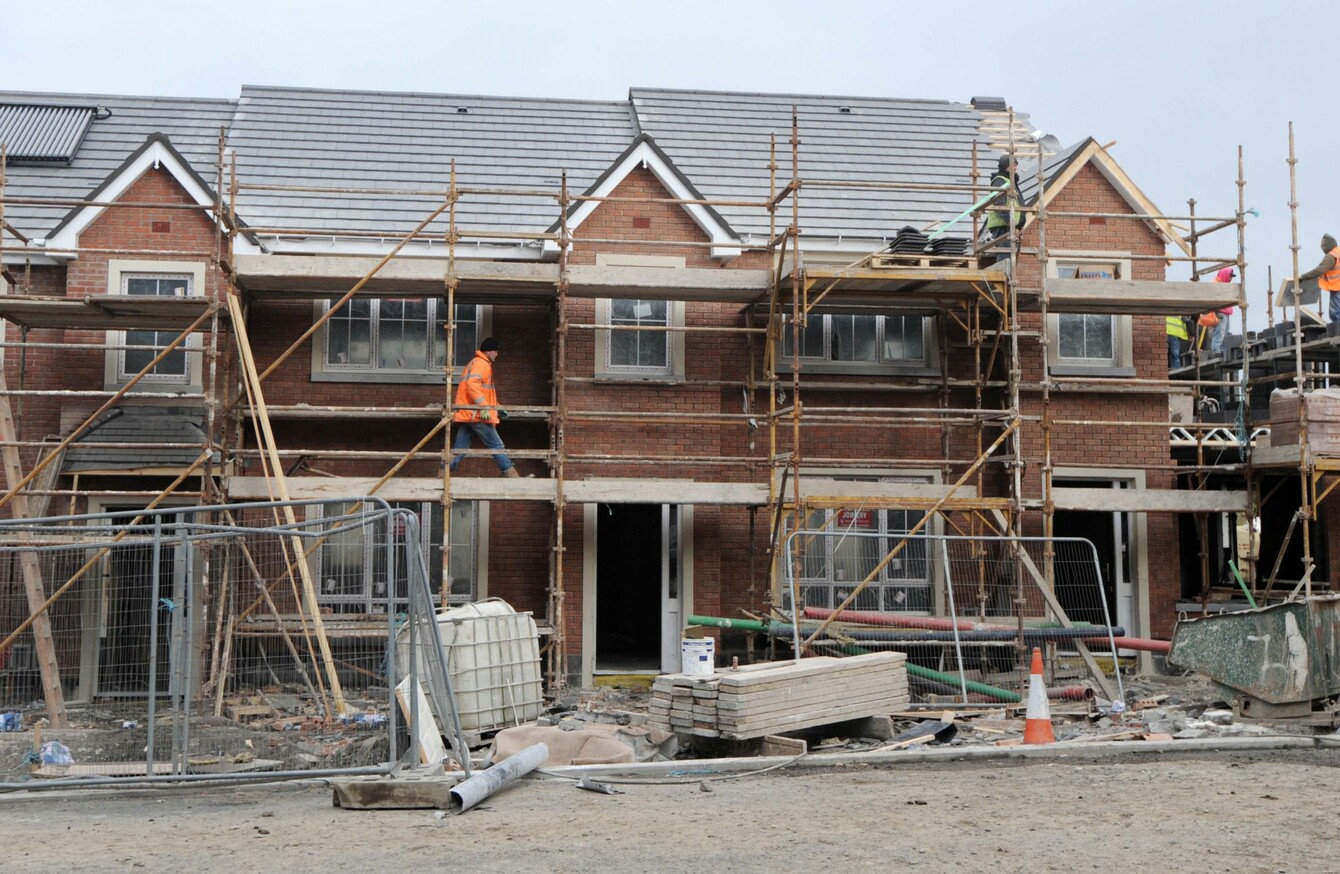 Image: Laura Hutton/RollingNews.ie
Image: Laura Hutton/RollingNews.ie
LARGE INVESTORS SUCH as private equity companies are responsible for almost a fifth of new house purchases in Dublin over the past two years.
That's according to a new Central Statistics Office residential property price index.
It covers all market transactions in the residential property market and measures price changes.
The CSO said that the new index improves upon its predecessor by including new and more detailed data, such as information about cash purchases of property.
According to the new index non-household buyers accounted for just under a fifth of all residential market transactions during 2014 and 2015.
Just over 13,000 housing units changed hands in the capital during 2014, with that number rising to just under 14,000 in 2015. Non-household buyers acquired about 4,500 and 4,800 units in 2014 and 2015 respectively.
John McCartney, director of research at property group Savills, said that this category of purchaser is dominated by large, mostly foreign private equity companies and real estate investment trusts (REITs), companies set up specifically to trade in property.
Neither class of buyer featured in Ireland before the crash, with legislation for REITs only enacted in 2013.
Recent development
Large buyers were also not active in Ireland until relatively recently. In 2010 5,726 housing units were sold in Dublin, and just 144, or 2.5%, of these were bought by 'non-household buyers'.
Likewise in 2011 'non-household buyers' acquired 182 units out of the 5,000 that were traded in the residential market.
Speaking to Fora, McCartney said that this shows the extent to which big investors have bought up property in the capital in recent years. He said:
This is all new to us. Prior to 2012 there was no such thing as institutional investors in the residential market.
"When the economy emerged from the crash, there was an overhang of apartment blocks built at the tail end of the boom, and investors, primarily US private equity firms, spotted an opportunity to buy at rock bottom prices [and] hoovered up large chunks of investment blocks."
Tight lending
McCartney said that although these large companies aimed to buy at the lowest price possible, their presence had the effect of pushing prices up for everyone else.
He said that this is probably what is driving the continuing rise in house prices.
"Something that people haven't got their heads around is [how] you can have continued house price growth even in the presence of tight mortgage lending," he said, referencing the Central Bank rules that require many house buyers to provide a 20% deposit.
"The critical thing is that these large companies are all cash buyers by nature [and] it makes the mortgage lending rules irrelevant."
House prices
McCartney said that investment companies have now acquired most of the available property around the capital, and many are focused on renting instead of buying and selling for the time being.
However, he said that he expects house prices to still rise in the next two years as smaller investors re-enter the market. He said:
Small investors have found it tough to compete with institutional buyers but now I think there will be more space for them.

I think you will see a flow of investors into the market who will compete with one another (for houses) and push prices up.
"Looking more than two years ahead that may change as you would expect rising prices would make developments viable and then you could see the supply begin to come on board (and) dampen price growth."
Dún Laoghaire-Rathdown
Overall, the new CSO data showed that the national average house price in 2015 was €225,783, although there were huge variations across the country.
The most expensive area was Dún Laoghaire-Rathdown, where households paid an average of €568,980 to buy a house.
Second and third most expensive in 2015 were the Dublin city and Fingal administrative areas, where the average house price was €389,022 and €336,310 respectively.
The least expensive place to buy a house in 2015 was Longford, where the average price paid was just under €80,000. The second and third least expensive places were Roscommon and Leitrim, with average prices of €94,105 and €94,572 respectively.
The data also shows that Ireland's property crash was more severe than previously thought. According to the CSO house prices fell by 54.4% after the property bubble burst in 2007, more than the previous estimate of 51%, before beginning to recover in Dublin in 2012.
Written by Paul O'Donoghue and posted on Fora.ie