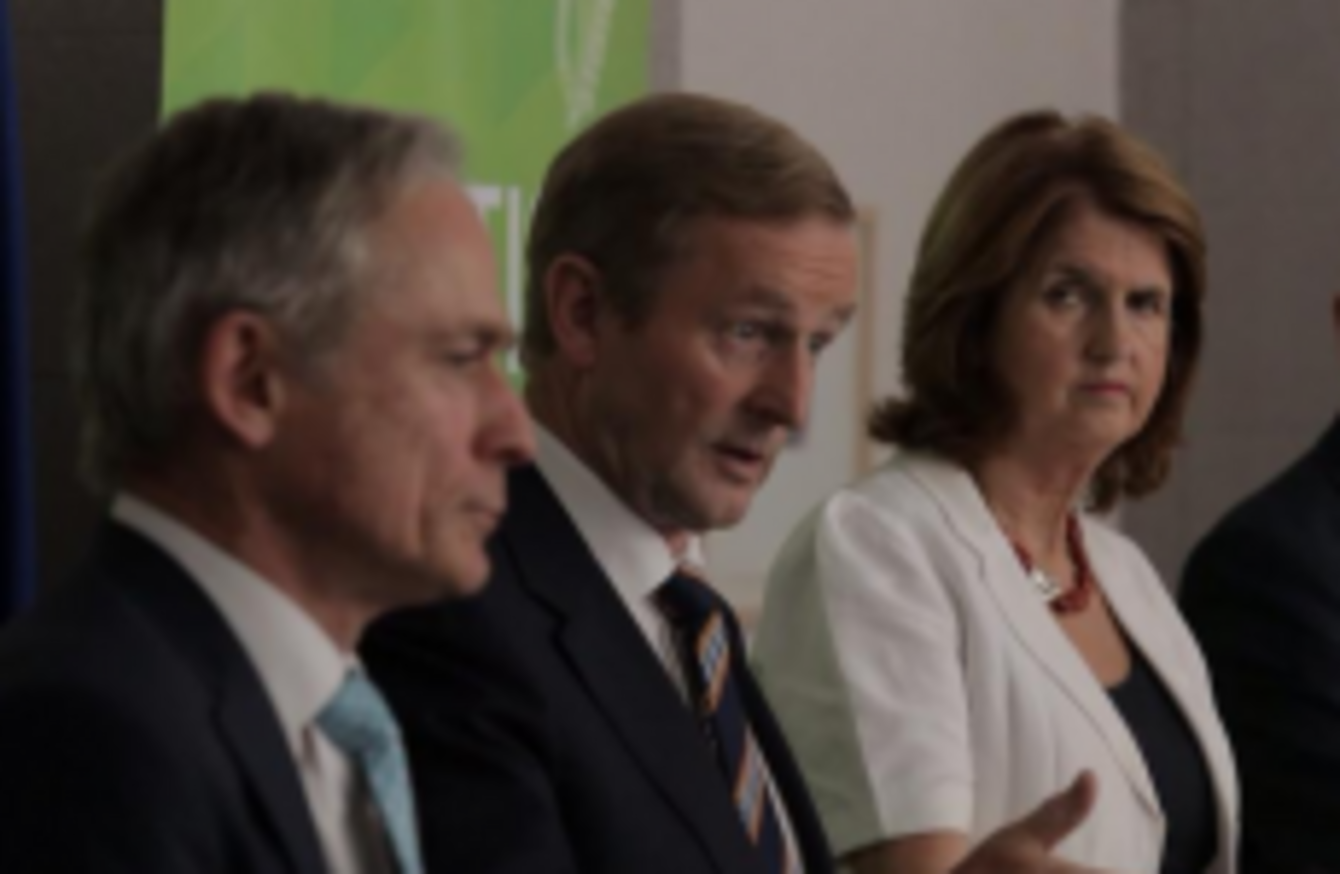 Image: Merrion Street
Image: Merrion Street
Updated at 4.30pm
TAOISEACH ENDA KENNY has said he doesn't accept there's a property bubble in Dublin, but "I do accept prices are rising".
It following the publication of the latest Residential Property Price Index figures from the CSO, which show house prices in Dublin are now almost 25 per cent higher than they were a year ago.
Overall property prices in the capital are up 23.9 per cent, with that increase being driven by the 24.4 per cent jump in the price of houses. Apartments are up 18.2 per cent in the same period.
Outside Dublin, property prices are just 3.4 per cent higher than they were a year ago.
Asked about the issue at a press conference at Government Buildings this afternoon, Kenny said that prices were rising "because of the law of supply and demand".
"You can't sort this out unless you build new houses," the Taoiseach said.
Asked to define what he would consider to constitute a property bubble, he pointed out that at the peak of the Celtic Tiger, around 90,000 housing units were being build every year, compared to over 8,000 last year.
We've got to get that back up to 15, 20, 25 thousand to deal with the demand that's there.
Kenny said he expected the pressure on house prices in Dublin to remain for a period of between "18 months and two years".
He said the Government was continuing work in the area to "get in sequence the planning process" and "the income streams both for contractors and for persons to buy houses".
Construction 2020
The coalition launched its new housing strategy, 'Construction 2020′ in advance of May's local and European elections.
The plan will see a portion of mortgages to first-time buyers guaranteed by the State and also includes some capital expenditure programmes planned as part of the sale of state assets.
In his speech launching the initiative, the Taoieach said it would lead to a tripling of housing output by 2020, "adding 60,000 jobs to the construction sector over the same period".
The plan came in for criticism from opposition TDs at the time — with Fianna Fáil describing it as a "pre-election gimmick" and former junior minister Lucinda Creighton warning that that idea of supporting first time buyers was reminiscent of the kind of policies that led to Ireland's financial collapse.
Reacting to today's CSO figures, the Society of Chartered Surveyors Ireland called for the swift implementation of some of measures contained in the 2020 strategy.
The current rate of price inflation is of significant concern and poses a challenge to levels of affordability and our economic competitiveness," said Conor O'Donovan, Policy Director of the SCSI — which is the professional body of the property and construction sector.
He said that some of the measures from Construction 2020 — including a more flexible approach to planning, ensuring development on vacant sites and "removing other obstacles to development" needed to be implemented promptly.
First posted at 4pm.