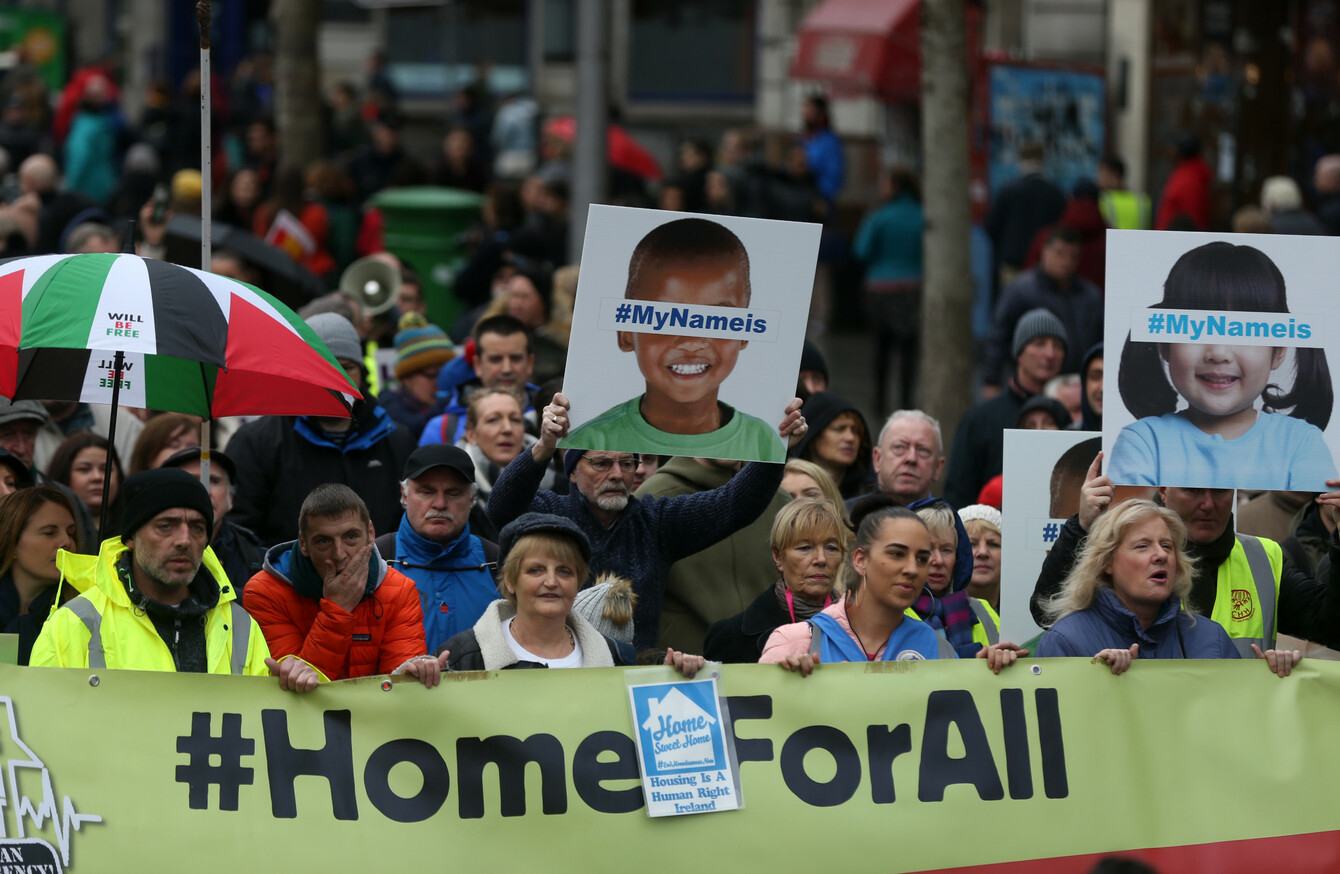 Thousands of people take to the streets of Dublin last year to protest and demand Homes for All.
Image: Sam Boal via RollingNews.ie
Thousands of people take to the streets of Dublin last year to protest and demand Homes for All.
Image: Sam Boal via RollingNews.ie
THERE ARE OVER 17,000 people on the waiting list for a house in Dublin right now and just 1,461 homes were let last year, new figures obtained by TheJournal.ie have found. 
The housing allocation report for January 2019 found that 17,745 people are on the waiting list while 10,317 people are looking for a transfer to other accommodation. 
The combined total of people either looking for a house or looking to move stands at 27,762.
Conversely, if we look at the number of people who were housed by Dublin City Council (DCC) in the last year, we can see that 1,461 were let homes in the city. 
This means that, if demand for a council house stopped this instant, it would take over 12 years to fill demand going on current allocation figures. This is just for new builds. If we take the total figure of 27,762, it would take just under 20 years to fill the demand.
Councillor Daithí De Róiste described the current system as "the definition of insanity".
He said: "If I apply for a house in Dublin today – I will be waiting 19 years.
"What is the definition of insanity? Doing the same thing over and over again and expecting different results. Minister Murphy is certainly no Einstein as these latest figures show.
"In May 2016, I obtained a similar report that shows 28,925 on the list. Today's numbers show 27,762. In two years of crisis, we have seen a drop of just over 1,000 people on the list, despite all the headlines, all the Government promises and spin, the facts of the matter are that current housing policy is failing the people of this country.
If I was to go on the list today, I am looking at a wait of 19 years when you consider just 1,461 people were allocated a house last year.
"Where is the big idea? When we faced a problem of this size in the past, we built Ballyfermot, Finglas, Blanchardstown."
In 2017, housing tenants paid almost €351 million to local authorities in rent.
Homelessness 
Latest homelessness figures also show a stark reality. 
Emergency accommodation numbers, compiled by the Department of Housing in December, show that there were 9,968 people living in homeless accommodation month, an increase of 244 people on October's figures.
That represents an increase of "158 adults and 86 dependents"; the Department said that there had also been a decrease in the number of families presenting themselves to homeless services in Dublin "where the challenge is most difficult".
Approximately 182 beds for those sleeping rough were added to the system.
Minister Eoghan Murphy defended his housing policy prior to Christmas. 
He said:  "I am glad that for a very large number of families, they will not be spending this Christmas in a hotel thanks to the dedicated efforts of all involved and the continued rollout of new Family Hubs."
"I want to assure all individuals and families experiencing homelessness that it is an absolute priority for my Department to deliver the housing solutions needed," Murphy said.
"In 2019, we will continue to increase the delivery of social housing to provide more people with homes."