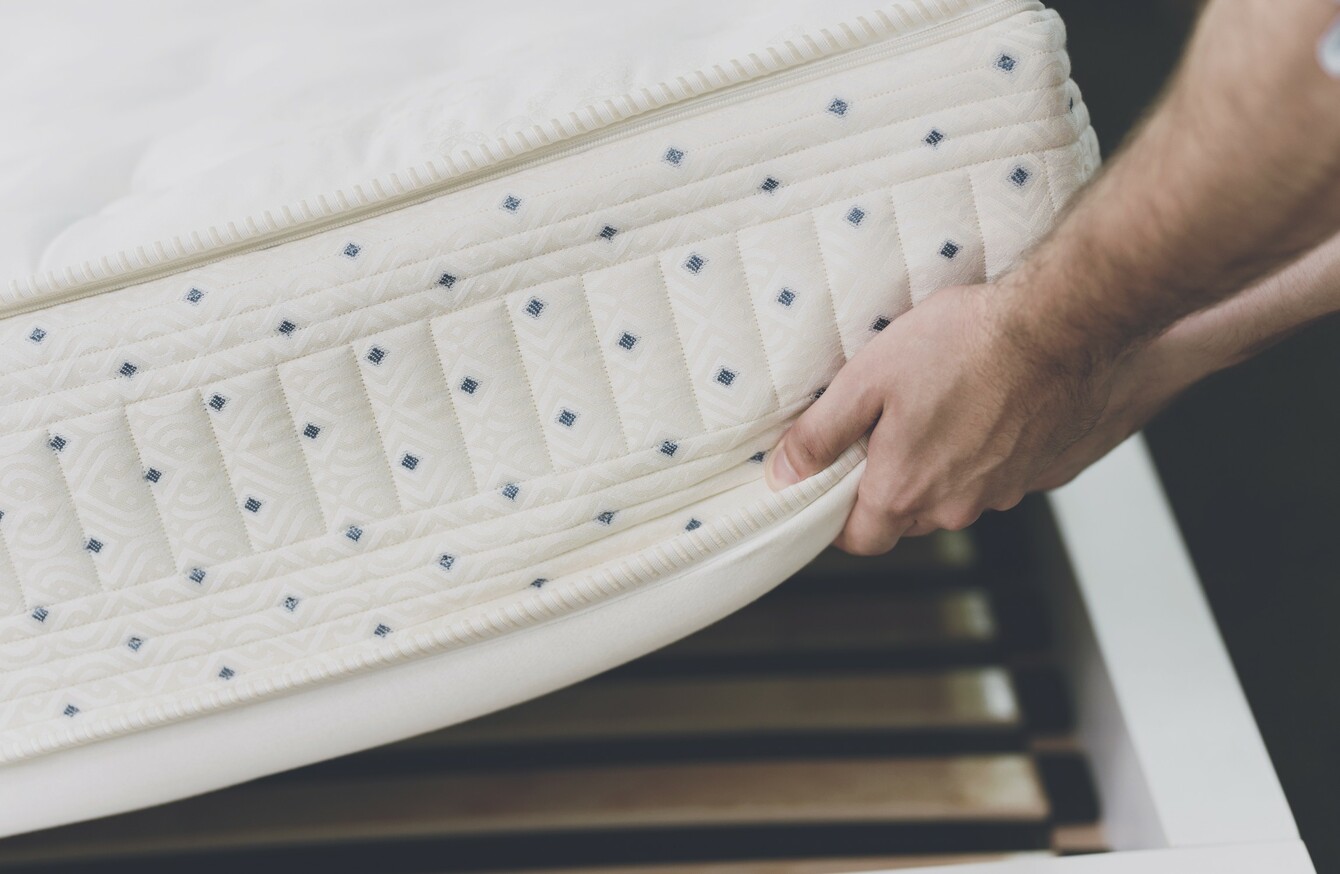 Image: Shutterstock/VGstockstudio
Image: Shutterstock/VGstockstudio
FOR A STANDARD mattress that's slept on every night, the average lifespan is around seven years. Some will hold their quality for longer, but if your current mattress feels lumpy, uncomfortable or you find you're waking up with back pain most mornings, then it's probably time to think about a replacement.
Given the current global situation, trying out mattresses for yourself in a showroom isn't an option right now, so use this as your chance to get involved in the world of online mattress buying. Mattress reviewers take their roles very seriously, and there are millions of independent online reviews out there, plus a wealth of information about durability and firmness.
Be sure to check the returns policy: most established suppliers will have a simple, no-fuss policy for returning your 'bed in a box', but it's always worth reading the small print.
Now that you know when and where to start shopping for your new mattress, below is my masterclass in finding the right one.
A note: if you're a renter who can't swap out their mattress, or you don't have the budget for one right now, go for a mattress topper instead. These can turn an old mattress into a dream if you choose correctly. Buying one will be pretty similar to buying a mattress: you'll want to check what it is made of, as well as its firmness. The thicker the topper, the less you'll notice the mattress condition.
Step 1: Choose your mattress type
There are two broad categories here: spring (either open coil or pocket spring) and foam (poly foam, latex foam, memory foam or a hybrid).
Spring mattresses
Open coil or continuous coil mattresses are generally the most affordable and lightweight, but due to their make-up, don't last as long as other types. They're best for a guest room or a bed that's not slept in frequently. The mattress interior is either made from individual coiled springs tied together with one wire, or a set of coiled springs all made from one wire. One big drawback, aside from the quality, is that if you are sharing, you risk rolling in to your partner as the coils move.
Pocket spring mattresses are a step up. With this type of mattress, the coiled springs have their own individual fabric pockets which leads to less wear and tear. The springs also move with contours of your body, meaning better support. Pocket spring mattresses will last longer and give you a more comfortable sleep. Higher priced options will usually have more pockets and a layer of memory or latex foam on top of the coils.
Foam mattresses
With memory foam, your body heat controls the shape of the mattress: the foam softens and moulds itself to each individual sleeper. Once you get out of bed the foam moves back into its original shape.
Latex foam comes in natural or synthetic form. This can be a pricier mattress option, but if you're looking for buoyant support that moulds to your body, latex is the one to go for.
A poly foam mattress is made of different densities of foam, combined to make a mattress that can support the body easily.
A hybrid mattress combines springs and different foams. You'll often see springs topped with a memory or gel foam, with higher-density foam at the side to maintain the shape and prevent you from rolling as you sleep.
Step 2: Choose your firmness
The firmer the mattress the more support it will give. What you're looking for is a mattress that will allow your spine to remain in a neutral position when you sleep. Your sleeping position should usually determine the type of support you need.
Mattress firmness is measured on a 1 – 10 scale, with 1 being the softest and 10 being the firmest. A medium soft mattress starts around 3 – 4, medium firm is around 5 – 7, and very firm is 7+.
Side sleepers should aim for a medium soft mattress: one that's soft enough to allow their hips to sink in, while keeping their spine neutral. Front sleepers will need a medium firm mattress to ensure that the contours of the body can be supported.
Back sleepers sleep better with a medium firm to firm mattress as their weight is spread out. If you tend to sleep in different positions, go for a mattress that suits the position you sleep in for longest.
For an all-rounder mattress that'll work for two different types of sleeper, stick with a medium firm.
Step 3: Calculate the size
Make sure you know the dimensions you need before you buy. Measure inside the bed frame and have this to hand when shopping, online or in store.
Step 4: Let the mattress rest once you've unpacked it
When opening any rolled mattress make sure it is already on the bed, as these unfold really quickly and can literally spring out.
A bed in a box will usually need 24 – 72 hours to rise, depending on its make up. This is because all the air is sucked out of the foam for transport and once you unbox, it will start to rise again as it fills with air.
If you have no other alternative, it is safe to sleep on your mattress before it rises, but it won't be at its most comfortable during this stage.