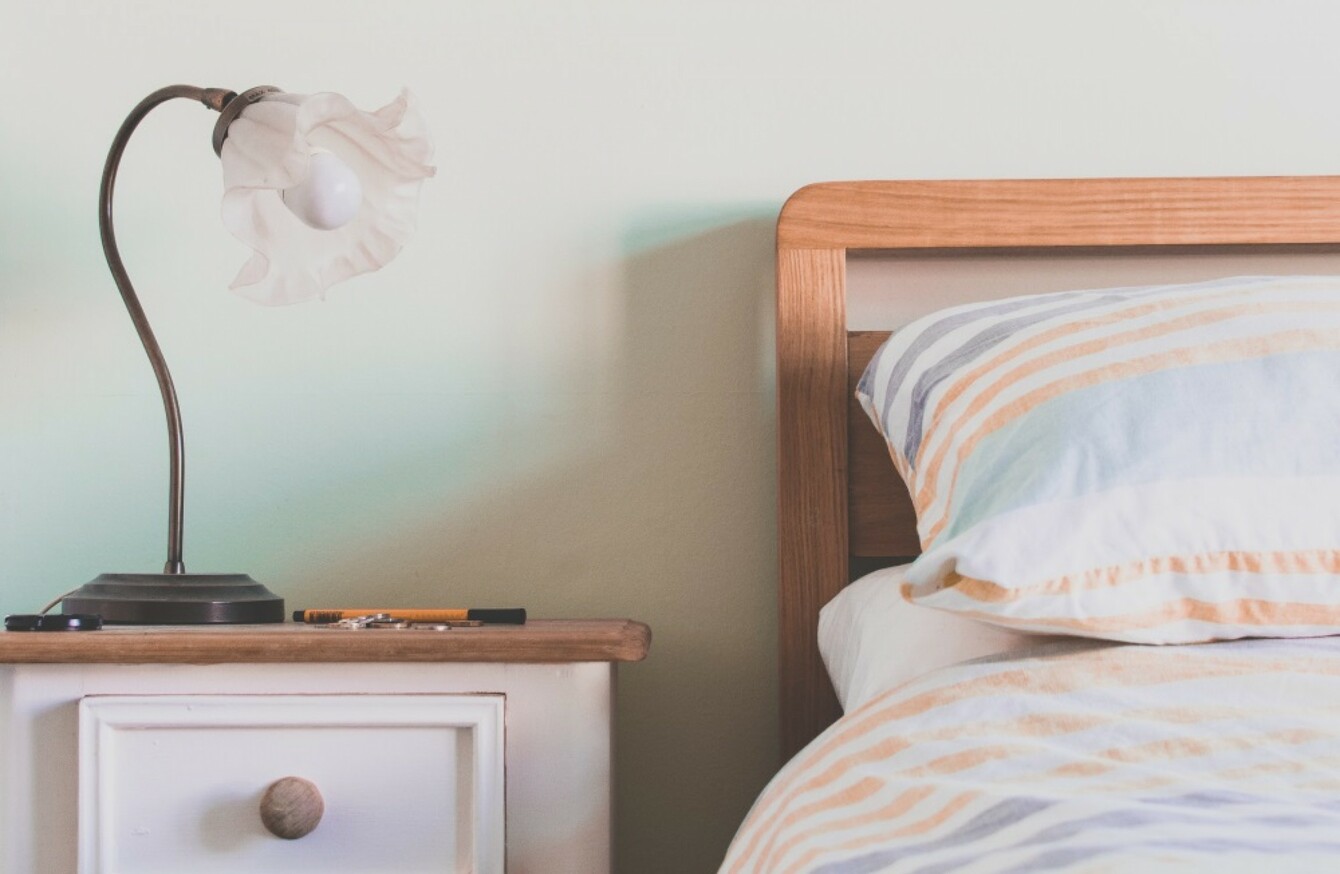 Image: Unsplash
Image: Unsplash
Giving your sheets, duvet covers and pillowcases a run in the washing machine every week is definitely a smart home hygiene move – but is it the only step we should be thinking about?
From how you dry your bedlined to how you store it, there's more to keeping your bedroom basics clean than just dumping them in the machine. Plus, heavier items like your mattress, duvet and the pillows themselves should also be cleaned regularly, so that the fabric has a chance to breathe. 
Every fortnight, Laura de Barra brings her home maintenance expertise to the Glenveagh Home Magazine on TheJournal.ie – and this week she's sharing her tips on keeping your bed feeling (and smelling) fresh.
First, the everyday stuff
Aside from washing, there are daily steps we can take to keep our bed fresh:
First, shake out the duvet in the morning. Next, fold the duvet right back so that moisture trapped can be released. This gives the bed a chance to air before you climb back in that evening. Plump pillows so that air can circulate and odours can free themselves and don't leave things piled up on your bed during the day.
Bedlinen basics
Bed linen should be washed every week or so with the most recommended being maximum every two weeks. As this means the fresh washing can lose its wonderful scent during storage, you can make some natural drawer fresheners with lavender pouches.
These will lightly scent whatever is stored in there and lavender is also great for helping us relax and drift off to sleep, so it's a fab addition to your routine. Never put on or store linen unless it is completely dry, this will cause a damp odour and can cause mould in your drawers.
To ensure your bedding is as breathable as possible, go for natural fibres for bedding where you can. Some other fabrics will increase how much you sweat in the night and affect your duvet over time.
Many people complain that their linen doesn't smell fresh even after washing. This will usually be due to the temperature of the washing cycle. The stains that will be on bedding will be protein stains – sweat, body oil and so on.
These need a warmer wash (fabric care label permitting) to be completely removed, otherwise they can linger after. I also like to throw a cup of vinegar in the fabric softener dispenser compartment, this means it will be released at the rinse stage and disinfect anything remaining after the detergent has washed out. It also neutralises any smells.
Washing your duvet and pillows
I would recommend washing these every six months. Although protected by bed linen these can come in to contact with skin cells and body oils and must also be cleaned.
Check your care label and see if it can be done at home but heed my warning that it can be extremely difficult to thoroughly rinse detergent through these large items on a domestic machine so a professional service is always best.
For pillows, the easiest way to keep these fresh and odour free is to invest in some pillow protectors – these don't need to be washed as often as pillow cases themselves and will protect the pillow.
And finally, the mattress
Our mattresses are often forgotten, but they should be rotated and flipped often for a longer life and also cleaned and aired.
I can't imagine anyone wanting to drag theirs outside for a proper airing so thankfully there are other things we can do. When you do strip your bed to wash linen, leave the mattress bare as long as you can so that it can breathe. If you have noticed it has a slight odour, you can sprinkle some bicarb of soda on top, leave for a few hours and then hoover off.
This will neutralise whatever is causing the smell but has no moisture so won't cause further issues. Beware of odour eliminating sprays, which can lead to damp and mould issues if they are not used correctly or are not given the right drying time.
One thing I find extremely handy in keeping mattresses fresh are washable mattress protectors and toppers. These can be washed with your regular bed linen and keep the mattress from absorbing odours.
Follow @lauradebarra on Instagram for more pro cleaning tips (and plenty of other fabulousness too).