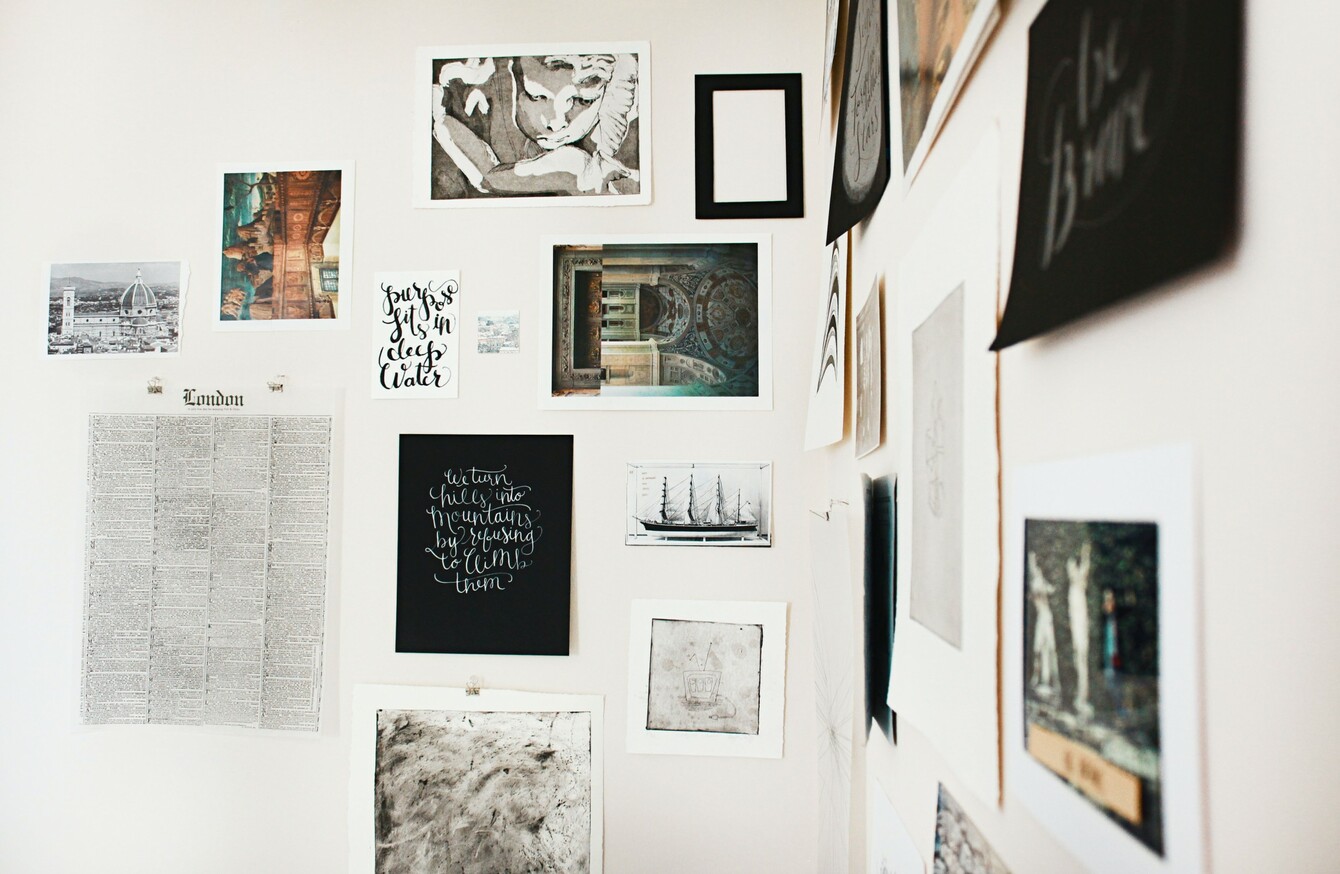 Image: Unsplash/Joyce McCown
Image: Unsplash/Joyce McCown
Laura de Barra regularly brings her lifestyle and home maintenance expertise to the Glenveagh Home Magazine on TheJournal.ie. This week: a masterclass in turning a pile of forlorn picture frames and prints into a gallery wall.
A GALLERY WALL is a mix of pieces hung to create an all-in-one "artwork". It's a great way to add character to a room without taking up a lot of space, time or money. This method of displaying frames and art is fantastic in living rooms, but can also work really well in hallways, stairways or other areas that are tight on space.
Step one: Choosing your vibe
You might have decided that you would like a gallery style wall but not yet decided its content. While you don't necessarily need a theme, it can be helpful in the gathering stage as well as the hanging stage to have an idea about what you would like to end up with. If you are deciding where to start, here are the two main forms a gallery wall can take…
The grid gallery
This is when all frames are the same size, usually the same colour, and will be spaced evenly. This style works well in minimal or modern spaces as it gives a sharp and sleek look. Grids can be a little trickier to get right as your measurements have to be bang-on, but the overall effect can be quite calming and chic. It works really well with a monochrome theme, so black and white photos and prints can be perfect here.
Never have more frames wide than you do tall as this will make walls appear shorter. Grid walls can work fabulously in a floor to ceiling layout that you can grow upwards or downwards over time. Be sure to hang updates in full rows if you do grow your grid.
The organic gallery
This is a mix of frames, plates, trinkets, signs and so on, hung in no set pattern. This option is ideal for more boho, eclectic or vintage spaces, as your end result will be full of colour and texture. While the spacing doesn't follow an exact rule, it is still considered and balanced, so put some planning in first.
The main advantages of an organic gallery wall is that you can easily keep adding to it piece by piece over time, and putting it together doesn't take as much precision. When adding to yours, mixing scales is key, so try to go for a variety of sizes for optimum effect.
Step two: Planning your God lay
The easier and most effective way to work out your gallery wall before you hang is to lay it out on the floor first – the God lay. This will save your walls and paintwork, and give you time to work out the best layout. You'll be able to see clearly where balance is off and what needs a tweak.
With organic layouts, place your largest items first as these will act as great visual anchors. You can then begin to place your smaller items around them. If you start with your smaller items it's easy to misjudge the larger ones and you'll need to do more rearranging later.
With grid layouts, decide the distance that works best between frames first, and then make a 'spacer' from a piece of old card so that you can use it as a guide throughout the process.
Step three: Hanging it all up
As a gallery wall can quite literally give your walls a hammering, its best to seek out the least damaging picture hangers. As what you'll be hanging will (usually) be less than 3kg, go for lightweight picture hangers, as these are usually far less damaging. Just be sure to choose an option that's suitable for your wall type. If you are renting, Command strips will work really well here as you can whip them off when you leave with zero damage. Plus, you can change your gallery layout easily without having to remove hooks and cover holes.
Want more tips and hacks? Laura de Barra's new debut book, Gaff Goddess: Simple Tips And Tricks To Help You Run Your Home is on shelves now, published by Transworld Ireland. Buy it here or in all good bookshops, and follow Laura on Instagram for even more cleaning and lifestyle tips.