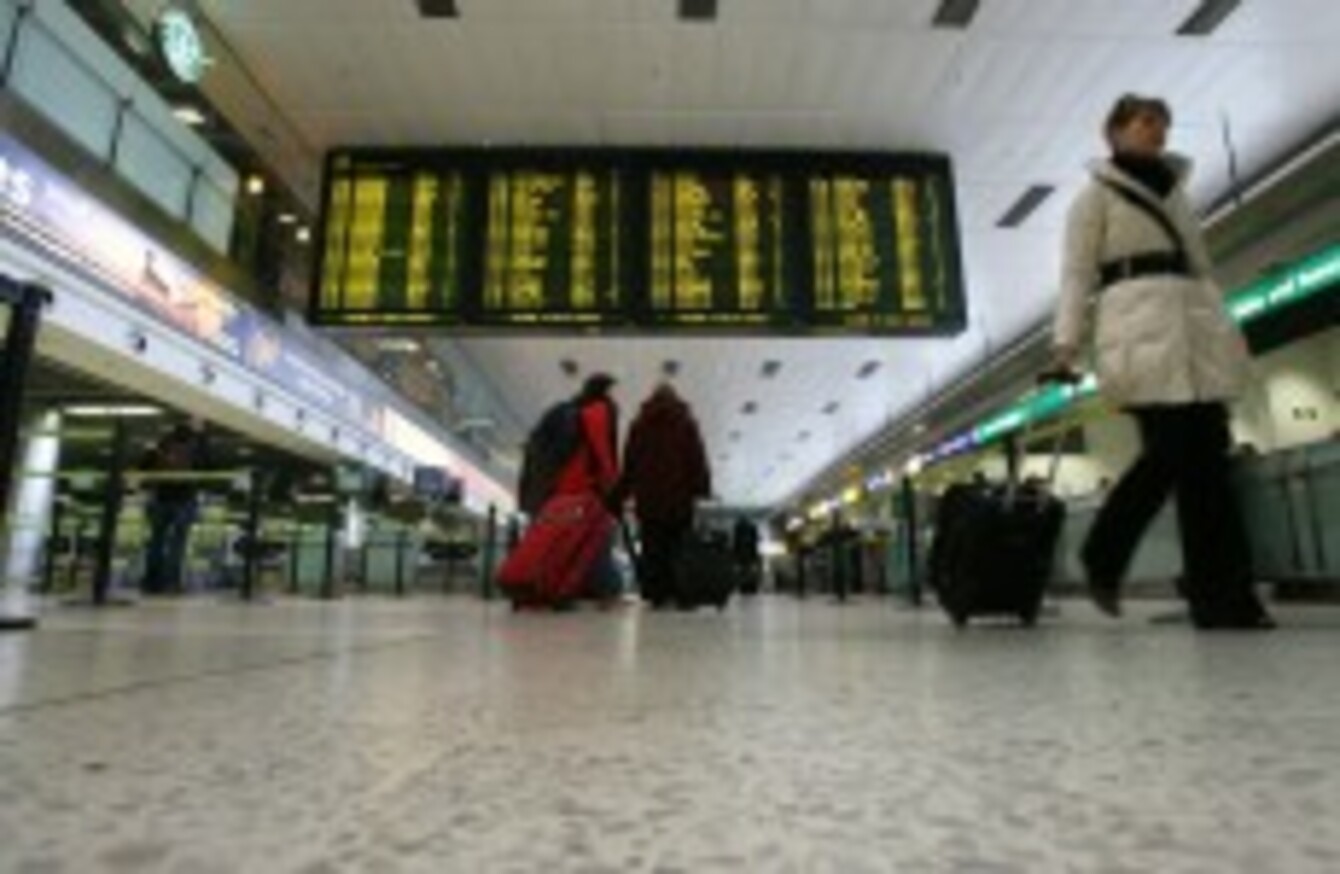 Image: James Horan/Photocall Ireland
Image: James Horan/Photocall Ireland
BETWEEN THE HIGHS of leaving the office for the last time and actually arriving at your holiday destination, there's one final obstacle to overcome before you can enjoy your holliers: the airport.
Some trips through an airport can be completely hassle-free. Everything goes right and you speed through check-in and security.
But then there's all the other times. Tight security, long queues and increased stress means negotiating your way through an airport can be tricky.
But never fear. We've put together these tips on how to get through the airport as quickly as possible, based on our own hard-fought, bitter experiences…
1. Check the weight limits for your luggage before you pack
Sounds obvious, but the hassle (and the cost) of getting this wrong is not worth it. Both Ryanair and Aer Lingus allow for hand luggage weighing a maximum of 10kgs and, unsurprisingly, Ryanair can be strict about implementing this – their staff at some airports will check the size of your hand luggage and may measure it before deciding whether you can take it on board. Check how much luggage you're allowed to check-in too: there's a higher limit if you're going on a long-haul flight, but the limit often applies to your total baggage, rather than to each individual piece of luggage. Weigh your bags at home or at an empty check-in desk at the airport before you check in if you're worried that they could be too heavy.
2. Separate your liquids, gels and pastes before you get to the airport
If you wait until the airport to do this it will be time-consuming and it will cost you – most airports now charge around €1 to get two of the clear plastic bags you need to get through security. Buy a load of them in a supermarket for less than €2 beforehand and save yourself the cash. All items in the bag will have to be under 100ml and Dublin Airport has a useful FAQ about what can and can't be taken through security. Aerosols, shaving foam, and some make-up items, such as certain types of concealer, are all on the list, as well as regular liquids and gels.
3. Check in online if possible
It means you can avoid the queues at the airport. (Photo: James Horan/Photocall Ireland)
4. Otherwise look out for automated machines which will save you having to queue at check-in
Ones that look something like this:
(Photo: James Horan/Photocall Ireland)
5. Have your passport and boarding pass somewhere safe and easily-accessible
Everything else can be thrown into your hand luggage but you'll need these close at hand in a secure place if you want to get through the queues quickly.
#Open journalism No news is bad news Support The Journal

Your contributions will help us continue to deliver the stories that are important to you

Support us now
6. Choose your security queue carefully
If you have time, it's worth taking a minute to check if there's different departure gates and if any of them have a shorter queue than the others. Next, you'll have to join a queue to get through the security check. Look at the people ahead of you in the queue: avoid standing behind families with small children – buggies and children's food can be finnicky to get through security. Ideally you're looking for people who already have their clear plastic bag out, their belt off, and are already eyeing up which tray they want.
7. Wear something that you can take off easily
No, not like that. You'll definitely have to take off metal jewellery and big coats or jackets when you go through security, and there's a high chance – depending on the mood of the security guard you encounter – that you'll have to take off your belt and shoes (less likely if they're flats or runners, definitely going to happen if they're giant boots). Don't wear something that will take forever to take off, delaying both you and all the people behind you.
8. Be prepared to take things out of your bag
You'll be asked to remove any electronics – such as a laptop, e-reader or tablet – as well as any umbrellas you have in your hand luggage.
9. Willing to pay to speed things up?
You've probably already paid enough for your flight, but if you're willing to part with some cash for a speedier trip through the airport, there are options. Dublin Airport has a service called Airport Genie which can fast track you through security, provide someone to help carry your stuff or give you access to a lounge, depending on what you want and are willing to pay. Less salubriously, Ryanair has priority boarding for around €5 which lets you be one of the first people to get on the plane.
Got any useful tips to share? Let us know in the comments…