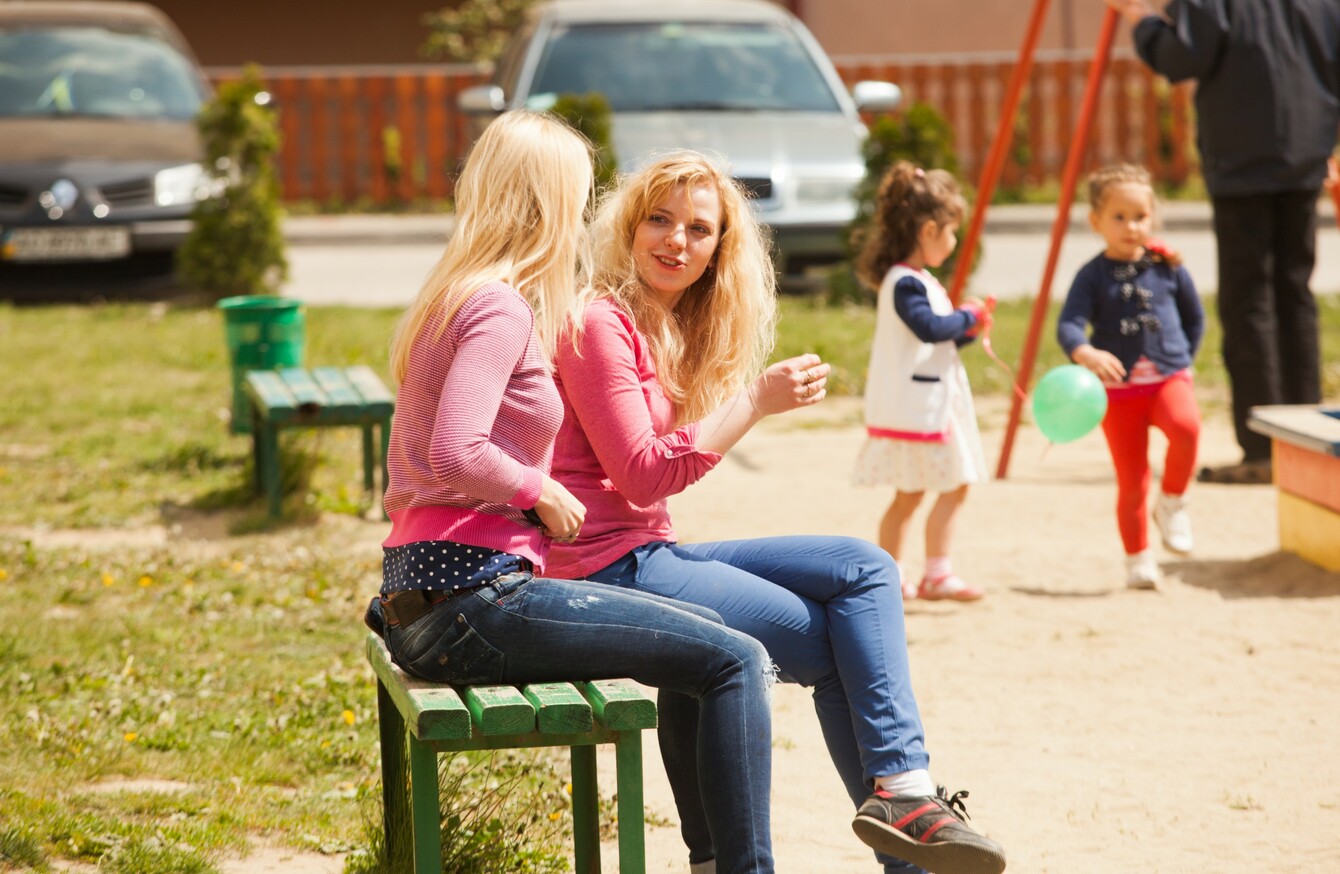 Image: Shutterstock/Oksana Shufrych
Image: Shutterstock/Oksana Shufrych
I'D JUST MOVED to a new country when I found out I was pregnant. With my existing support group some 2,700 km away, I embarked on the project of trying to make some mum friends once my son Ari arrived. Here's what I learned… 
I spy her from across the playground. Striped top, mum bun, reaching for a Water Wipe. I do a quick evaluation: Kid around the same age? Check. Well, actually, that's pretty much it.
When it comes to making mum friends, I've found the number one indicator of whether or not you'll have anything to talk about is how close in age your kids are.
Whether you'll remain friends depends on a lot of other factors, of course, but there's just something about those early parenting months – one exhausted week blending into the other – that leaves you with absolutely no idea about how to talk to someone who has a child of a different age.
Ice breakers
Once age similarity has been confirmed, one of us will decide to engage. Sometimes, it's lovely and natural, laughing about some cute thing one of our kids has just done. Other times, it's just as forced as trying to sidle up to someone in a bar (why isn't there an app for making mum friends?! Interests: re-microwaving tea, cloth nappies and finding the best under eye concealer).
When it comes to breaking the ice, I usually go with the reliable but ever-so-boring line of "How old is your little one?" or "Have they been walking long?". In my experience of most mum friendships, once a rapport is established we spend very little time actually talking about our kids. This has the potential to complicate matters – compatible kids but hugely incompatible world views might make conversations turn awkward quickly.
In this respect, making new mum friends can be a bit like speed dating. You have a very short time frame (between when one kiddo needs a nap and the other a snack) to cover a lot of ground. But once it clicks, it's glorious to chat to another fellow grown up – about anything really. And the beauty of the mum friend is that you both know to avoid topics you have little to contribute to in this current phase – movies you aren't seeing, TV shows you aren't watching, cool new restaurants you haven't been to.
Feeling it out
Finding a great mum friend isn't necessarily about finding someone whose parenting style exactly matches yours – whether someone bottle feeds or breastfeeds, or whether your household is screen-free or Baby Shark obsessed.
Rather, it's about trying to be just honest enough to establish some kind of camaraderie, but not so honest that you scare them off with your tales of loose poo and teething tantrums. It's about finding someone who will empathise with your dilemma, even if it's not theirs, and vice versa.
It's about finding someone who will listen and who you feel you can listen to, without judgment or without either of you becoming overly prescriptive and trying to problem-solve their woes away.
And of course, once you've found that special someone, you have one final big hurdle to overcome… 
Misaligned schedules
There is one crucial element that can determine whether your budding new friendship survives, and that is your babies' naps.
Oh, the mum friends I've lost because the nap gods did not smile upon us; the afternoons I've spent frantically exchanging apologetic WhatsApp messages to or from a potential new mum friend, explaining that one or the other kid has slept right through their usual wake up time and so we won't make our scheduled coffee date. Sometimes, we just give up; our conflicting nap schedules perhaps an indicator that it just wasn't meant to be. 
Ultimately, making mum friends isn't that different to making non-parent friends, which is what good mum friends ultimately become – people you can hang out with, call on, support and be supported by. And bonus: they'll probably never say anything when you turn up ten minutes late, covered in smears of raspberry. They get it.