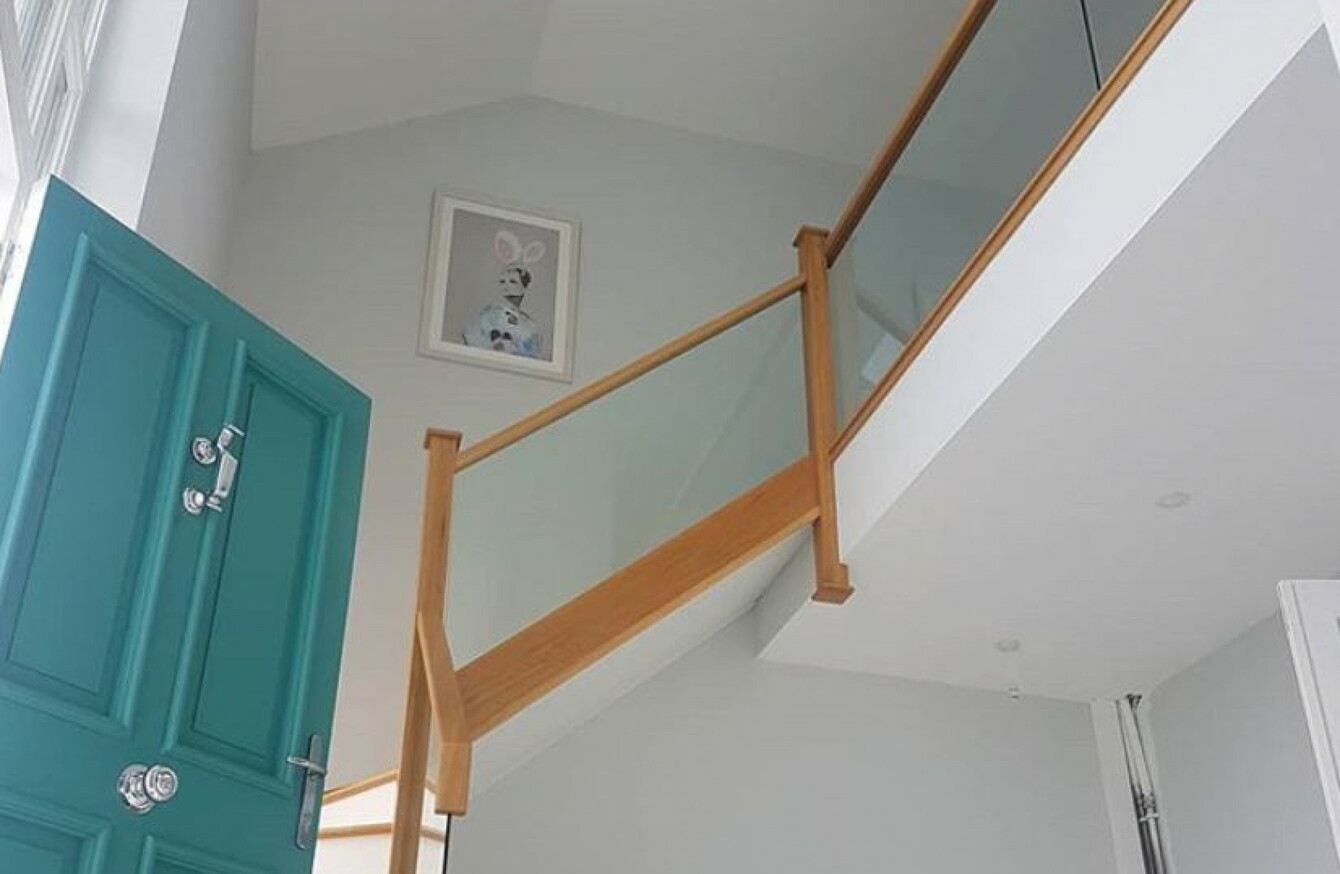 Image: Instagram/westofirelandselfbuild
Image: Instagram/westofirelandselfbuild
About the home
Where? A little village outside Tuam, Co. Galway
What type of house? A two-storey new build
How many bedrooms and bathrooms? Four bedrooms (one is downstairs) and three bathrooms
When did you move in? May 2018
About you
Name: Aisling Donnellan
Age: 31
Occupation: Nurse in a busy emergency department
Who else lives there? My husband, Jason, who's an electrician
What made you choose this home over other ones?
I had always dreamed of building my own house. I loved the idea of designing it and having control over what went into it. When myself and Jason started talking about building, we had to decide where we were going to build, and this family site was kindly gifted to us by my Dad.
As kids, my siblings and myself always said we wanted to build in "Johnny Burke's field" as it was the best site. It was our parent's field but was located right beside our neighbour's house, hence the name we gave it as kids. 
Then it came to designing it. Lots of natural light was the first thing on my list of must haves. Two sitting rooms (so Jason could watch the soccer and neither of us would be disturbed) and a walk-in wardrobe were all things we knew we wanted. An open, double height entrance hall has the the wow factor when you come in through the front door.
I came across a house in town and I fell in love with it. After weeks of driving past and swooning over it, I eventually plucked up the courage and knocked on their front door and asked the lady where they got their design. She was so helpful. It basically all evolved from there.
Which place in your home do you love the most?
In the summer, I love nothing more than sitting on our mustard couch in the living room, an area that has an amazing view from the apex window.
In the winter, I love being in the front sitting room. It's very small and cosy. It has carpet and an insert stove, which is ideal for a cold, wet winter's evening.
I also love just standing on the upstairs landing, looking out the long pane of glass in the hallway. It's a beautiful, unrestricted view of green fields and cows — the perks of living in the countryside.
Which place in your home do you love the least?
I love our home and what we have done with it so far. A lot of blood, sweat, tears and money (and I mean most of that literally) went into building it.
In saying that, the room I would like to change the most is the front sitting room. Purely because it's too small. I blame my husband for that one! However, this does mean it is very cosy during winter.
Take us through a day in your house, room by room.
The days I'm working, I leave the house by 6.30am and I'm home by 9.30pm, so I'll go through a typical day off here instead.
7am: Jason usually heads off to work between 7-8am depending on where he's working.
9am: I'm up and ready for a 10am gym class.
11am: After the gym, I'll do a food shop and it's home for breakfast and a shower.
12pm: The rest of the day off at home depends on what needs to be cleaned and tidied. Sometimes I'll do the upstairs one day and spend my next day off that week cleaning the downstairs. We have marble effect tiles running from our front door to the back on the ground floor. I love them but they show up every bit of dust and hair so they need
to be swept or hoovered alternate days.
5:30pm: Jason is normally home around now.
6:30pm: Our guilty pleasure is Home & Away. Yes, it's still on the television after all these years and yes, we still watch it in our 30s, but it's on at 6.30pm which means it runs into when our dinner is ready. We used to be very bad and eat our dinner sitting on the couch watching it. Now that we have a TV in the dining room, we have our dinner together there. The rule in our house is whoever makes the dinner doesn't have to clean up after.
7:30pm: Then it's time to chill on the couch and watch the soaps together. Unless there is soccer on, then Jason heads for the dining room to watch it while I'm on the comfier velvet couch!
8:30pm: Jason has soccer training twice a week. If he goes to training I will normally go to the gym that same evening.
10:30pm: We are normally in bed by 10:30 or 11pm, especially if I am working the next day.
Is there anything you'd do differently if you were doing it again?
The biggest thing I would change would be the window/door company we used. Definitely not a company I would recommend. My advice would be to make sure to talk to a few different people who have used the company before placing your order.
I could have been more wise with our money. I was so eager to furnish the house before moving in that we ran out of money for a front wall and boundary fence, so we're only getting to do those now.