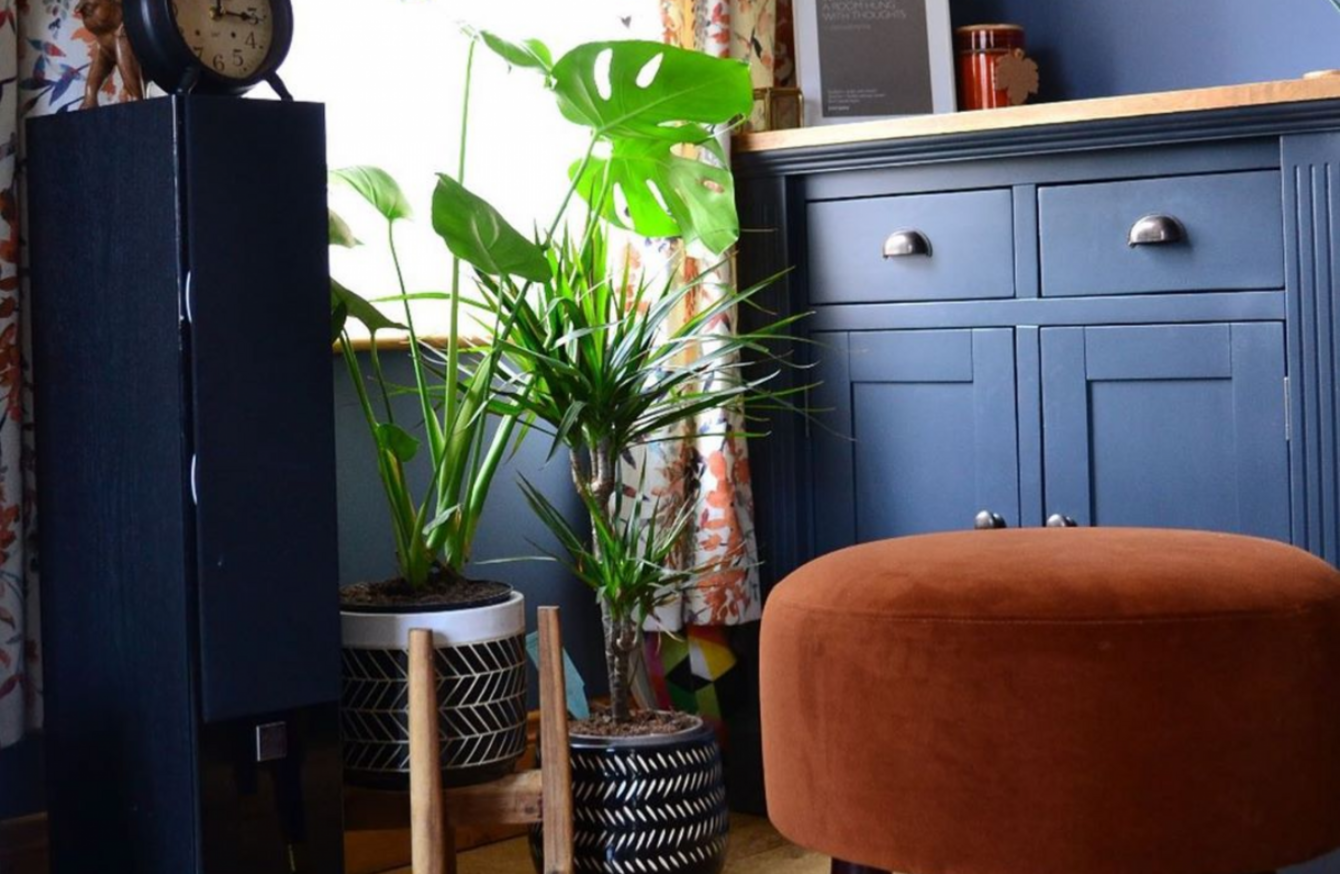 Living area.
Image: prettylittlehouseintown via Instagram
Living area.
Image: prettylittlehouseintown via Instagram
About Your Home
Where? Omagh, Co Tyrone
What type of house? Detached house on a large estate
How many bedrooms and bathrooms? Four bedroom with two bathrooms and an under-stairs loo 
When did you move in? June 2016 
About you
Name: Alicia Ellis-Gowland
Age: 34
Occupation: Human resources advisor
Who else lives there? My husband, two daughters and diabetic cat Polly
What made you choose this home over others?
For 12 years, my husband and I had been living in tiny accommodation in Liverpool. When our first daughter came along, the pang to return to Ireland was too great and so when she was 10 months old, we made the move home.
When we saw this house, it had so much downstairs space that it really drew us to it. Even enough for a playroom, hooray! A room for the toys that I could close the doors over on and pretend they weren't there. 
What is your favourite place in your home?
At the moment, I absolutely love relaxing in my living room. We recently decided to change the room up and go for a darker colour on the walls and I'm so pleased that we did. There is nothing better than coming home from a long day at work, lighting all the candles and settling down to the warmth and calmness that the room brings. 
Is there any part of the home you don't like?
There are many at the moment as it is definitely a work in progress, but if I had to choose one, I would have to say the kitchen. Yes, it is functional and serves a purpose, but I would love nothing more than to be able to rip it out and start again. I need to keep hoping for those six numbers in the Lotto!
Is there any part of your home that makes it unique?
I think my understairs toilet is very unique as it's so unexpected. Our hall hasn't kept up with our décor as yet, and so you enter a fairly drab hall when you first arrive to the house (I will get that sorted one day).
While some people may have a fear of a guest asking to use the toilet, I look forward to that request. Toilet you say? Come this way! There it is in all its stunning green glory.
Take us through an average day in your house, room by room.
5.45am: My alarm goes off for work. I move to the en suite quietly trying not to wake up the whole house.
6.20am: I move downstairs like there are laser beams on the stairs, trying to navigate the house in the dark so I don't wake the girls up. I love nothing more than having 30 minutes in the living room alone before the madness of the day begins and so I get a lovely cup of tea and sit alone in the living room thinking of the day ahead.
7am: The girls are woken up to get ready for school and the house comes alive. Sadly, I hit the road for work at the same time and so kiss them both goodbye and head off.
6pm: I arrive home from work and I'm greeted by three happy faces glad to see me after a long day. We then spend the rest of the evening in the kitchen eating dinner and ensuring homework is all completed for the following day. Currently, a huge box sits in our dining room left over from new furniture arriving that the girls have commandeered as a bed for their playhouse, using every cushion from the living room. They have even better interior flare than me, if this is anything to go by!
7pm: Bathtime for the girls, upstairs, and we start winding down and getting them relaxed and ready for bed. Usually, half the bath ends up on the bathroom floor but isn't that part of the fun?
7.30pm: They are out of the bath and head into our room to get dried and into their pyjamas. My husband and I take turns reading them bedtime stories with all three or even four of us, packed onto our bed. 
8pm: Time to breathe! The girls are safely tucked up in their beds and hopefully soon asleep. I can start to unwind after a long day and so I head back into my happy space of the living room. I put the feet up and TV on preferably watching something that doesn't require a lot of brain power at this stage of the day. If I'm really lucky, I may even have a glass of wine in hand. 
10pm: Time for bed.  
Is there anything you'd do differently if you were doing it  again?
I wouldn't be so impulsive and plan a little better. I have often bought a rug because I liked it, or curtains because they were nice, but never thought of how they would fit into the wider scheme. I have wasted so much money being impulsive. I plan to take a bit more time in future and consider my purchases better so that I don't end up having to change them in a month or two because I no longer like them.