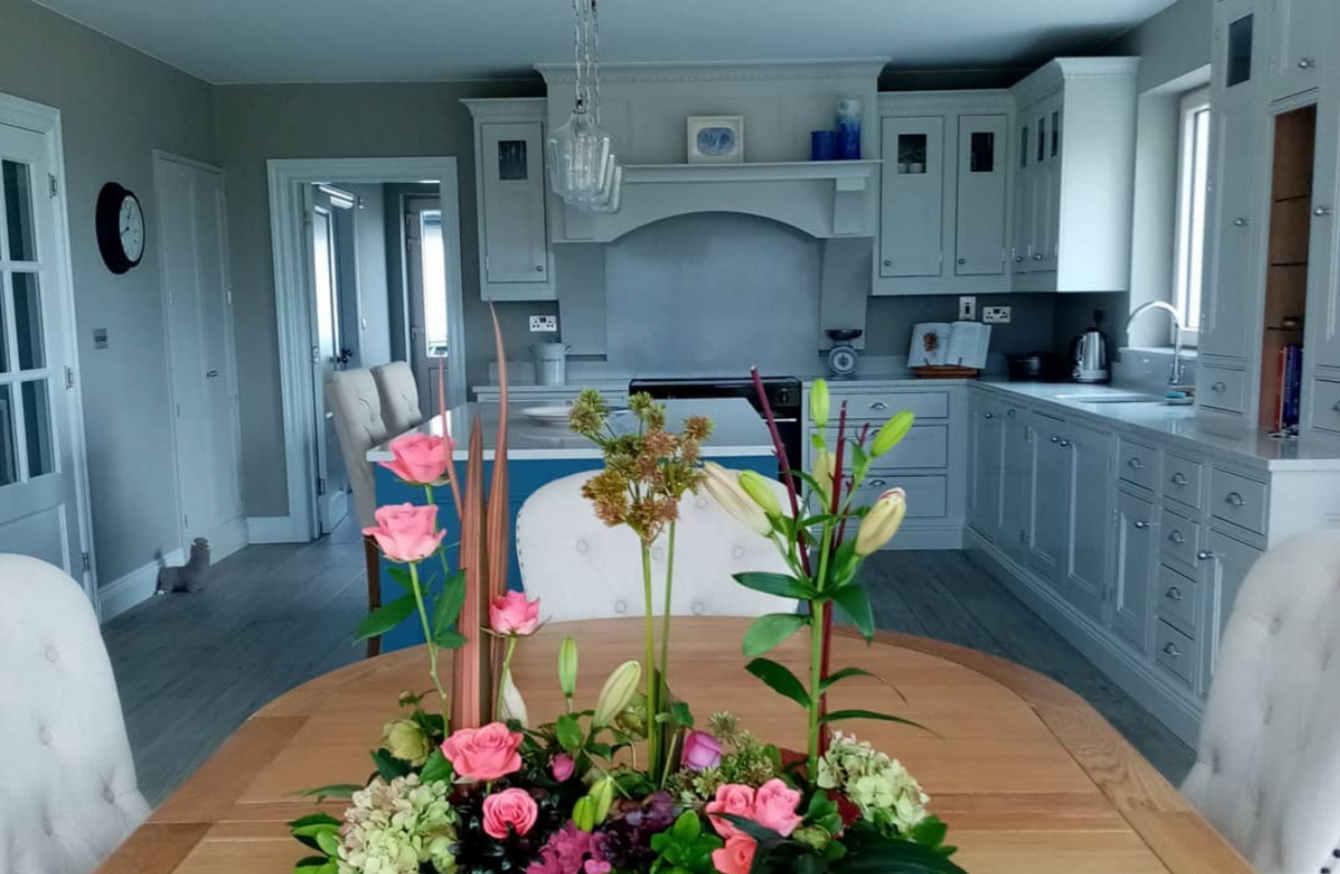 Clare's kitchen in Kilkenny.
Image: building_brickana via Instagram
Clare's kitchen in Kilkenny.
Image: building_brickana via Instagram
About your home
Where? Kilkenny
What type of house? Self-build based on Georgian/farmhouse style
How many bedrooms and bathrooms? Five bedrooms and three bathrooms
When did you move in? June 2018 
About you
Name: Clare Coogan
Age: 36
Occupation: Primary school teacher
Who else lives there? My husband Ken, toddler son Thomas, and we are expecting our newborn any day! 
What made you choose this home over others?
I wanted a style of house which would not date and would be timeless. My husband wanted a more modern design and when we spoke to our architect, he came up with this design and we were both very happy.
We have a more modern finish to the back with lots of picture windows, and a more traditional front with sash windows and limestone features.
What is your favourite place in your home?
We love the open-plan kitchen and living space. It has worked out really well and we even have a small play area as our son is too young to go to the playroom alone at the moment.
Is there any part of the home you don't like?
We are very happy with what we managed to achieve! We got a lot of help from friends and family.
My brother is a cabinet maker, so he designed and made our kitchen, utility, wardrobes and panelling – we definitely wouldn't have had this standard of finish without his help. I think the woodwork and panelling are some of the best features in our house.
My husband wired the house and so I have the benefit of being able to change my mind on light fixtures and sockets. We would possibly remove the balcony and have a vaulted ceiling in the single story room to the back, but we were advised against this at the time of design as the architect felt it wouldn't suit the style of house.
Is there any part of your home that makes it unique?
We have plans for a bedroom and open-plan space for our children using the third floor attic space, but for now it's a storage space for baby equipment and clothes.
Take us through an average day in your house, room by room. 
5am: My husband leaves for work.
6.30am: Wake up call from our son. He plays in his cot for a while pretending to go back to sleep and pointing out different animals on his wallpaper – he's a bit of a rogue! He joins me in my walk-in wardrobe and plays while I get ready. Our wardrobe goes through into the en suite, so it's really convenient for getting ready.
7am: We have breakfast in a rush if it's a school day and if not, we sit down together at the table. We get great light in the sliding doors so you have to choose your seat wisely as we've no curtains yet.
7.30am: Thomas gets dressed for creche. We have his clothes downstairs in the playroom as we find this much easier than going back up after breakfast. The utility is downstairs, too, which is where we mainly find our clothes. They take a while to get put away!
8am: Out the door for work. 
5pm: Thomas and I get home I make dinner while he plays. During the summer, the slider door was open to his outdoor toddler space and I could see him out the kitchen window. We often pop over to my mum who lives next door – we have a granny gate which is handy for borrowing milk and visiting. 
6pm: Dinner time – we sit down together at the table. We had always eaten on the couch when we were renting, so it's nice to have a dining space now. 
7pm: Bathtime for Thomas in the family bathroom. We have a laundry chute built into the sink unit. It was a great addition – it's so handy that the clothes land down into the utility. 
7.30pm: We relax on the couch in the open plan living area. We got the biggest couch we could when buying and it's extremely comfortable. With winter approaching, we might make more use of the cosy sitting room which is off the dining area. We went with pocket doors into the sitting room as we didn't want it to become a redundant room. We can open the whole space up into one at Christmas and other occasions when we have guests over.
Is there anything you'd do differently if you were doing it again?
I'd try save some budget for landscaping. I'd like a low wall around our outdoor seating area and some flagstones. All in good time, though, as we're very happy with what we have.