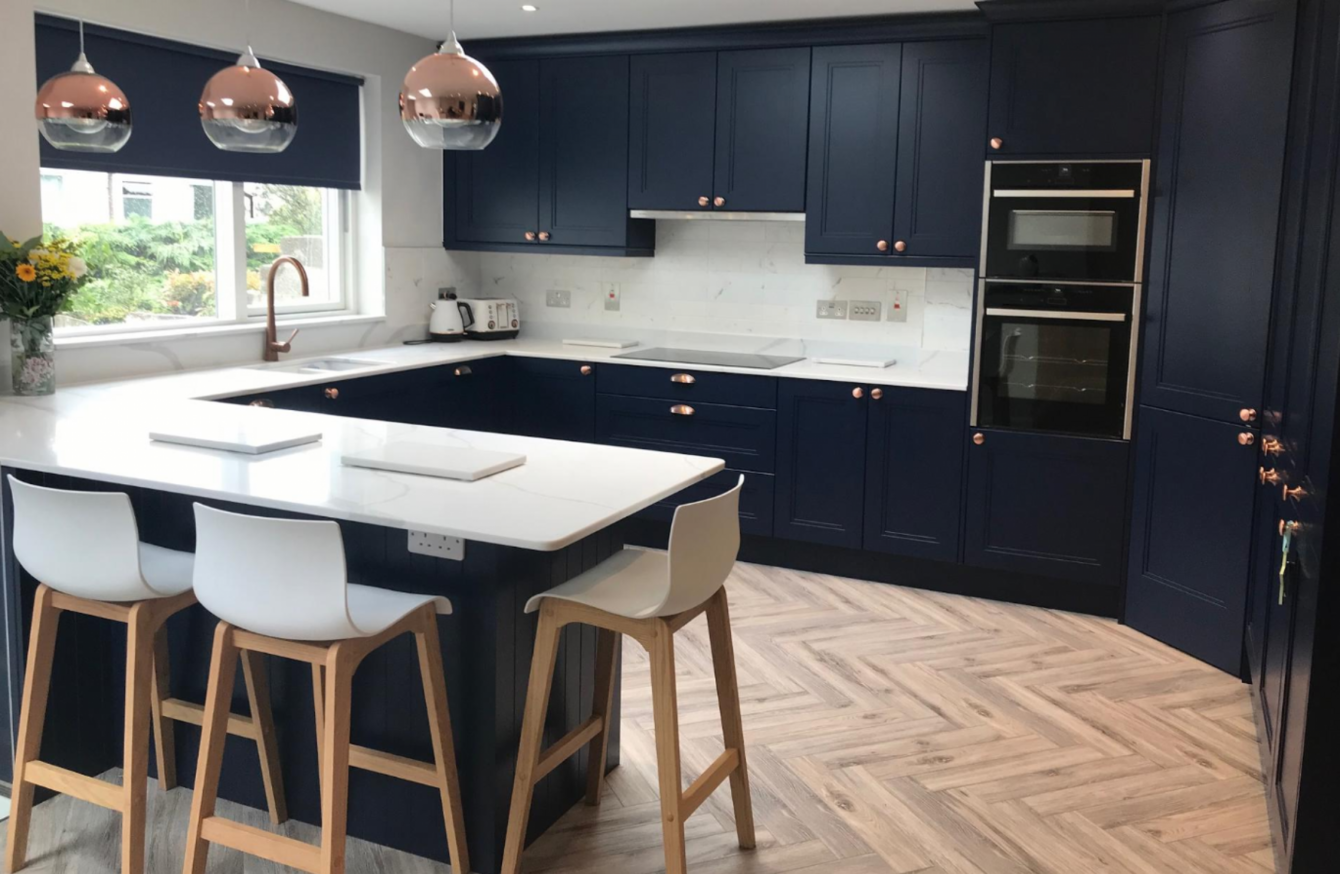 Avril McArdle's Dublin kitchen.
Image: Avril McArdle
Avril McArdle's Dublin kitchen.
Image: Avril McArdle
About your home
Where? Rathfarnham, Co Dublin
What type of house? 40-year-old detached house in a mature estate
How many bedrooms and bathrooms? Four bedrooms and three bathrooms
When did you move in? We got the keys in February 2019, spent six months renovating, and just moved in a couple of months ago.
About you
Name: Avril McArdle
Age: 41
Occupation: Marketing
Who else lives there? My husband Aidan and our three kids Derry, Quinn & Maia
What made you choose this home over others?
We actually had already been living in the area for the last 10 years in a nice family home only two miles up the road, but for about the last two years I felt we were outgrowing our home.
I wanted to move closer to the school and the parks, and this estate was the dream location. We weren't actually planning on moving but when we saw the for sale sign, we knew it was fate.
What is your favourite place in your home?
It has to be the staircase and landing. I love staircases that are tucked away to the side of the hall and this house had just that, which ticked a major box.
My dream was always to have panelling, a stair runner and a feature light over the stairs and I got to do all that in the renovation. It's great to see a dream come to life.
Is there any part of the home you don't like?
Not anymore. We have three kids, and we knew exactly what was on our wish list for our growing family.
We were very lucky that we got to do a full house renovation and extended the house out the back to create more space and different living areas. All that's left to tackle now are the front and back gardens, so I definitely don't like them in their current state, but we'll get there in the end. 
Is there any part of your home that makes it unique?
Our back garden was on quite a slope, so when we extended we had a big drop into our family room. However, the space we created is quite unique with 13-foot high ceilings, steps leading into the room, and a glass wall which creates a mezzanine feature. 
Take us through an average day in your house, room by room. 
7-8am: The alarms go off. All the bathrooms and bedrooms are a hive of activity as everyone gets up, has a shower and gets dressed. 
8am: The kitchen is the command centre as we get breakfast ready for the kids, make school lunches, find things and also try to clean as we go.
9am: Everyone heads out the door before nine for school or work.
4pm: We all arrive back from school/work/activities and the playroom gets great use by the kids hanging out with their friends or watching TV.
6pm: We have a family dinner at the dining table whenever we can manage it in between mid-week training.
7pm: Another busy time as we manage baths and showers.
8pm: The adults crash in the family room to catch up on Netflix or retire to the 'good room' that is a TV free zone for some music and wine.
Is there anything you'd do differently if you were doing it again?
I really don't think there is. What helped us remain focused was that we already had our family before we moved in. We're in our 40s now, so we knew exactly what we wanted and how we wanted to live in the house, so we factored everything in.
I'm really glad we stretched the budget for the big jobs like underfloor heating and new windows, so we don't have to go back and do them again. In saying that, winning the Lotto along the way (or in the future…) wouldn't be so bad to help finish decorating and doing up the gardens.