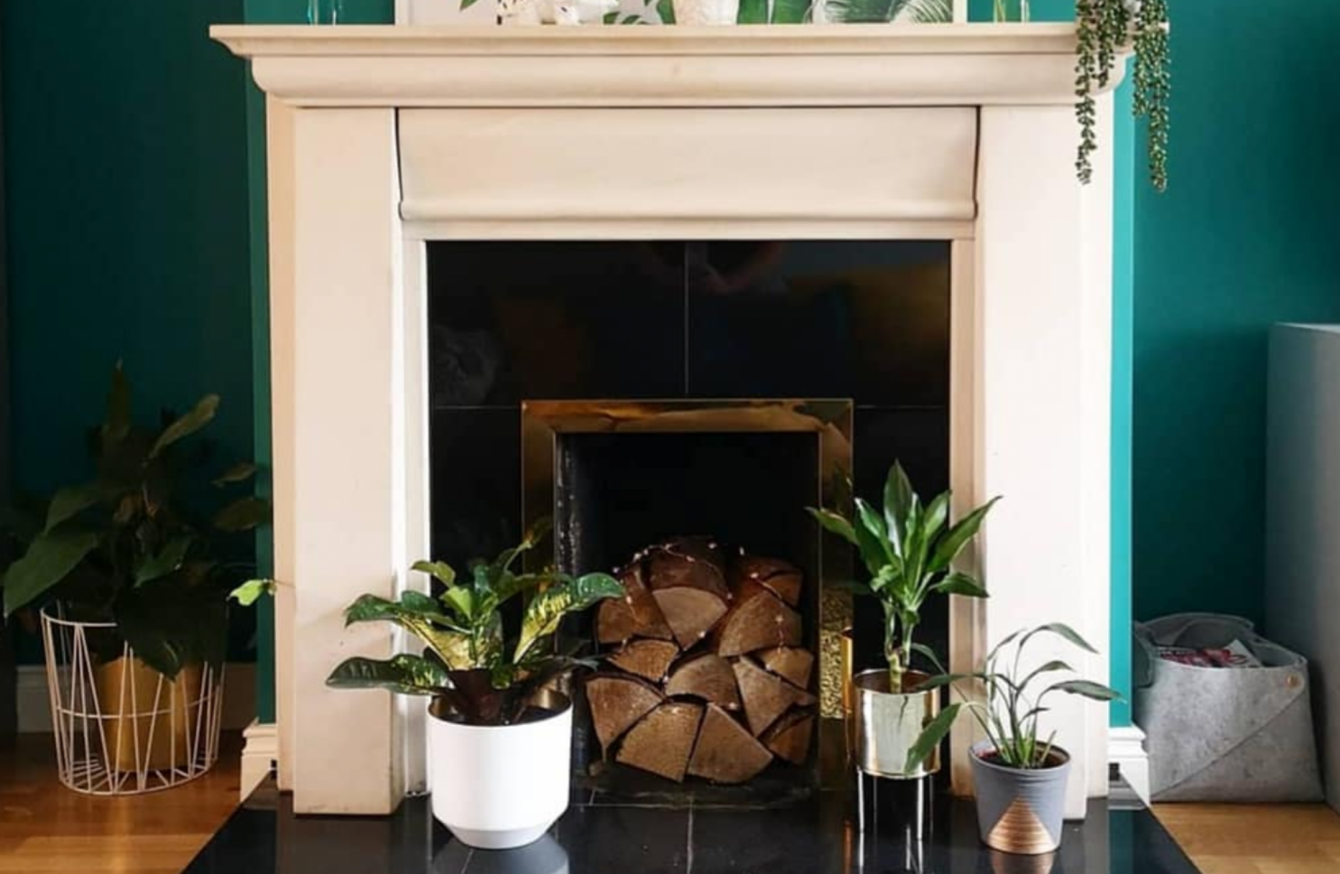 Ediana Dolan's fireplace.
Image: mrsfrillshome/Instagram
Ediana Dolan's fireplace.
Image: mrsfrillshome/Instagram
About your home
Where? Co Westmeath
What type of house? Fully detached 
How many bedrooms and bathrooms? Three bedrooms and three bathrooms
When did you move in? September 2017
About you
Name: Ediana Dolan
Age: 40 years old
Occupation: I'm a teacher – but currently a stay-at-home mum 
Who else lives there? My husband and our two children
What made you choose this home over others?
We were living in the region and looking for a house nearby. We had our name down for a new build semi-detached house, but when this house appeared it ticked all the boxes.
It's a fully detached house, quite unique for a housing estate, and it is just a stone's throw from the local primary school.
However, what really clinched it was that we saw the potential in the south-facing back garden and found the neighbourhood very welcoming. From the first minute we saw it, we just knew this was going to be our home.
What is your favourite place in your home?
When it's chilly, there's nothing better than sitting by the open fire in our living room. The lush, green walls and my new velvet mustard cushions makes it a really comfy space.
Is there any part of the home you don't like?
The floor tiles throughout the ground floor don't particularly match the style of the kitchen refurbishment. We hope we 'll be able to change it soon, maybe to a wooden floor. 
Is there any part of your home that makes it unique?
Our chalkboard wall in the dining room. I know a chalkboard is not such a unique feature, but we really make it unique by drawing our own designs for the seasons and special occasions.
At the moment, we are drawing lots of autumn leaves and are already planning some Halloween sketches.
Take us through an average day in your house, room by room.
We are a busy little family and we use all the rooms and spaces in the house daily, so our house needs to be very practical.
6am: My husband leaves for work, swiftly, so we can't hear the floorboards upstairs creak.
7am: I get up and go downstairs, also quietly, to prepare breakfast and lunches for the kids. I have coffee, lots of it! The kitchen is at the back, so when I shut the door there is no noise upstairs.
8am: I usually have to wake the kids up, because they love a lie-in. Once we open the blinds, our oversize windows let the morning light flood in. Their bedrooms have white walls with details to suit their own personalities, and we've packed plenty of clever, kid-friendly storage in to make the most of their spaces. They both use the main bathroom in the morning, so this is a busy hour as we get ready for school and have breakfast.
9am: I drop both kids off to school and I try to get as many things done as possible, such as food shopping and laundry. Our laundry room is quite big so it's easy to work in.
1pm: I'm back home with my daughter after preschool. We usually have a light lunch at the kitchen island before going upstairs to her pink bedroom. She loves playing in her teepee with her teddy bears.
2pm: I get busy making dinner while she is having a quiet time with a book in the living room.
3pm: My son gets home from school and we have dinner, usually at the kitchen island. Then I help him with homework while my daughter is colouring in or making jigsaws at the dining table.
4pm: If the weather is nice, the kids go outside to play and get some fresh air. This is when I have my coffee, sitting outside in my recently stenciled patio.
6pm: My husband gets home and has his dinner while the kids play in the dining room play area.
8pm: It's bath and bedtime for the kids. They pick some books from their little library in the landing, so we have a quiet reading time before bed.
9pm: Once the kids are in bed, we usually watch a bit of TV in the living room. Sometimes we go upstairs instead to read in the white, pink, and grey haven that is our bedroom.
Is there anything you'd do differently if you were doing it again?
In hindsight, we would have left the steps of the stairs wooden instead of painting them white. We would still have done the ombré effect on the risers. I suppose we could put a runner on the stairs, or maybe we could sand them back to wood.
I'm always planning something else to do in the house and trying to make it better for us. I'm really enjoying all things interiors at the moment – a career move to interior design might be something on the books for the near future.