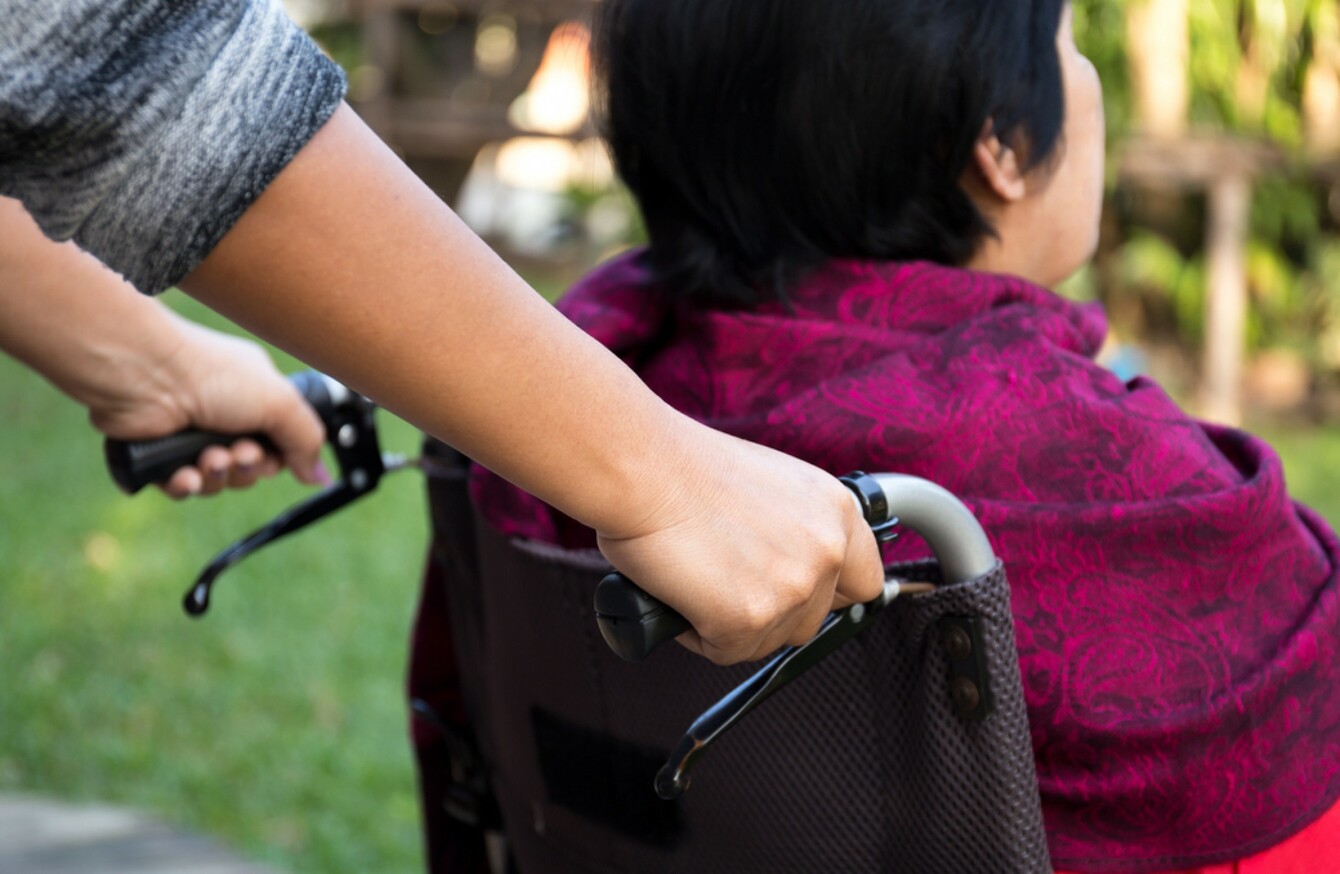 Image: Shutterstock/Bignai
Image: Shutterstock/Bignai
THERE WAS AN 85% increase in the number of complaints or concerns received about the care of vulnerable adults in HSE-funded services last year.
In 2016, 220 concerns or complaints were received, compared to 101 in 2015. However, there was a reduction in the number of safeguarding concerns – down from 54 in 2015 to 41 in 2016.
The figures are included in second annual report by the independent Confidential Recipient for Vulnerable Persons, Leigh Gath, which was published today.
Gath's role is to receive and examine concerns and to provide help and advice to vulnerable adults, or anyone concerned about a vulnerable adult in a HSE-funded service.
The majority of concerns and complaints related directly to the provision of services by the Social Care Division – 80% of all concerns received, an increase of 61% on 2015. Some 13% of concerns and complaints related directly to Mental Health Services (both hospital and day-care services) throughout the country.
The type of concerns raised with the Confidential Recipient included:
Safeguarding (41 complaints in 2016, down from 54 in 2015)
Client placement/planning (68 in 2016, 35 in 2015)
Access to equipment (six in 2016, five in 2015)
Level of staff to support client (18 in 2016, 12 in 2015)
Financial charges (four in 2016, three in 2015)
Staff behaviour (four in 2016, two in 2015)
There were 31 concerns received in relation to alleged abuse – including physical, sexual, psychological, financial, neglect, discrimination and institutional abuse – in 2016, down from 43 the previous year.
Lack of communication between HSE staff and families was also raised as an issue.
The majority (199) of the 220 concerns and complaints received by the office were closed out during 2016. Some 21 concerns and complaints remained open and under investigation as of 31 December. The 13 concerns that remained open at the end of 2015 were dealt with during the first three months of 2016.
Case studies
The report highlights a number of case studies that were resolved during the period in question.
One of the cases relates to a person who received "a very serious spinal cord injury several years ago".  After initial treatment and rehab in the National Rehabilitation Hospital, they were transferred back to an acute hospital bed because of lack of funding to resource the amount of support they needed to move back home.
#Open journalism No news is bad news Support The Journal

Your contributions will help us continue to deliver the stories that are important to you

Support us now
The report notes:
They came to this office in the summer and eventually the funding was found to allow them to move back to the community with the appropriate high level supports they need, which included nursing support as well as round the clock PA services. This person is happy to be back in the community and working toward getting back to life in their community.
Another case study looked at people with severe intellectual disabilities who were told they were being moved away from the home they had lived in for many years – as a cost-saving measure.
The report states: "This is not in line with the HSE's own policies and the move was stopped. Families are now satisfied that these people will be left in what is their home and will not be moved, unless down the road there is medical justification."
Commenting on today's report, Gath said: "My role is to act as a voice for the complainant and help them navigate the system. By passing the concern on to the relevant person, I further ensure that the HSE reviews or investigates appropriately within agreed timelines.
Of the 119 concerns received in my first year in office, 106 are now closed, either based on the complainant's satisfaction with how the concern has been dealt with by the HSE, or where I have decided that no further action is required. I have also been contacted by many people simply seeking advice or support, which is encouraging.
The HSE said its policy on safeguarding vulnerable people at risk of abuse "seeks to provide a consistent approach to protecting vulnerable people from abuse and neglect, to ensure all services have a no tolerance approach to any form of abuse, and to promote a culture that supports this ethos".
The full report can be read here.