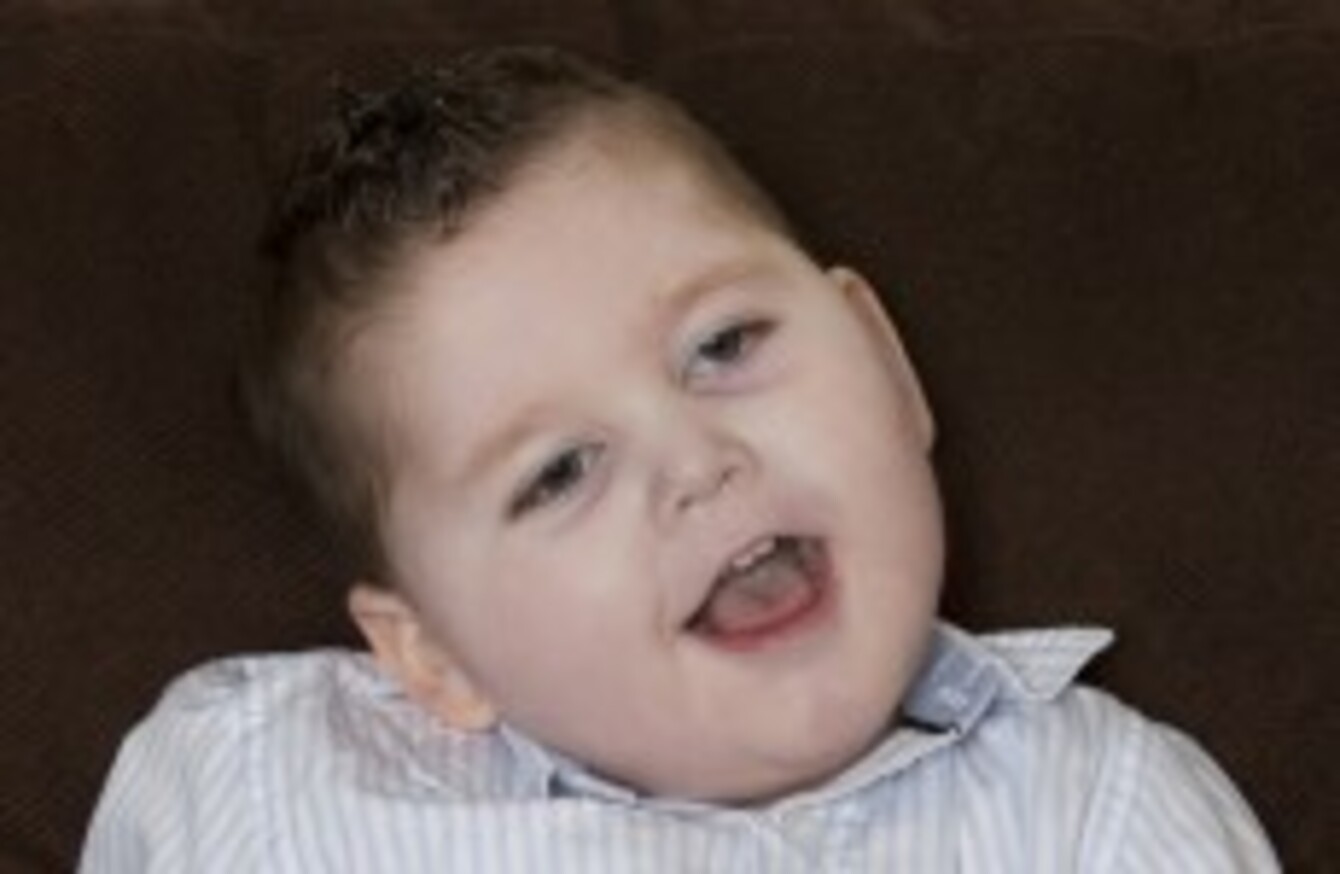 Image: Claire Durkin Photography
Image: Claire Durkin Photography
A ROSCOMMON FAMILY "left in limbo" because of further cuts to the health budget have made a direct appeal to Minister James Reilly as their son loses his nursing care hours.
Liam Hall, who turns four today, has been described as the latest casualty of Health Service Executive cuts. The young Rooskey boy suffers with a severe and complex neurological condition which is complicated by laryngomalacia (softening of the tissues of the larynx), seizures and visual impairment and, as a result, needs "around the clock care".
He needs to be tube fed and is completely dependent. Between September and March, Liam was able to attend just 15 days of his pre-school placement. His parents say that as gets older, he will need more home nursing hours – not less.
Until now, he has received 12 hours of home nursing from the Jack & Jill Children's Foundation but that support comes to an end today, on Liam's fourth birthday, but is yet to be replaced by the HSE. The charity says he now falls outside its criteria (it cares for newborns to four-year-olds) and his care plan must be taken over by the HSE "sooner rather than later".
Although the foundation says it will not abandon the young boy, it is also under severe financial pressure as it receives only 18 per cent of its budget from the HSE.
Liam's parents Áine and Brian say that the HSE were first notified last September about the imminent cessation of their home support but have failed to act.
"Regardless of the best intentions, family and friends are simply unable to look after Liam. On a good night, he wakes up three times which is just exhausting for us and as Liam gets older we're going to need more support hours to keep going," explains Áine Hall.
Liam has two siblings, Niamh (16 months) and Seán (5), while Áine is currently expecting her fourth child.
Currently, the HSE provides 10 hours in home nursing per week to Liam. However, they must be delivered in two slots of five hours each between the hours of 8am and 8pm. There is no flexibility.
This timetable is "way too regimental", according to Áine and Brian. It also fails to provide care during the critical night time periods. Jack & Jill has provided a much more flexible service until now.
"Liam is our beautiful, precious son and brother to Seán and Niamh, who deserves your support," Áine said in a direct appeal to Minister Reilly.
"Underneath all of this disability, he's a little boy who just wants to be at home, with his family and friends, where he belongs. I have to say that Jack & Jill have given us great support over the last four years but now it's time for the HSE to step up and give us the support we need.
But why do we have to fight so hard for everything, when all we want to do is to look after our little boy at home?
"You may work long hours but so do we and 24/7 care for Liam literally means 168 hours a week. As Liam's main carers we need a lot more support from the HSE to keep this up.
"Liam doesn't have a voice, but if he did he'd say 'Minister please do your job and help my Mam and Dad who are so tired and upset on my birthday. It shouldn't be this hard."
#Open journalism No news is bad news Support The Journal

Your contributions will help us continue to deliver the stories that are important to you

Support us now
In another appeal, the CEO and founder of Jack & Jill Jonathan Irwin thanked the Irish public for coming to the foundation's rescue.
"We stand shoulder to shoulder with the Hall family today and we won't walk away and abandon Liam. Unlike the Minister and the HSE we won't plead 'no budget' and walk away from sick children like Liam. We'll have to find the budget…
"This culture of cuts in homecare has got to stop, otherwise children like Liam will end up back in hospital unnecessarily. It's time to take stock at a national level and the complete lack of a national paediatric home nursing care budget has got to be addressed by Minister Reilly before the situation gets much worse."
Meanwhile, people with disabilities are to protest cuts to independent living supports outside Government buildings at noon today. They will be joined by their Personal Assistants, Home Helps and families to demonstrate against what they call the "disgraceful, retrograde and inhumane cuts to frontline services."
They added that they will continue to rally against the latest round of cutbacks "for as long as it takes to abandon this decision".