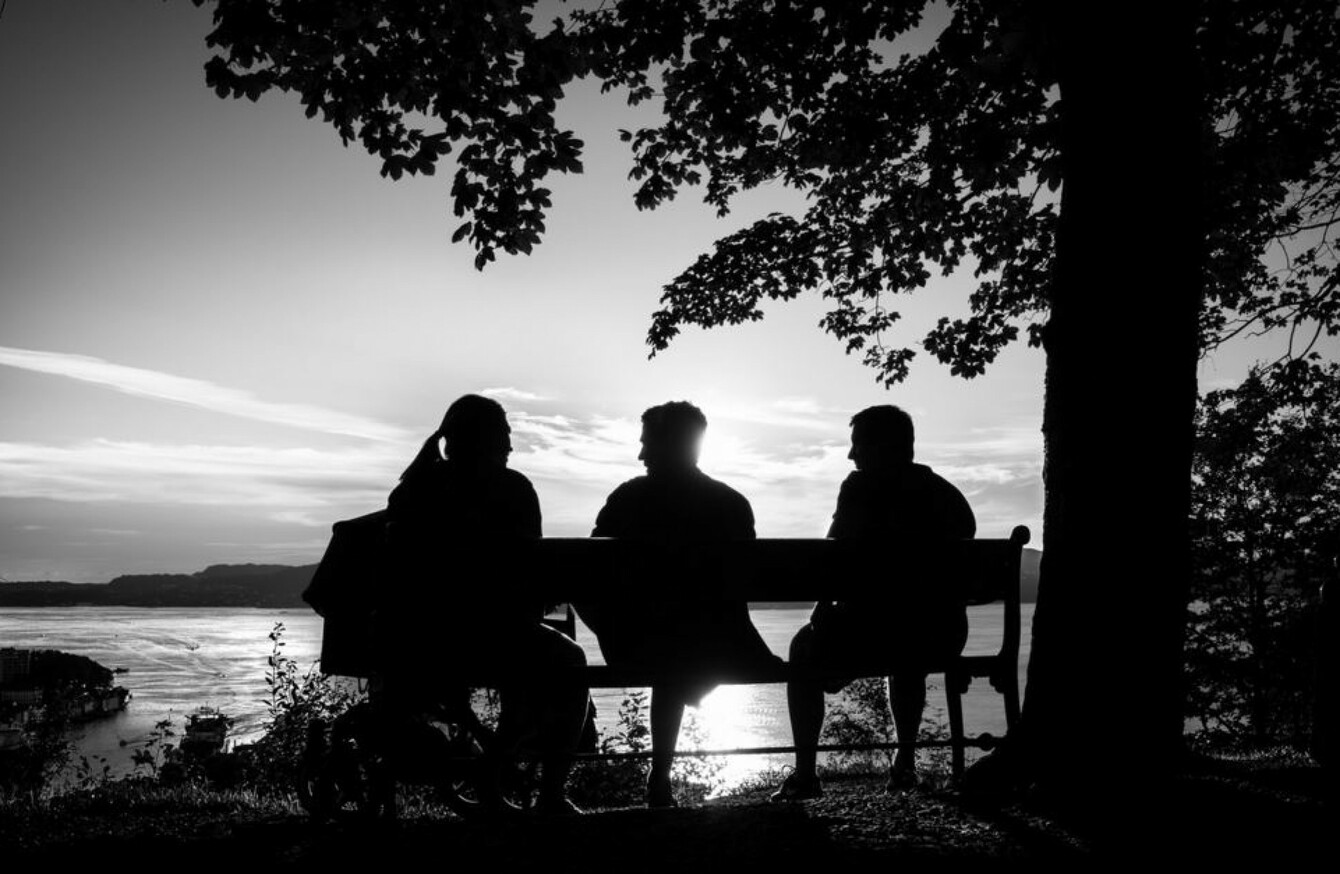 Image: Giuseppe Milo
Image: Giuseppe Milo
A LOT IS said (and rightly so) about the importance of listening to others in need when it comes to promoting positive mental health.
But what about the other side of the coin – reaching out and talking?
It's something that we all struggle with: breaking down the initial barriers and letting someone else know that you have a problem, are not feeling yourself or maybe just aren't coping as well as you thought.
For some people, talking about their problems is easy. But for many of us, it can seem like our problems aren't big enough or important enough to warrant telling someone about. That isn't the case – and telling someone about how you are feeling can be a relief and may help you to feel better.
It's time to do it
While opening up is essential for mental health at all times of the year, Christmas can be an especially difficult period for lots of people all around the country, for many different reasons.
The Samaritans fielded around 15,000 calls from Christmas Eve to New Year's Day last year. Rachel Wright, spokesperson for the Samaritans, says: "There's a lot of pressure for people to have a good time, be in the festive mood and be really sociable."
That's really difficult for people if maybe they don't have a big circle of friends, maybe they've been bereaved that year, maybe there's someone who's not going to be at the Christmas dinner table this year – or people who are just quite lonely in general, people who just have something going on their lives that they don't feel like celebrating. A lot of that can be exaggerated at Christmas time.
While Christmas is a happy time for many, it's important to remember that lots of people will be feeling extra pressure at this time of year – and that you're not alone if you're feeling this way.
Rachel also noted that it was New Year's Day, not Christmas, that saw the largest volume of calls to the Samaritans over the period – with 1,866 calls answered last year. "People are thinking where they're at in their lives, and New Year's Day can be a bit of a milestone for people."
Reach out
The HSE's mental health campaign #LittleThings focuses around the little things we can do every day that are proven to help us feel better and get through tough times.
Alan O'Mara, GAA player and an ambassador for #LittleThings, remembers the date that he finally realised his mental health was getting on top of him: 28 December.
"Christmas is a wonderful time of year if you're feeling good. But with people being home, there's this pressure and obligation to give the perception that everything is going fantastic for you… Life doesn't work like that."
Alan also has some advice, borne of his own experience, around the festive season and the increase focus on socialising – particularly in the pub: "If you notice someone quieter than normal – or drinking more than normal – maybe just take the time to ask them if they're OK. They might say yes, and that's great, but they might say no, and that could be the start of them opening up to talk."
We need to talk
Sometimes we're happy and sometimes we're sad – and that's OK… There is no rule that says you have to be happy at Christmas.
For many months, Alan kept his struggles to himself, minimising how he was feeling and telling himself that he was "just feeling sorry for himself." He describes this period as "sliding downwards" until eventually an important conversation with his mother prompted him to start talking and seek counselling.
"I built it up," he says. "But that's what really helped me. I opened up."
Start letting people in. Pick one person. Pick someone that you trust. And tell that person.
Source: HSE Ireland/YouTube
Alan's experience is echoed by research by the Samaritans - which indicates that one third of us sometimes feel worried or overwhelmed by our problems. By contrast, 26% of people said they didn't have anyone to talk to – and 40% said they didn't want to burden someone else with their issues.
The Samaritans want to let people know that no problem is too big or small to call them with. Reaching out and talking can really help.
"If it is important enough for you to worry about, " Rachel Wright says, "then it's important enough for us to want to listen."
While the Samaritans are absolutely there for those in a crisis, they are also on hand as a service for anyone who wants to unburden themselves about any issue and be really honest about how they're feeling.
You can pick the phone up to us at any time.
Breaking down barriers
Taking the first step towards talking to someone can be daunting. If you are worried, you shouldn't ignore it. While you might feel afraid to speak out, it could be the most positive step you could take for your own well-being.
Reaching out, Rachel says, is "something we perceive as being worse than it is."
People do have that fear and anxiety about opening up, but a lot of the time when someone does that, they'll find it's not as scary as they think it is.
"And by opening up to someone, it also means that if the person you're talking to has a problem in the future, they'll feel more comfortable opening up to you. It's just breaking down that initial barrier."
Samaritans is business as usual over the Christmas period, as the services operates 24/7 like every other day of the year – with people willing and waiting to take calls.
Helplines:
Samaritans 116 123 or email jo@samaritans.org
Childline 1800 66 66 66 (for under 18s)
For information on what to do or where to go, please see yourmentalhealth.ie.
The #LittleThings campaign from yourmentalhealth.ie is a national effort by the HSE National Office for Suicide Prevention and scores of partner organisations and support groups to bring information, awareness, advice and support around mental health for you and your loved ones. Check out the Wellness Workshop – a free online tool designed to give you support to improve your mental wellness.