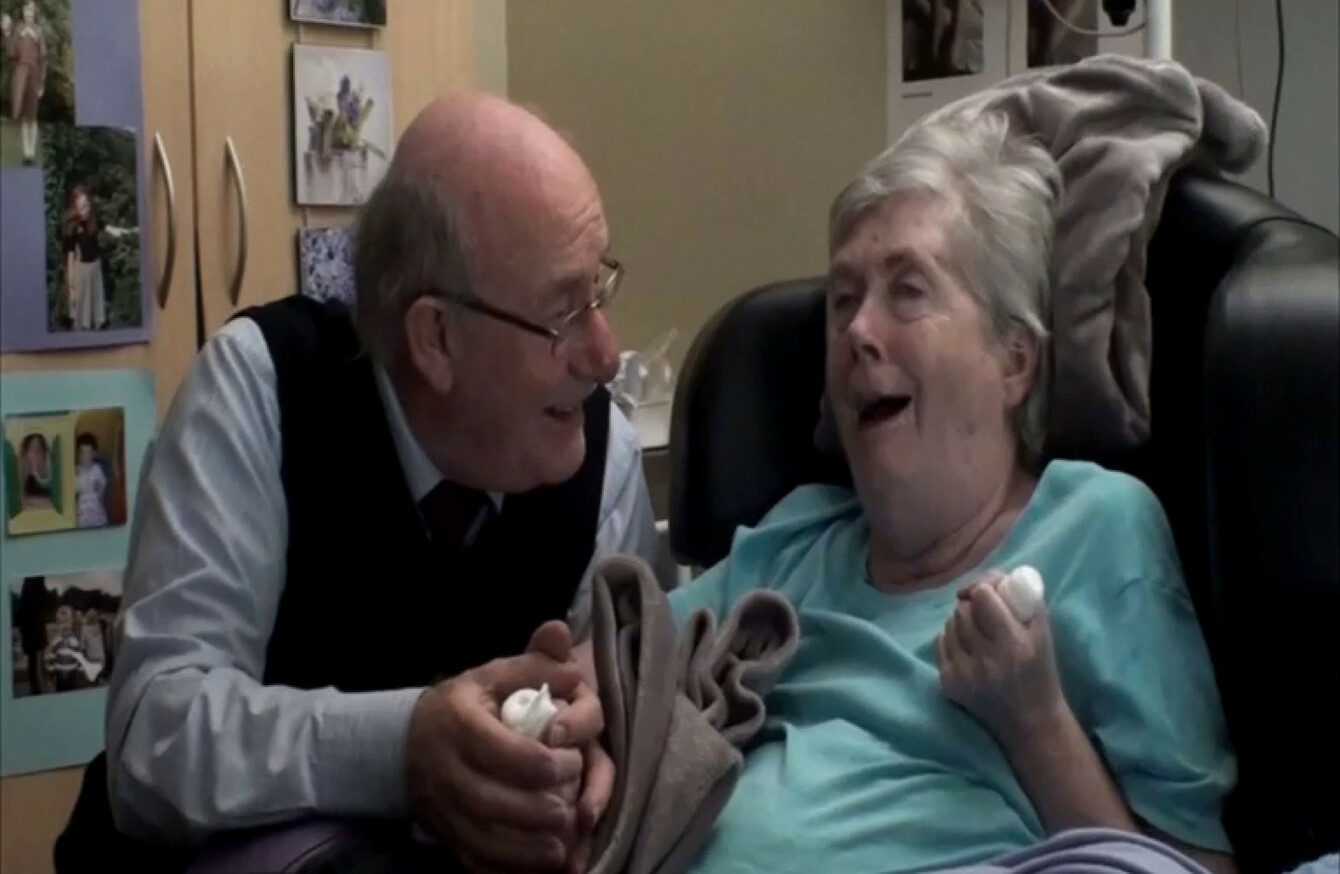 Patrick Fitzgerald and his wife Anne.
Patrick Fitzgerald and his wife Anne.
THE HSE IS yet to contact the families who featured in an RTÉ Investigates Troublemakers programme which was broadcast on Prime Time last month, according to Fine Gael TD Fergus O'Dowd.
The programme featured Patrick Fitzgerald, whose wife Anne is a resident in Cherry Orchard Hospital in Dublin. He is only allowed to visit her for four hours a week after questioning the standard of care given to her.
HSE policy encourages patients and their families and friends comment or complain to the HSE about the care given to them.
But despite the National Healthcare Charter, which promotes the policy, saying that the feedback of patients, their carers and families matters, the documentary purports to show a different reality.
The investigation features stories from Cherry Orchard Hospital in Dublin, St Patrick's Hospital in Waterford and Cappahard Lodge Nursing Home in Ennis, Co Clare, with the five case studies having much in common. 
In Fitzgerald's case, his visiting hours were cut to an hour a day from Monday to Thursday, and he is now only allowed to visit his wife for four hours a week. The reason for restrictions being put in place is for the health and wellbeing of his wife. 
In his absence, his daughter Frances has tried to fill the void by making daily visits to her mother.
Source: RTÉ - IRELAND'S NATIONAL PUBLIC SERVICE MEDIA/YouTube
However, RTÉ Investigates reveals that internal correspondence at Cherry Orchard refers to Frances exhibiting "similar risk behaviour" to her father.
No evidence was produced to back up the claim, and it's an allegation that has angered the Fitzgerald family.
Raising the issue in the Dáil today, O'Dowd said an urgent debate on the programme was needed, stating that what was featured on the TV programme was "shameful" and "disgraceful". 
He said Fitzgerald was being treated as if the wife he cares for and loves is in jail. He said both he and his wife are having their rights denied by the HSE.  
O'Dowd said he was seriously concerned about a recent report on the Cherry Orchard facility which found nine outcomes of non compliance. 
He said the shameful and disgraceful treatment of the families "has to end". 
The Louth TD said he was extremely anger to hear from the Fitzgerald family today that the HSE has not been in touch with them since the airing of the programme. 
"I think that is absolutely unforgivable," he said, adding that he will be "unrelentless" in continuing to raise this case in the House.  
In his reply to his party colleague, Minister of State for Older People Jim Daly said families play and important role in the care of loved ones. He said should always be facilitated unless there are compelling reasons not to do so. 
He said visiting restrictions are not typically used, stating that there are just 11 cases where it is use. 
#Open journalism No news is bad news Support The Journal

Your contributions will help us continue to deliver the stories that are important to you

Support us now
Daly said restrictions are only put in place in terms of safety and risk of harm to the patient. 
The lack of an appeal process was raised by O'Dowd today, stating that what is taking place is an "arbitrary barring". 
He said it is entirely unacceptable there isn't an independent appeal process. 
"Thankfully there is only 11 case… these families are having their hearts are broken," said the Louth TD. 
The minister confirmed that the HSE has requested the chief officers in the area where restrictions have been imposed to review the order. He said they have been instructed to impose the least level of restrictions possible, and where an order is in place, for an ongoing review to be put in place. He also called for the restrictions to be lifted where circumstances are altered.
The minister also committed to look at an independent review process to be put in place.
TheJournal.ie has contacted the HSE for comment.