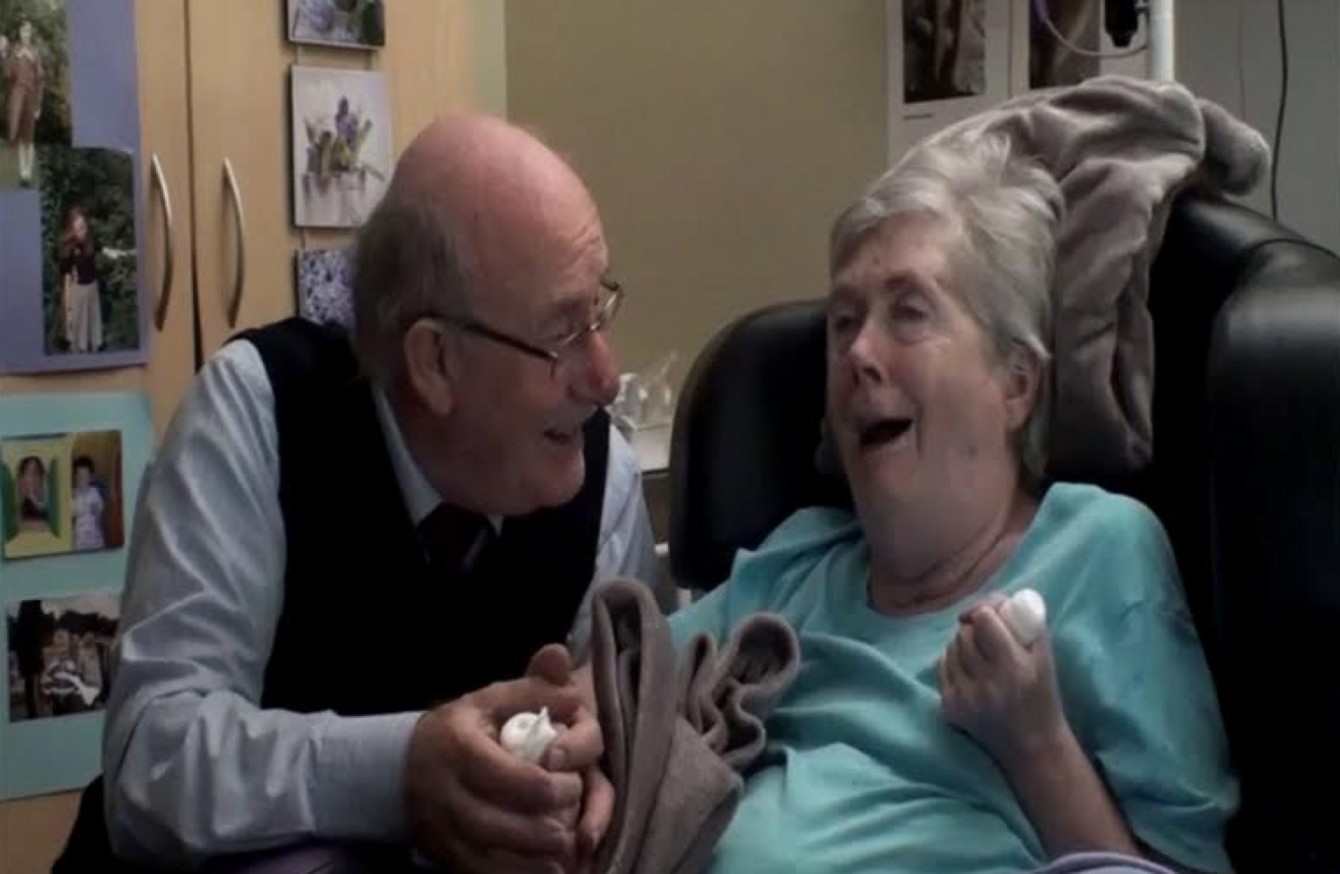 Patrick Fitzgerald and his wife Anne
Image: RTÉ Investigates
Patrick Fitzgerald and his wife Anne
Image: RTÉ Investigates
A MAN WHO was left frustrated over lapses in care at his wife's HSE-run home had his visiting time reduced when he raised concerns to senior staff.
Patrick Fitzgerald, whose wife Anne is a resident in Cherry Orchard Hospital in Dublin, is only allowed to visit her for four hours a week after questioning the standard of care given to her.
His experience will feature in a new RTÉ Investigates report into the HSE's 'Your Service Your Say' feedback programme set to broadcast tonight on Prime Time.
The policy encourages patients and their families and friends comment or complain to the HSE about the care given to them.
But despite the National Healthcare Charter, which promotes the policy, saying that the feedback of patients, their carers and families matters, the documentary purports to show a different reality.
The investigation features stories from Cherry Orchard Hospital in Dublin, St Patrick's Hospital in Waterford and Cappahard Lodge Nursing Home in Ennis, Co Clare, with the five case studies having much in common. 
Relationship deteriorated
In Fitzgerald's case, he was initially pleased to find his wife Anne a residence in the Sycamore Unit in Cherry Orchard Hospital.
Anne has been living there for nine years, after she sustained a life-changing brain injury when she slipped on ice while putting out a bin.
However, Fitzgerald soon began to notice what he felt were lapses in the quality of service provided to her, and felt he should make his observations known to senior staff.
When Anne was left waiting for a scheduled physiotherapy session that did not take place, he asked staff at the hospital why.
But Fitzgerald's concerns were not addressed, and when he followed up with other complaints, he felt his everyday relationships with some staff began to deteriorate.
Complaints were also made by staff against him for aggressive and abusive behaviour, allegations which he rejects.
Pointless meetings
Following those complaints, Cherry Orchard Hospital carried out a risk assessment of Fitzgerald, and concluded that his visiting hours should be cut to three hours a day and that a security guard should be posted to the Sycamore Unit where his wife is staying.
His frustration grew following a number of what he felt were pointless meetings with HSE management, and he staged a protest against the restrictions by picketing the entrance to the hospital.
Fitzgerald's visiting hours were then cut again to an hour a day from Monday to Thursday, and he is now allowed to visit his wife for just four hours a week.
In his absence, his daughter Frances has tried to fill the void by making daily visits to her mother.
However, RTÉ Investigates reveals that internal correspondence at Cherry Orchard refers to Frances exhibiting "similar risk behaviour" to her father.
No evidence was produced to back up the claim, and it's an allegation that has angered the Fitzgerald family.
In a statement to RTÉ, the HSE said that management of complaints and compliments for the services provided in Cherry Orchard hospital was ongoing, and that every effort was made to ensure that learning from these were acted upon.
RTÉ Investigates – Troublemakers, tonight on Prime Time, 9.35pm, RTÉ One and RTÉ News Now.