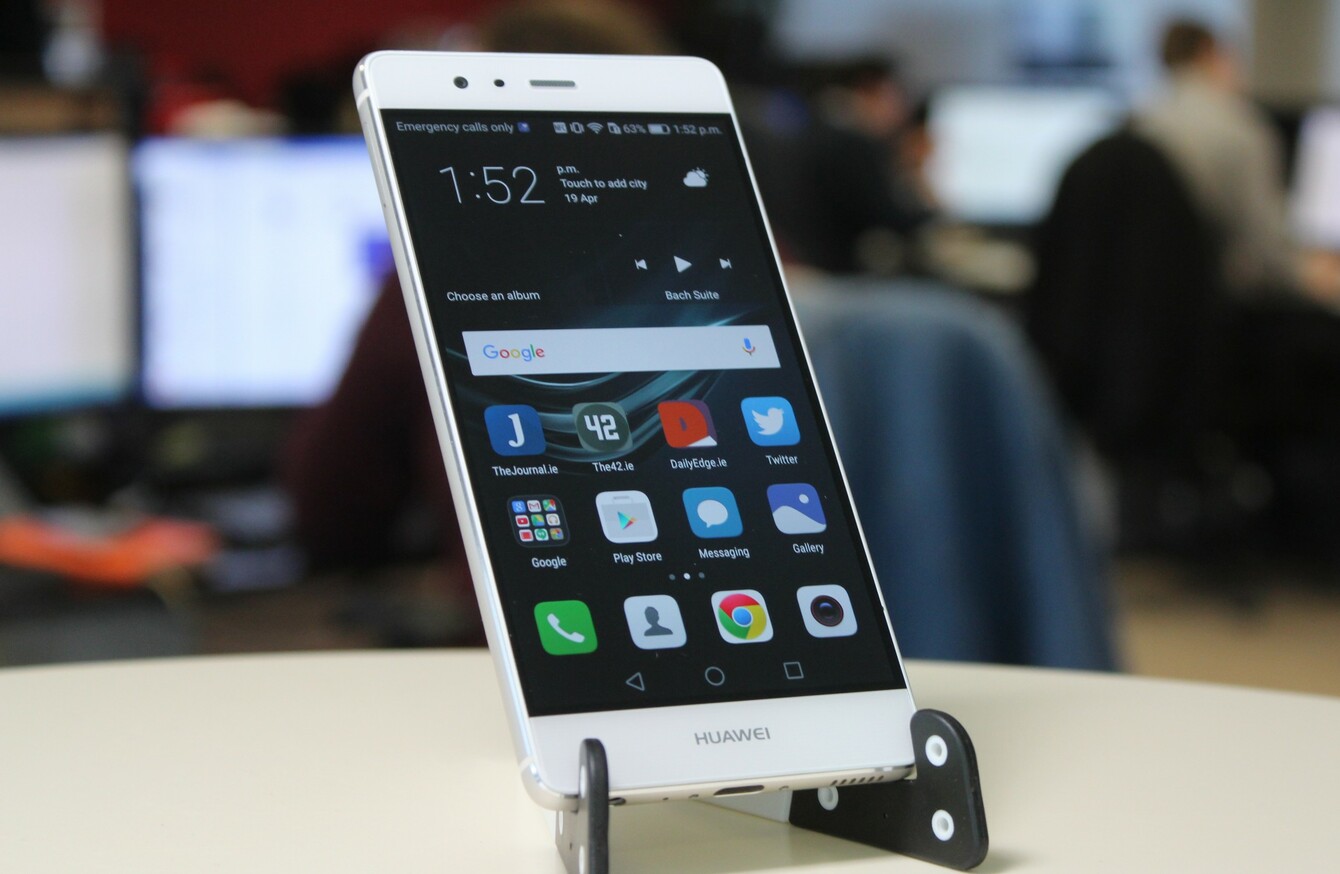 Image: TheJournal.ie
Image: TheJournal.ie
Score: 7.5/10
Verdict: Huawei's flagship has a camera that rivals the best, but its software undermines it.
WITH THE MAJORITY of Spring smartphone releases nearly done, a few decided to wait until after the hype of Mobile World Congress before launching their own flagships.
One of which is Huawei, the third-largest smartphone maker in the world. When it announced the P9 and P9 Plus two weeks ago, it involved a major campaign designed to say one thing: Huawei is a major player now so sit up and take notice.
That's what it is in theory but after using it for the guts of a week, it has the camera to back it up, but a few familiar problems rear their heads.
Almost premium
Make no mistake, this is an incredibly light smartphone. Wafer-thin and almost unnoticeable when you put it in your pocket, it's a little surprising how much it was able to fit into the phone considering the design.
The rectangular design isn't going to stick in your mind. It's good and functional but it doesn't quite match the metal design of Samsung's S7 or HTC 10. Still, it's pretty good and the lightness works to its advantage.
Going for length instead of width, the 5.2-inch screen doesn't feel difficult to operate one-handed and is generally quite pleasant to use.
The fingerprint scanner is located at the back but the square shape and the higher than usual positioning means unlocking isn't exactly the most convenient process.
Moving towards simplicity
The latest version of Emotion 4.1 has been refined further and has cut down on the dross in certain areas like the settings menu, which has been greatly simplified.
It still shares many similarities with iOS, and if there's a criticism with this look, it's that Huawei could be a little bit more adventurous with Emotion's look and functionality. The animations used for navigation and completing actions have a polish to them but are let down by what's around it.
Familiarity does help to an extent but when you see little touches like how it tells you how much RAM you have free on the Recents tab and others like knuckle gestures, it's a pity that it confines itself to someone else's rules.
The sheer number of Huawei and third-party apps pre-installed is still a problem, many of them you won't use and will only take up space. Granted, you have 32GB but the lack of an app tray to store them away doesn't help matters.
And the same trap that plagues previous Huawei phones still applies here. Quite a number of features feel more like an attempt to throw things against the wall and see what sticks, and it will insist on telling you it can close an app to improve battery life again and again.
Hardware
Sporting 3GB of RAM and a Quad-core 2.5 GHz & quad-core 1.8 GHz CPU, the P9 handles almost any task you throw at it without any real problems. The performance is up to scratch and unlike the P8, there weren't any moments where it heated up.
The 3,000 mAH battery is large but realistically, you're only going to get a day out of it. There's a reason why it insists you close apps often and unfortunately, you'll have to comply if you want to get to the end of the day with some charge left.
When two become one
When it was announced two weeks ago, one of the main features it pushed was the introduction of a dual camera system.
Using two 12MP cameras to help give photos depth was an easy way to catch attention, but the result is an impressive camera.
It's also an interesting experiment and for the most part, it works. If you're taking a photo of a tiny object, there might be some parts of it blurred out, but even if you mess up, you can still adjust the blur post-snap.
#Open journalism No news is bad news Support The Journal

Your contributions will help us continue to deliver the stories that are important to you

Support us now
Packed with different features and settings, the overall camera quality is superb and works in a wide variety of situations. Considering the high standard the likes of Samsung, Apple and HTC has set, it's does well to match them.
Huawei P9 photos

Huawei P9 photos with lens blur

Huawei P9 photos with lens blur

Huawei P9 photos

Huawei P9 photos

Huawei P9 photos
Should you buy it?
If there's one reason for choosing it, it's the camera. The effort Huawei has put into it means it's on par with its rivals and the lower price compared to the S7 and iPhone 6s means it's worth considering.
The main drawback is the software itself. It's still too much like Apple and too needy for it not to get on your nerves. It's disappointing as the smaller, unique ideas do work but are undermined by the core. Add to that average battery life and the flaws might be a step too far for some.
But what it does have is a competitive price which will certainly help it. If you prioritise the camera above everything else, it's worth it, but if not, you might want to check what else is out there first before committing to it.
Pros
- Light and wafer-thin design.
- Simplified options makes it easier to navigate
- Dual camera system one of the best out there.
Cons
- Software still weighed down by iOS look
- Bloatware still an issue
- Battery life is average at best.
The Huawei P9 will cost €599 for the 32GB unlocked version. Availability in Ireland has yet to be announced.