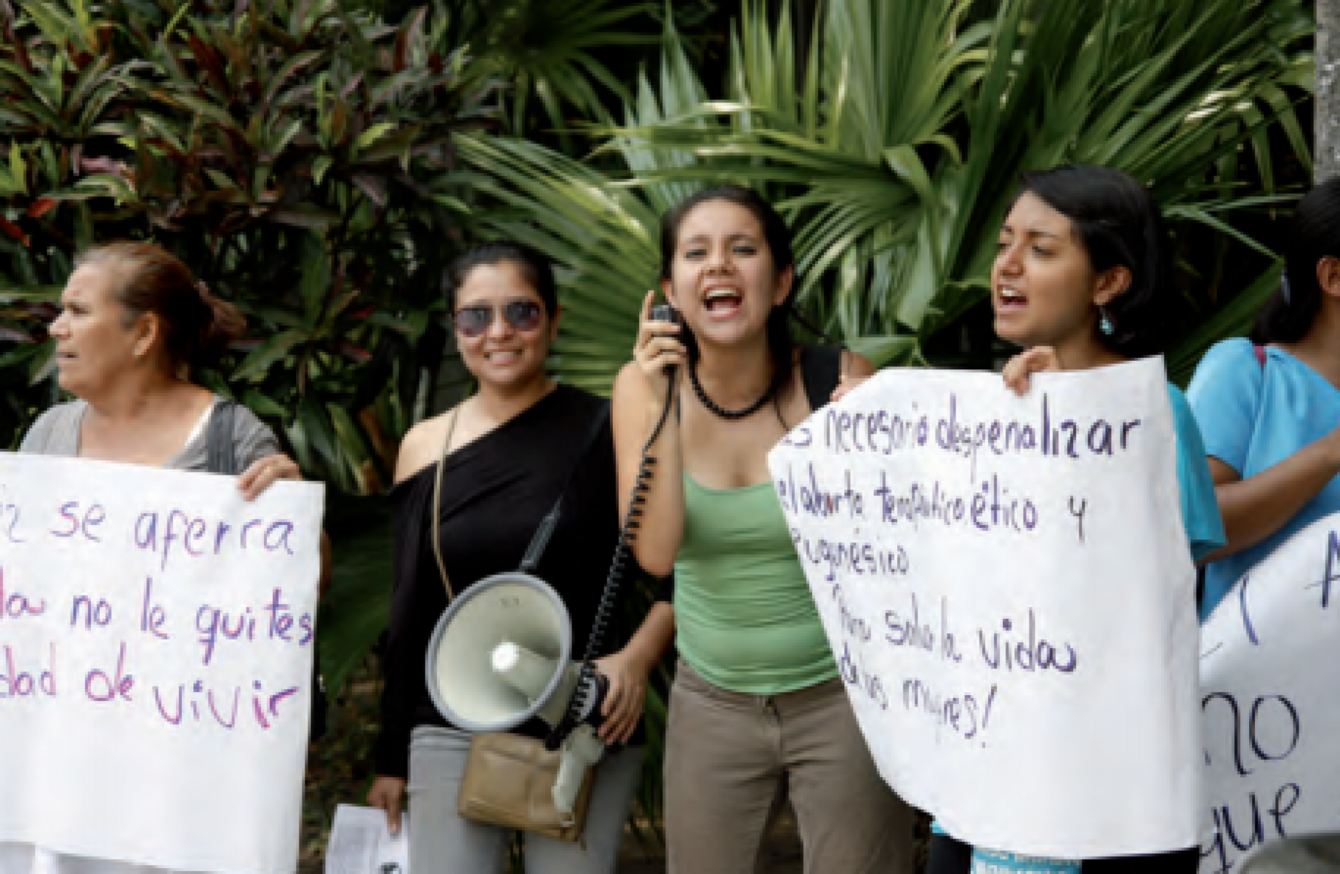 A protest outside El Salvador's Supreme Court in 2013
A protest outside El Salvador's Supreme Court in 2013
IN PARTS OF Latin America women seeking to promote sexual health and access to safe abortions are increasingly subject to aggressive opposition, a new report from Amnesty International has shown.
Findings include advocates having their computers hacked, their phones tapped and having their right to advocate opposed by governments.
"Daring to speak about abortion and sex education in Latin America seems to be reason enough to be labelled a criminal, a murderer, and even a terrorist," Colm O'Gorman, executive director at Amnesty International in Ireland has said.
In its report the NGO has spoken to a number of women who describe being subject to public harassment, death threats and physical attacks because of their activism.
10-year-old rape survivor
In April of this year in Paraguay, human rights group CLANDEM came to the defence of a girl known only as Mainumby, a 10-year-old who was raped by her stepfather and became pregnant as a result.
The group advocated for Mainumby's right to receive an abortion, as carrying the pregnancy through to term posed risks to her life and health.
As a result of this the group were the target of heavy opposition, with their computers being targeted with malware, members reporting receiving threatening phone calls and being photographed in the street.
Attempts were also made by groups opposing CLANDEM to have the government remove their accreditation.
Staff resigning
In Mexico abortion is legal in limited circumstances.
Only one organisation, Humanitarian Sexual and Reproductive Health Services (Servecios Humanitarios en Salud Sexual y Reproductiva), offers abortion services in the country – and since its inception in 2000 it has been the subject of steady opposition.
Protests targeting the organisation's employees has seen the many of them of them resign.
Dr Sandra Peniche, founder and director of the organisation, has received death threats in the course of her work.
'The dismemberment of innocent children' 
In Peru advocates for sexual and reproductive rights found themselves for their views of abortion.
Susana Chávez, the executive director of the Centre for the Promotion and Defence of Sexual and Reproductive Rights (Centro de Promoción y Defensa de los Derechos Sexuales y Reproductivos, PROMSEX), was summoned by the Public Prosecutor's Office after it was alleged that she had advocated for abortion in a book that wasn't written by her or endorsed by her organisation.
The Amnesty International report also contains details of the group being subject to a smear campaign by the Catholic press in the country, who described them as "promoting the dismemberment of innocent children".
In August of last year a search of the organisation's premises took place after a discussion in the country's congress.