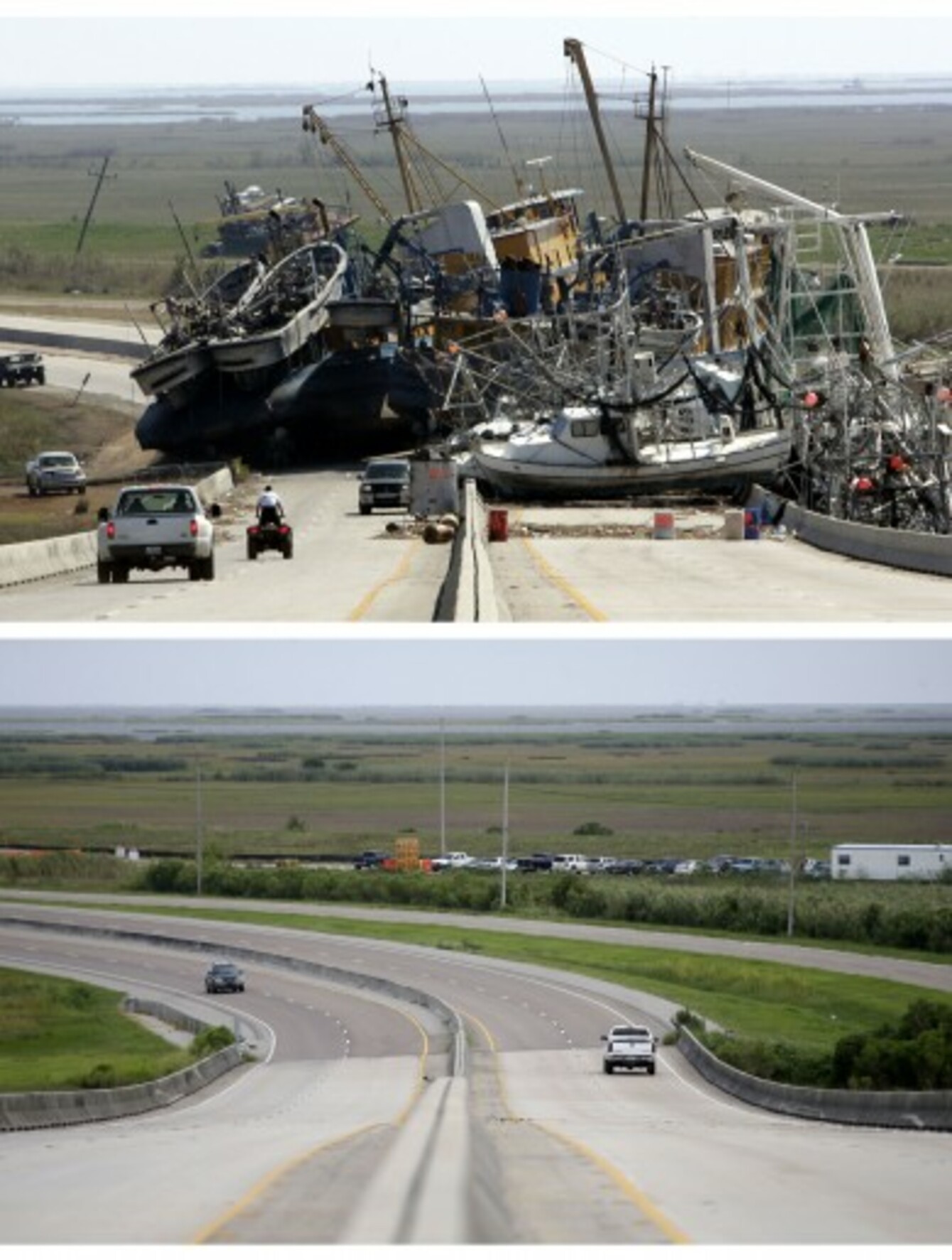 Image: AP
Image: AP
WHEN HURRICANE KATRINA ripped through the Gulf Coast of the United States, 10 years ago this week, it left an enormous trail of damage in its wake.
Storm surge and winds ripped the top off a church steeple in Mississippi, left a tangle of fishing boats sitting in the middle of a Louisiana highway, and ripped holes into the New Orleans Superdome's roof.
Flooding caused by breached levees in New Orleans stranded tens of thousands of people in horrific conditions at the stadium and convention centre, flooded houses in Lakeview and left a parking lot full of waterlogged school buses.
But this collection, by Associated Press photographers, shows many of these locations how they looked in the days after the storm, and how they look now.
The badly-hit Lower Ninth Ward of New Orleans – on 30 August, 2005 (top) and 29 July, 2015.
The Lower Ninth Ward on 11 September 2005 (left) and 29 July 2015.
The 17th Street Canal levee breach and the flooded Lakeview section of the city on 3 September 2005, and the same area a decade later.
A tangle of fishing boats blocking the lanes of Highway 23 in Empire, Louisiana, on 10 October 2005 (top) and 4 August 2015.
Patients and staff of the Memorial Medical Centre in New Orleans are evacuated by boat on 31 August (top), and on 30 July 2015, the renamed Ochsner Baptist Hospital.
Valerie Thomas and her nieces Shante Fletcher, 6, and Sarine Fletcher, 11, looking at the destruction of Valerie's brother's home in the Lower Ninth Ward, on 10 December 2005 (top). The same site is now vacant.
Top: The Mid City and Palmetto areas of New Orleans flooded by Katrina, on 30 August 2005, and the same area on 29 July 2015.
Top: People wading through flood waters as they go in and out of the Circle Food Store in New Orleans on 30 August 2005, and the same shop on 14 August 2015.
A damaged railroad track in Waveland, Mississippi, on 2 September 2005, and the same site on 14 August 2015.
The track is still undergoing repairs to drainage pipe, which were washed out in the storm.
Top: Harry and Silvia Pulizzano walking across debris on 1 September 2005, in search of Silvia's brother's home in Waveland, Mississippi., and the same site a decade later.