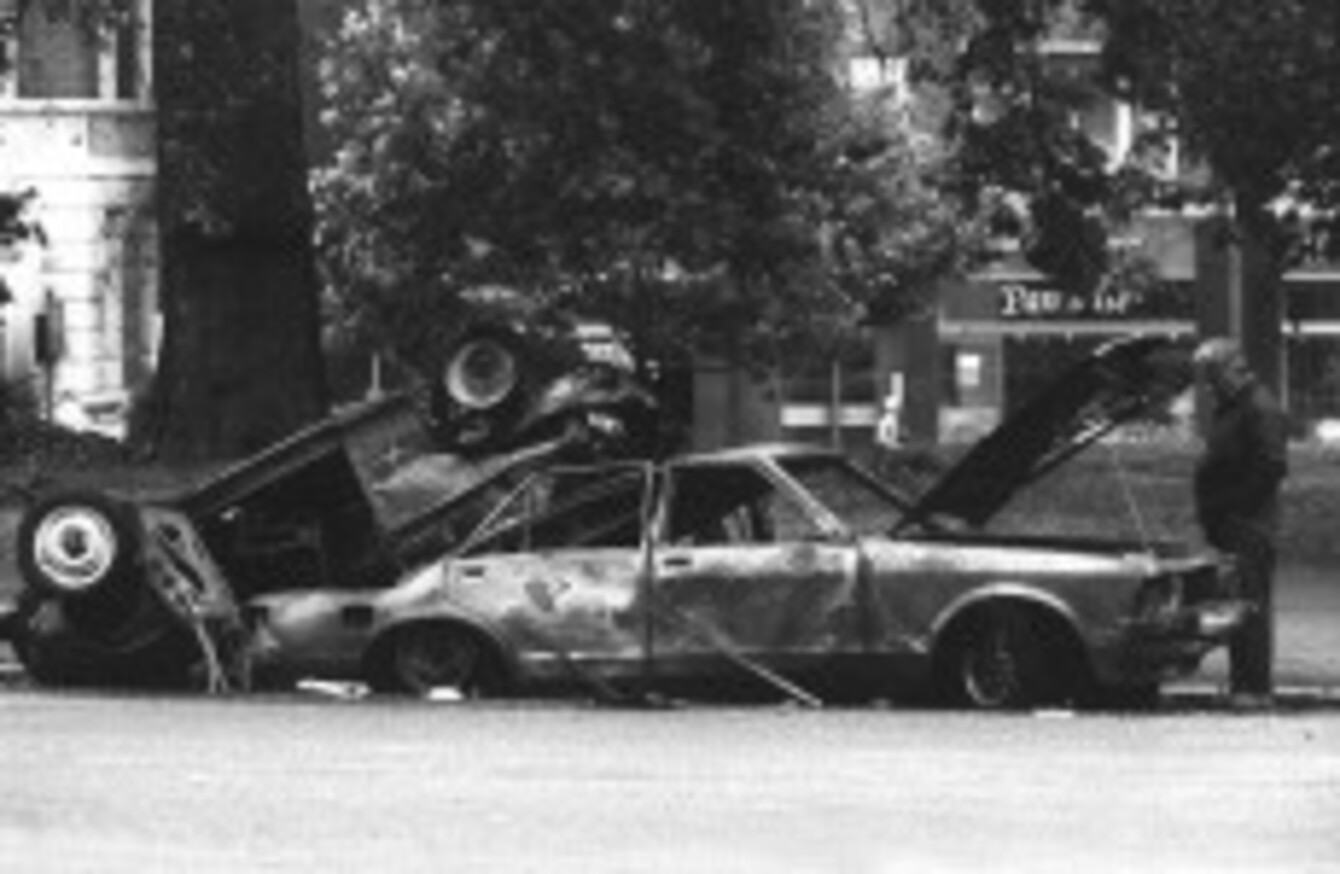 File photo: Forensic officers examine the remains of the car which housed the Hyde Park bomb which killed four soldiers in July 1982.
Image: PA
File photo: Forensic officers examine the remains of the car which housed the Hyde Park bomb which killed four soldiers in July 1982.
Image: PA
PSNI CHIEF CONSTABLE George Hamilton has apologised to the families of the four British soldiers killed in the Hyde Park bombing of 1982 for the additional pain they endured "as a result [of] the failure to secure justice for their loved ones".
Hamilton's comments follow the release today of the Hallett Report which reviewed 'on the run' letters issued to republican terrorism suspects saying that they were not being sought by the Metropolitan Police.
The trial of a man suspected of the Hyde Park bombing collapsed early this year over the issuing of such a letter to him when he was actually still being sought by the Met. Although police came to realise the error, it was not rectified.
PSNI chief Hamilton said today that the police service's role in the letter system was "to conduct an evidential review of the status of individuals at that particular moment in time. The information was then passed to the independent prosecuting authorities."
Police wrongly informed the prosecuting authorities that an individual was not wanted, when there was information to suggest that he was wanted by the Metropolitan Police. On that basis the prosecution for the Hyde Park bombing failed.
Hamilton also spoke about the PSNI's role in addressing events from the past:
I am deeply conscious that there are many people who suffer as a result of Northern Ireland's dark and difficult past. The past is the present for those who live everyday with the pain that has been caused to them. The conclusions in today's report will bring yet more hurt to those who have already suffered so much.
He said that he wants to ensure that the service "fulfils our legal responsibilities" in dealing with the past while also considering the responsibility of "keeping people safe in the present day".
"But dealing with the past goes far beyond policing," the Chief Constable added, saying that the PSNI would play its part and work with others who have authority and influence in building "a more holistic approach to dealing with the past".
A review of the letters was ordered by David Cameron following the collapsed Hyde Park trial.
The Hallett Report found that the letter scheme was lawful, but was "systematically flawed" and did not provide amnesty. Lady Justice Hallett said that the responsibility for any lack of clarity or openness concerning the scheme rests with the UK government.
Earlier this year, the BBC reported that Northern Ireland Secretary of State Therese Villiers said the letters scheme was over, and no letters had been issued by her office since December 2012.