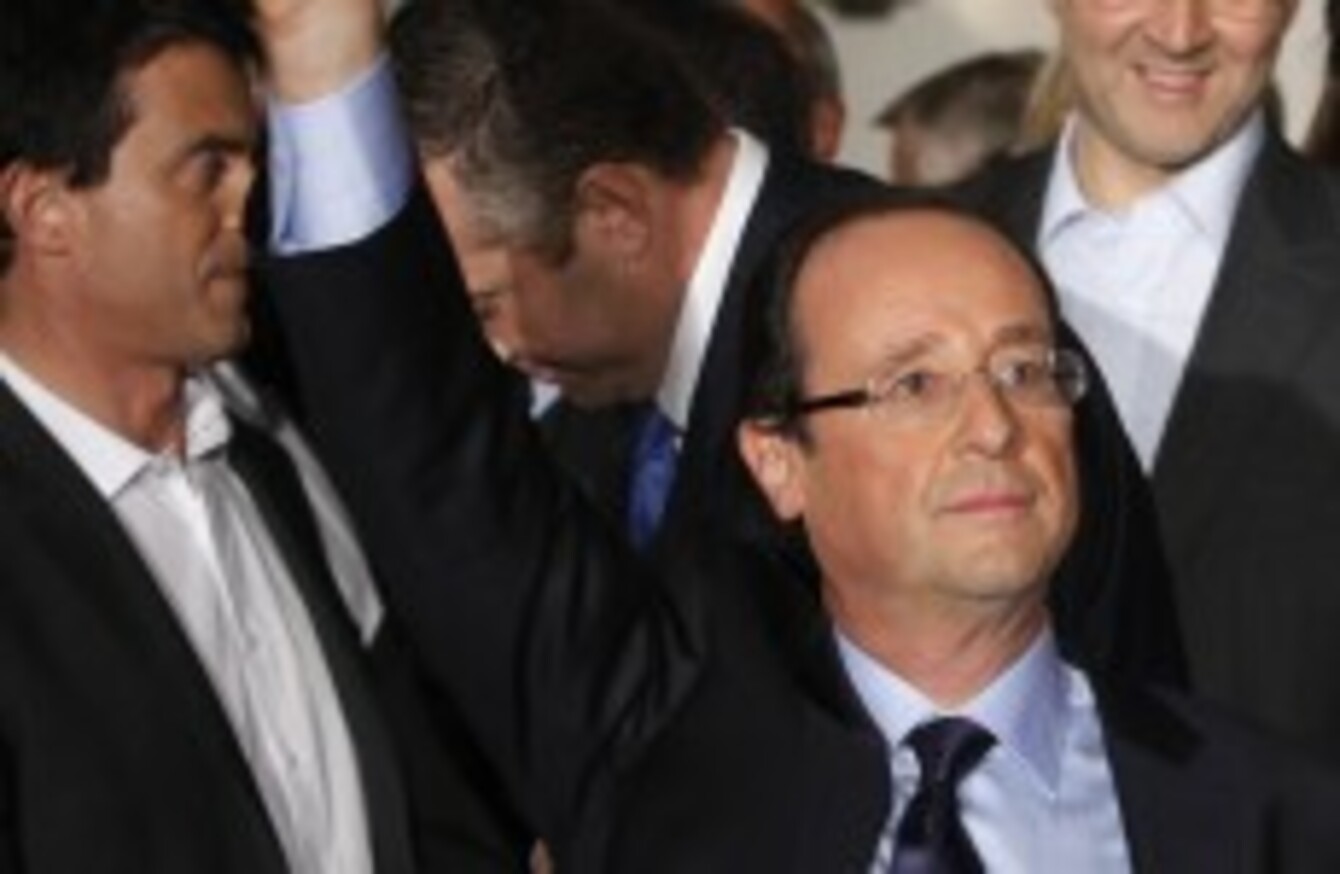 Francois Hollande waves after winning the Socialist Party's primary vote.
Image: AP Photo/Thibault Camus
Francois Hollande waves after winning the Socialist Party's primary vote.
Image: AP Photo/Thibault Camus
FRANCOIS HOLLANDE IS an affable and self-deprecating politician seen as a managerial consensus-builder, and a virtual unknown outside France — and he could be its next president.
The 57-year-old won the Socialist Party's presidential nomination on Sunday, defeating party leader Martine Aubry and setting up a likely clash with conservative President Nicolas Sarkozy in next spring's election.
From the moderate wing of France's Socialist Party, the low-key Hollande is not obvious presidential material, yet opinion polls show him far more popular than the incumbent.
When asked "Why you?" in an interview published in Le Parisien newspaper Saturday, Hollande first answered: "Because I can beat Nicolas Sarkozy."
Chirac link
Hollande is a lawmaker in the National Assembly and the governor of the central Correze region — the same political backyard as conservative former President Jacques Chirac — and led the Socialist party from 1997 to 2008.
Critics say his resume is otherwise thin: He has never run a government ministry, has limited international recognition, and made his name as leader of a party that was weakened and badly fractured during his tenure.
As party leader, Hollande struggled to maintain party unity. He presided in 2002 when the Socialists' top national politician, Prime Minister Lionel Jospin, embarrassingly failed to qualify for the presidential runoff. The party split badly three years later over the proposed EU Constitution, which French voters rejected in a referendum.
Hollande's former partner Segolene Royal — the mother of his four children — was the Socialists' last presidential nominee. Their relationship unraveled during the 2007 campaign, and they later separated. She ran again this year, but lost badly in last Sunday's first phase of the Socialist primary.
Hollande wants more progressive tax rates. He sparked a political furor in the run-up to the 2007 election by advocating a tax hike for those French who earned more than €4,000 a month.
"He must not like himself," Sarkozy quipped in a TV debate.
Cuts reverse
Hollande's program calls for more spending to reverse cuts in education by Sarkozy's government, a new work contract to encourage companies to hire young people, and focus on reducing France's high state budget deficit. It says little about international affairs, other than calling for an unspecified "pact" with Germany, the EU's economic engine, to spur on the now-troubled European project.
In 2008, Hollande openly supported Barack Obama's presidential candidacy, while admitting that such an endorsement could dent Obama's image in the US electorate given the way some American voters regard socialism.
Hollande has a top-flight educational pedigree, with degrees from the reputed HEC business school, Sciences Po political institute, and the finishing school for French political and management elites known as ENA.
Hollande is seen mostly as a likable, intelligent, behind-the-scenes coordinator more than a party visionary or left-wing doctrinaire. In his early career, he staked out the party's moderate wing and was a protege of longtime European Commission chief Jacques Delors, who is also Aubry's father.
Hollande's strategy, in part, is to cast himself as the anti-Sarkozy. The macho president made his name as a hard-as-nails interior minister who led a crackdown on crime for much of the 2000s.
Makeover
A popular French satirical TV show, Les Guignols de l'Info, once depicted Hollande's marionette as a flan with glasses. More recently, the show has pilloried him as a goofy simpleton with a dopey laugh — a marked contrast to its scheming, self-important puppet of Sarkozy.
Political wags this year pointed to Hollande's weight loss and new use of frameless eyeglasses that coincided with his gradual rise in the polls — as if the makeover helped his image.
Sarkozy and Hollande have squared off electorally before: Each led their party's list for the 1999 European parliament elections.
In a round-table debate ahead of that vote, Sarkozy and Hollande sparred. At one point Sarkozy quipped that his rival "is not an intimate friend, in any way — notably because our political convictions are different."
Retorted Hollande, tartly: "And doesn't plan on becoming one."
Though turnout was dismal, the Socialists handily won that 1999 vote, and Sarkozy headed for a three-year spell in the political wilderness.