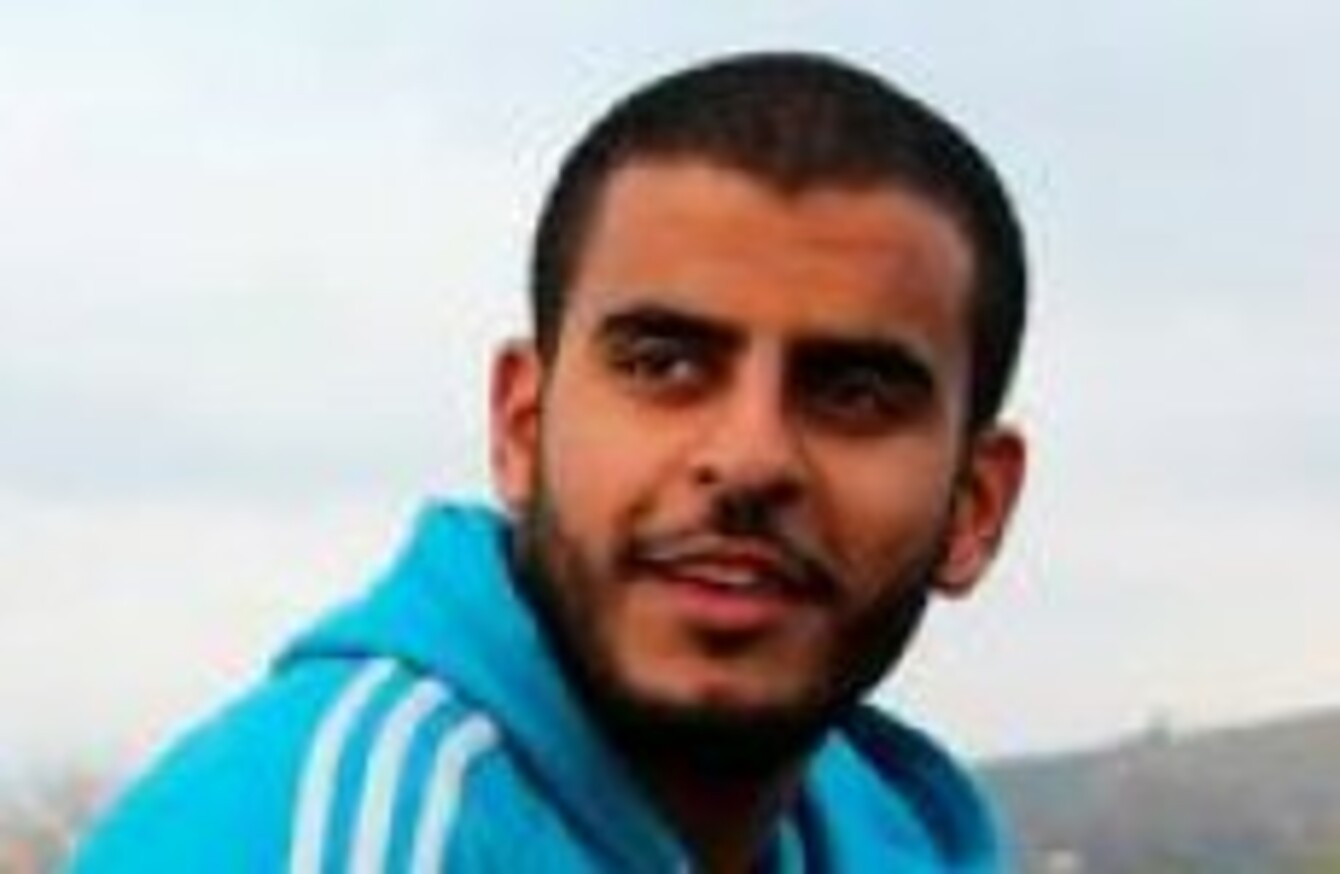 AMNESTY INTERNATIONAL HAS said it believes the Irish Government is doing 'everything it can' to secure the release of Ibrahim Halawa.
It follows the publication of excerpts from a letter, smuggled out of a Cairo prison, written by the Irish teen and published by Sky News.
Halawa wrote that the Government 'isn't working hard' to secure his release as he doesn't have an Irish name and isn't white.
Halawa been charged, along with 493 others, of murder, attempted murder and participating in an illegal protest.
Murder and attempted murder offences are punishable by death under Egyptian law.
He has now spent 554 days in prison, and it is believed the letter was penned on the same day his cellmate, journalist Peter Greste, was released.
"The letter discussed publicly today… expresses the real fear, the real struggle to understand what is happening to him," Amnesty chief executive Colm O'Gorman told TheJournal.ie
He is, I would imagine, a very frightened kid, who has been through a really horrific experience, and he's now watching other people in the prison being released.
He added that the Department of Foreign Affairs has been doing everything possible, but many crucial steps are not made public.
It is believed the letter also contains repeated insistences that he is innocent, something O'Gorman also believes.
"There is absolutely no evidence that connects him to the charges. It was a cut and paste charge applied to hundreds of other people. He is detained purely for exercising his freedom of expression."
O'Gorman said the efforts to secure Halawa's release is entering a crucial stage, and  that it is important for all those involved to remain focused.
It has never crossed to me in my life that… the Irish government would not work hard because I am not white or with me not having an Irish name or even because my religion.

How can my children in the future feel safe when their own government will judge them by their skin colour or religion?
In response to the letter, a spokesperson for the Department of Foreign Affairs said:
We understand the frustration that can build for those involved in prolonged consular cases. However, any suggestion that Ibrahim's case is not getting priority because he is of Egyptian heritage or because of his name is simply untrue. It is absolutely without foundation.
It is understood Minister Charlie Flanagan had a "positive and constructive meeting" with the Halawa family this morning, with whom he has been in contact with since August 2013.
Responding to Senator Cáit Keane in the Seanad today, Minister Flanagan said:
"This case is a source of concern for me, as I know it is for the Senator and many others. From my first day in office, I have taken an active role in progressing matters. In my first week in office I spoke to Egyptian Foreign Minister Shoukry to set out my concerns about Mr. Halawa's detention."
Senior officials in Dublin and Cairo have been in ongoing and sustained contact with the Egyptian authorities, including senior officials at the foreign ministry, the Ministry of Justice and the office of the prosecutor general. Mr. Halawa has received 34 consular visits from Irish Embassy staff, including Ambassador Moylan, approximately one visit every two weeks.
Halawa's trial was again adjourned on Sunday.