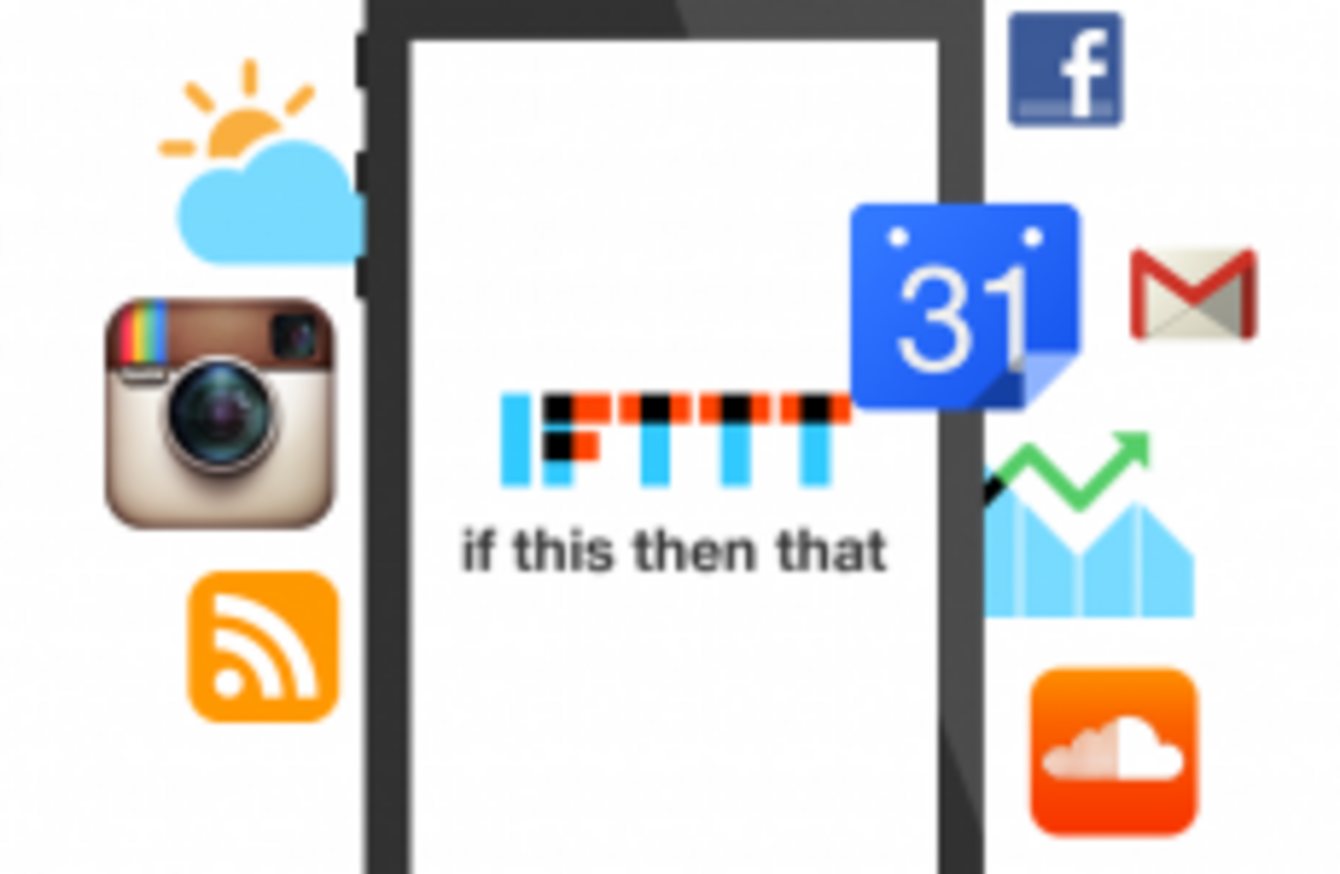 Image: TheJournal.ie
Image: TheJournal.ie
IF YOU NEVER used If This Then That (IFTTT) before, you're missing out on one of the most useful services out there.
Originally starting off life as a web tool in 2010, the service was then released on iOS in July 2013 and arrived on Android only recently.
It's best to think of IFTTT as a time-saving service for web and mobile users, allowing you to combine both web and mobile services to create streamlined actions.
While the release on Android gives it an extra level of functionality, that's only scratching the surface of what it can do. Here's what you need to know and how to start creating recipes immediately.
How does it work?
Basically for every action, you can create a reaction. If you star an email in your Gmail account, you can create a recipe which will automatically send you a reminder, telling you to deal with it at a later stage.  If you post a photo onto Instagram, you can get IFTTT to tweet it at the same time.
That's only scratching the surface of what IFTTT can do. Currently there are more than 70 apps and services supported by it, meaning the number of combinations you can create is quite large.
The basics
If you're going into it raw, IFTTT can look daunting at first, but it only takes a moment or two to get yourself acquainted with it.
Channels: The name given to each service available on IFTTT. Each one has its own actions. For example, choosing Gmail will let you choose any new email, attachment, sender, starred email, labeled email or searched email as the basis for your action.
Recipes: When you combine two channels together.  Using the same example, if you combine Gmail with Google Calendar, you could create a recipe where a new event is added anytime you star an email
Trigger: The action that puts everything into motion. This is the starting point for any recipe and has to be chosen automatically
Other details worth keeping in mind include:
Most services will require permission for access first before you can use them for recipes. Depending on what .
If you have recipes that rely on mobile, bear in mind that having a number of them active will have an effect on your battery life. As a rule, most recipes check every 15 minutes, some even more regularly, so keep it in mind when you're choosing/creating recipes.
If you're using the SMS service, remember to put in 00353 and then your number. It will help you avoid confusion in the long-run.
So now that the basics are out of the way, we can get to the fun part which is creating your own recipes.
Creating a recipe
While choosing a predefined recipe is the easier option, it's likely you will want to create your own recipe and doing so is rather easy.
Let's say you're travelling to the Aviva Stadium and you wanted to make sure your Android phone changes to silent mode when you arrived there.
First you choose what the trigger is. In this case, it's arriving at the Aviva Stadium.
#Open journalism No news is bad news Support The Journal

Your contributions will help us continue to deliver the stories that are important to you

Support us now
Once that's completed, you must then choose the action you want to happen (your phone being switched to silent mode) before completing the recipe.
And then it's completed. On both the site and app, you can switch off a recipe, share it or delete it entirely. On the app, you must double-tap a recipe to see options for them.
There are more practical recipes to create or choose from, but all of them go through the same process. It's best to start off with the apps or services you use the most and see what ways you can combine them.
Recipes to get you started
If the thought of figuring out combinations is too much for you to bare, there are many premade recipes for you to try out. Here are the more popular onesones