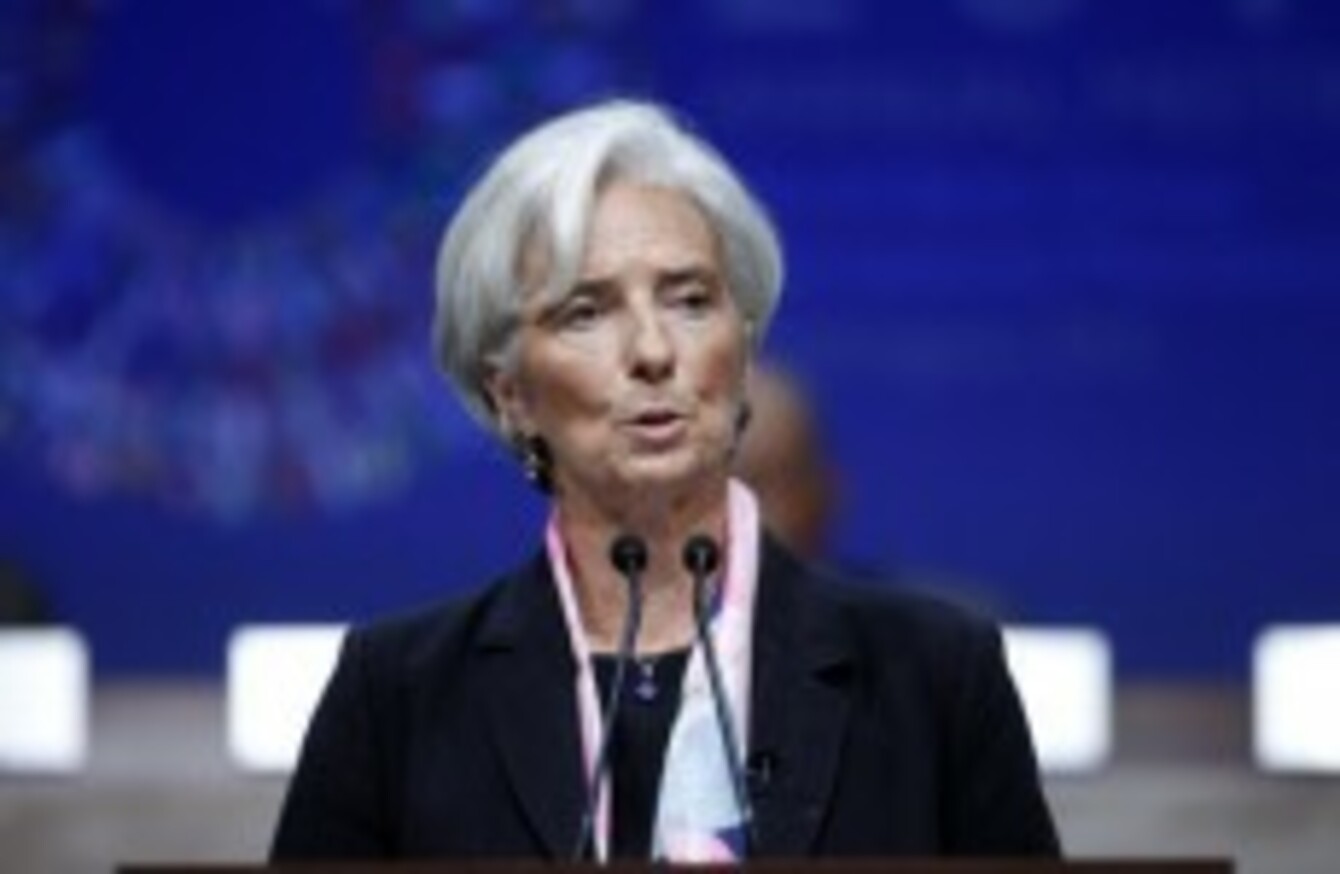 Christine Lagarde at the IMF/World Bank meetings yesterday.
Image: Jose Luis Magana/AP/Press Association Images
Christine Lagarde at the IMF/World Bank meetings yesterday.
Image: Jose Luis Magana/AP/Press Association Images
THE WORLD'S LEADERS need to "act together" and "act quickly" to get the global economy back on the path to recovery, the IMF Managing Director Christine Lagarde said yesterday.
Speaking at the 2011 IMF–World Bank Annual Meetings in Washington, Lagarde warned that without bold and collective action, the world's major economies risk slipping back into recession.
Commenting specifically on the euro area, she said, "Europe must deal urgently with the twin problems of sovereign and bank debt, and deal with them together.
The countries at the heart of the crisis must implement the programs to which they have committed. And their European partners must do whatever it takes to support them—as they have committed to do."
Her remarks come as the Eurozone debt crisis deepens and fears of an imminent Greek default mount.
It now seems that the focus has turned away from a Greek rescue and onto what will happen European banks in the case of a Greek default.
Writing in The Irish Times this morning, Arthur Beesley and Lara Marlowe report that European Governments will move this weekend to provide additional financial support to as many as 20 European banks.
According to reports, France has already sought funds for the recapitalisation of some of its banks from the European Financial Stability Fund.
Group of 20
G20 finance ministers have also pushed for bold action to be taken by global leaders.
In a statement released yesterday, G-20 officials pledged to "take all necessary actions to preserve the stability of banking systems and financial markets."
They are also encouraging Europe to move quickly to carry out its promises to help Greece.
From Washington, US Treasury Secretary Timothy Geithner told European leaders to send a "decisive signal" that they have a strategy for tackling the debt crisis, reports the BBC.
There is a huge premium on early action, he said, because there has been a huge erosion of confidence.
The Greek question
Private economists have questioned whether the action plan unveiled Thursday goes far enough to deal with market concerns that a Greek default is a virtual certainty that threatens to destabilise other highly indebted European countries.
According to German Finance Minister Wolfgang Schaeuble, the second Greek bailout decided upon in July may need to be re-evaluated.
Some of the Eurozone's richer nations are pushing for an "orderly default" by Greece, says the Associated Press today, citing officials.
The pressure was coming from all sides yesterday as British Chancellor George Osborne told Reuters that the euro area nations had "six weeks" to resolve the crisis.
He said European leaders needed to gain control of the situation by the time the G20 economies meet in November.
Despite talks of an "orderly default," Greece is still in talks with the Troika to sure up the next €8 billion instalment of its rescue package next month.
-Additional reporting by AP