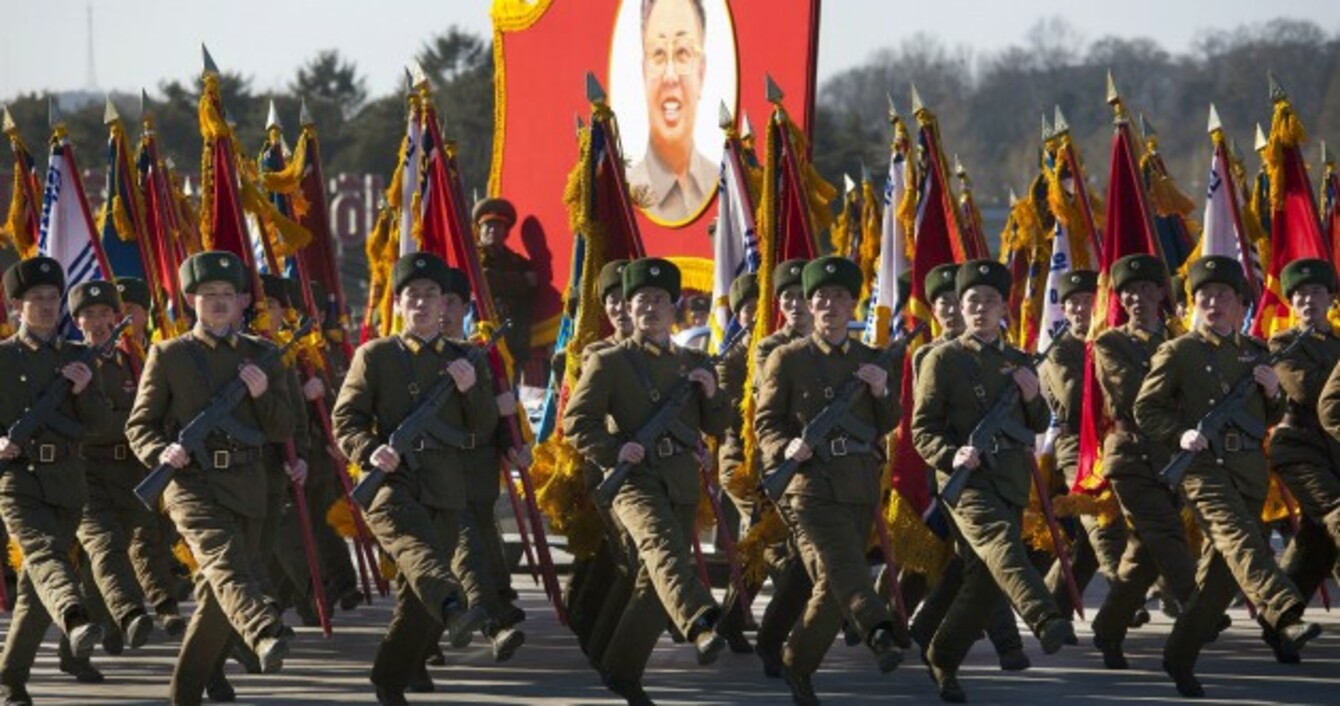 Image: AP Photo/David Guttenfelder/PA Images
Image: AP Photo/David Guttenfelder/PA Images
THOUSANDS OF North Korean soldiers took part in a major military parade today to commemorate the late leader Kim Jong Il on what would have been his 70th birthday.
Kilm Jong Il died following a heart attack in December and today's ceremonies included screenings of footage taken in the days following his death during a national outpouring of grief. The military parade was held outside Kumsusan Palace, where the late leader's embalmed remains lie in state.
The holiday has been named 'Day of the Shining Star' in his honour.
His son and successor Kim Jong Un presided over today's events in Pyongyang. The AP reports that his ode 'Footsteps' was played throughout the city all day today, while North Korean media reports that he received floral tributes to his father from the diplomatic envoys of Nigeria, Egypt, Cambodia, as well as from UNICEF, UNDP and WHO missions in the state.
Earlier this week, statues of Kim Jong Il and his father, the state's founder, Kim Il Sung riding horses together were unveiled in Pyongyang.
North Korea

New North Korean leader Kim Jong Un looks down the line at military leaders at Kumsusan Memorial Palace in Pyongyang. (AP Photo/David Guttenfelder/PA Images)

North Korea

North Korean military vehicles are lined up at Kumsusan Memorial Palace in Pyongyang. (AP Photo/David Guttenfelder/PA Images)

North Korea

Fireworks explode over the heads of North Korean soldiers lined up in formation in Pyongyang today. (AP Photo/David Guttenfelder/PA Images)

North Korea

North Koreans applaud as a large screen shows a portrait of the late North Korean leader Kim Jong Il. (AP Photo/David Guttenfelder/PA Images)

North Korea

Flowers are laid at Kim Il Sung Square during today's commemorations of Kim Jong Il's death and what would have been his 70th birthday. (AP Photo/David Guttenfelder/PA Images)

North Korea

A large screen shows video recorded during the period of mourning following the death of late leader Kim Jong Il. (AP Photo/David Guttenfelder/PA Images)

North Korea

North Koreans walk towards a stand at Kim Il Sung Square in Pyongyang to lay flowers beneath a large portrait of the late leader. (AP Photo/David Guttenfelder/PA Images)

North Korea

New North Korean women soldiers chant at Kumsusan Memorial Palace in Pyongyang during today's parade. (AP Photo/David Guttenfelder/PA Images)

North Korea

New North Korean leader Kim Jong Un waves after reviewing a parade of thousands of soldiers. (AP Photo/David Guttenfelder/PA Images)

North Korea

North Korean soldiers carry a portrait of the late North Korean leader Kim Jong Il during the military parade. (AP Photo/David Guttenfelder/PA Images)

North Korea

New North Korean leader Kim Jong Un bows his head as he stands with senior political and military leaders. (AP Photo/David Guttenfelder/PA Images)